Early detection can help preserve vision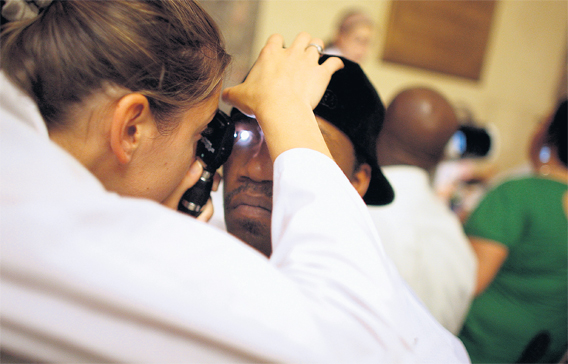 Glaucoma is the second leading cause of blindness in the world and World Health Organisation estimates put the total number of suspected cases of the disease at about 65 million globally. These numbers can be expected to increase as populations around the world age.
At the beginning of the World Glaucoma Week, which leads up to the World Glaucoma Day on March 12, Emirates Business decided to find out more about this eye disease that affects young and old alike.
Dr Prashant Bhatia, Specialist Ophthalmologist and Medical Director, Vista Healthcare Clinic, Dubai, told this paper: "Glaucoma is a complicated disease in which damage to the optic nerve due to increased eye pressure results in vision loss."
There are several forms of glaucoma. The two most common are primary open-angle glaucoma and angle-closure glaucoma.
Populations most at risk are people of African, Japanese, Chinese, European, Intuit Eskimo and Latino ancestry. East Asians experience the highest rate of blindness in the world from primary angle-closure glaucoma while primary open-angle glaucoma is more prevalent among people having European and African ancestry.
Dr Bhatia said: "Anyone can get glaucoma. Most people with glaucoma are unaware they have it until there is a large amount of irreversible vision loss. Glaucoma affects all age groups and I would say that roughly three to four per cent of the general population in the UAE has glaucoma. The people who are at a high risk of getting glaucoma are those above 60, diabetics, people who have a family history of the disease, those who have suffered eye injury and those who have used steroids for a long period of time.
"That is why doctors advise so strongly against self-medication as many of the eye drops we get over the counter contain steroids and people don't know. So many of the medicines have steroids in them too. Also if you are on steroids for a long time due to medical reasons make sure that you have regular eye check-ups. You need to let the eye doctor know that you have been on steroids for a long time so that he can check you out for glaucoma."
There are typically no early warning signs or symptoms of open-angle glaucoma. It develops slowly and sometimes without noticeable sight loss for many years. Most people who have open-angle glaucoma feel fine and do not notice a change in their vision at first because the initial loss of vision is of side or peripheral vision, and the visual acuity or sharpness of vision is maintained until late in the disease. And by the time a patient is aware of vision loss, the disease is usually quite advanced.
Angle-closure glaucoma is caused by blocked drainage canals in the eye, resulting in a sudden rise in intraocular pressure. This is a much more rare form of glaucoma, which develops very quickly and demands immediate medical attention.
In contrast with open-angle glaucoma, symptoms of acute angle-closure glaucoma are very noticeable and damage occurs quickly.
Dr Bhatia said: "While there is no cure or way to prevent glaucoma, there are effective therapies and early detection can help preserve vision. Individuals at risk and those over the age of 40 should have regular, comprehensive eye exams that include careful evaluation of the optic nerve and measurement of eye pressure."
- There will be complimentary screening for high-risk groups from today until March 12 between 2pm and 4pm at Vista Healthcare. For details call 04 334 4223
Not just an old man's disease
Peter Ryan Madronero, a financial analyst working in Dubai who suffers from open angle glaucoma, told Emirates Business how his life has changed ever since he developed glaucoma.
"When I discovered that I have glaucoma in October 2008, I was just devastated. It is difficult to digest the fact that I am losing my vision slowly, but surely. In fact, my wife still can't handle it. However, over the years I have become more resigned to living with glaucoma and now I am concentrating on the treatment."
Madronero, a 31-year-old Filipino, discovered he had glaucoma after he went to a doctor to get lasik surgery done in order to remove his glasses. "I went to an eye doctor to find out if I was eligible for lasik surgery. The doctor found out that I had glaucoma, which was at an advanced stage," he said.
Talking about the changes to his life, he said: "I can't walk fast or run anymore as I can't see the ground or small objects. My field of vision has been reduced. Now if I want to walk at a normal or fast pace I first look quickly at the ground and then straight ahead. I used to be an avid basketball player, but now I can't play so much. I can't see the feet of the players, but I still play basketball to whatever extent I can."
Madronero underwent SLT laser treatment to control his condition, but it did not work. He will undergo trabeculectomy surgery in order to release the pressure on his optic nerves by the end of this week.
High Tech for Low Vision
According to the Glaucoma Research Foundation, new technologies offer people with low vision a range of options to help live more independently.
The KNFB Reader Mobile is character recognition software that takes a photo of printed material, uploads it to a Nokia N82 mobile phone, and then reads the text aloud. The user can choose to display the print on the phone's screen, which highlights each word as it is spoken. It sells for $995 (Dh3,654) excluding the phone.
Portable Video Magnifier-The Telesensory Pico is a battery-operated portable video magnifier that fits in a purse or pocket, making it easier to read grocery lists, price tags, menus and small print. You can adjust to brighter colours, or change from positive (black on white) to negative text (black on white). It sells for $745.
Talking GPS-Human-ware makes a diverse selection of assistive technologies. The Trekker Breeze is a talking GPS (global positioning system). The device verbally announces the names of streets, intersections, and landmarks. The device retails for $900.
A talking scanner from Humanware called the ScannaR can scan any text document and read it back to you in seconds. It does not need to be connected to a PC, and is built with its own hard drive that stores up to 500,000 pages of text. It retails for about $3,000.
Microsoft's Windows 7 operating system for PCs includes a variety options to interact with your computer using speech recognition, magnification, and touch technology.
Apple's Snow Leopard Mac OS X 10.6 operating system for Macintosh computers features sophisticated and easy-to-use accessibility features.
Keep up with the latest business news from the region with the Emirates Business 24|7 daily newsletter. To subscribe to the newsletter, please click here.
Follow Emirates 24|7 on Google News.