Arab oil income tops $3trn in 13 years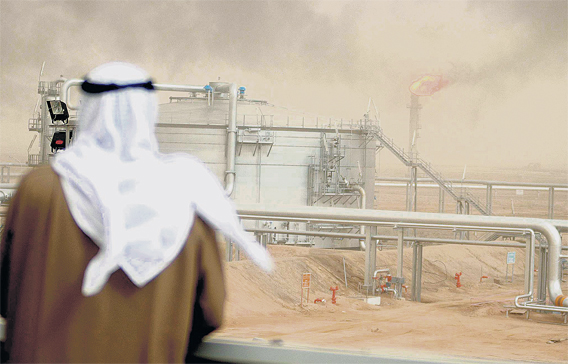 Arab oil producers have earned in excess of $3 trillion (Dh11trn) from crude exports over the past 13 years and nearly a fifth of the revenues were netted in 2008, according to the Arab League's energy group.
During 1997-2009, the UAE, Saudi Arabia and eight other producers within the Organisation of Arab Petroleum Exporting Countries (Oapec) pumped a cumulative 71.5 billion barrels of crude to local and global markets and more than half of the supplies were made by the Gulf countries, Oapec said in a study.
The Kuwait-based organisation said the supplies fetched the region nearly $2.7trn between 1997 and 2008, while about $400 billion in oil export revenues were earned in 2009, according to official Gulf data.
This means the cumulative oil export earnings of Oapec's 10 members totalled about $3.1trn during 1997-2009.
The huge earnings in 2008 came from a surge in prices – crude prices shot up to their highest average of $95 and Arab producers pumped near capacity. The earnings during this year touched a record of about $617bn.
The report showed Oapec's collective income grew by nearly 17 per cent annually during that period, with the highest growth achieved by Iraq. From around 1.38 million barrels per day in 1997, Iraq's oil production soared to 2.27 million bpd in 2008 and remained almost unchanged in 2009.
Qatar recorded the second highest income growth of 17.5 per cent as its crude output jumped from about 406,000 bpd to 854,000 bpd during the same period.
Libya's earnings swelled by 17.4 per cent as its oil supplies surged from about 1.39 million bpd in 1997 to 1.74 million bpd in 2008.
Growth was put at 16.8 per cent in Saudi Arabia, 16.4 per cent in Kuwait, 16.3 per cent in the UAE, 15.6 per cent in Bahrain, 14.4 per cent in Algeria, 13.4 per cent in Syria and 4.5 per cent in Egypt.
The report showed Oapec's income stood at about $110bn in 1997 but plunged to one of its lowest levels of about $77bn in 1998 when oil prices dipped to as low as $12.3 a barrel because of a price war among producers.
The group's revenues rebounded to about $109bn in 1999 and leaped to nearly $177bn in 2000 after oil prices swelled above $27 a barrel.
They fell to $149bn in 2001 and to $131bn in 2002 before recovering to nearly $159bn in 2003. In the following years, the income recorded a rapid increase to peak at $617bn at current prices in 2008.
In real terms, the Arab oil earnings were much lower because of the weak US dollar and global inflation, according to Oapec.
In a separate report, Oapec said the dollar and high inflation rates depressed the combined Arab oil export earnings by about $118bn in 2008 despite the surge in crude prices to a record high level.
It showed real revenues, calculated in 1995 dollar rate, stood at only about $499.1bn, nearly 20 per cent below the nominal income.
From about 619 billion barrels at the end of 1997, the group's proven oil reserves swelled to nearly 658.5 billion barrels at the beginning of 2009.
They accounted for about 56.6 per cent of the total global oil resources last year compared to 59.8 per cent at the end of 1997.
The report showed the decline in the share was a result of a sharp rise in the world's oil reserves from about 1.035 trillion to 1.164 trillion barrels.
Libya accounted for the bulk of the increase in the Arab oil deposits, with its reserves surging to 43.6 billion barrels last year from 29.5 billion barrels in 1997.
Saudi Arabia, the world's oil superpower, recorded an increase of about three billion barrels – 264.2 billion from 261.4 billion barrels.
The UAE was the only Oapec member to report a slight fall in proven oil resources to about 97.8 billion from 98.1 billion barrels. Yet it remained the world's fifth oil power after Saudi Arabia, Iran, Iraq and Kuwait.
In the UAE, undiscovered hydrocarbon reserves were put at about 7.7 billion barrels of crude oil, 1.261 trillion cubic metres of natural gas and 2.4 billion barrels of gas liquids. They were estimated at 87.1 billion barrels of oil in Saudi Arabia, 18.158 trillion cubic metres of gas and 48.9 billion barrels of gas liquids.
The figures also showed the UAE's oil and gas resources accounted for 14.6 and 11.3 per cent of the total Arab oil and gas deposits.
Follow Emirates 24|7 on Google News.