Gas exporters may propose supply cut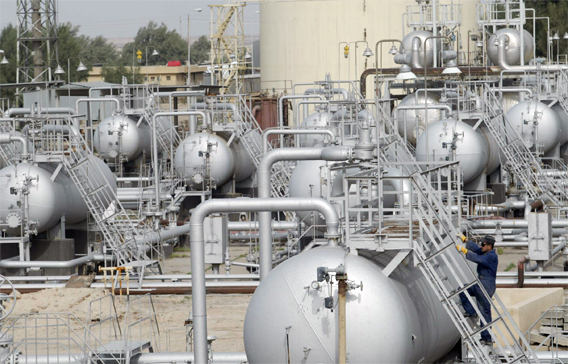 The upcoming meeting of the Gas Exporting Countries Forum (GECF) in the Western Algerian city of Oran on April 19 is expected to discuss a proposal for a natural gas supply cut, to shore up falling prices.
Algerian Energy and Mines Minister Chakib Khelil has repeated this in the past couple of weeks, and in London a few days ago said he will propose members restrict supplies on the spot market, following the recommendations of a study that will be presented at GECF meeting.
If a consensus on the proposal was reached, this will amount to Opec process of setting quotas. Such a move would rekindle concerns of energy-consuming developed countries over the creation of a gas cartel – so-called Organisation of Gas Exporting Countries (OGEC).
The idea of a "gas Opec" is not new, and has been deliberated since GECF first met in Tehran in May 2001. The forum comprises 15 gas-producing nations, controlling 73 per cent of the world's natural-gas reserves and 41 per cent of production.
The idea of OGEC was first floated by Russian President Vladimir Putin in 2002, and then supported by his Kazakh counterpart Nursultan Nazarbaev. It faded for a while, until revived by Gazprom board member Aleksandr Medvedev in 2006, when he threatened that Russia would create "an alliance of gas suppliers that will be more influential than Opec" if it did not get its way in energy negotiations with Europe.
Two years ago, GECF made headlines with the notion that Russia, Iran and Qatar (the three largest gas reserves in the world) agreed on setting up OGEC. They had to reassure the world that the forum would stay as it is, while a committee to monitor gas market will be set up in Doha, where GECF is based. Members of the forum – Qatar, Algeria, Bolivia, Egypt, Equatorial Guinea, Iran, Libya, Nigeria, Russia, Trinidad and Tobago and Venezuela – invited Kazakhstan, Yemen and Peru to attend the Oran meeting. And Khelil said in London this week that "All the leaders are for parity… we are going to work toward that".
Parity is meant to be with, that would mean targeting a price for spot gas of $12 per "million British Thermal Unit (BTU)". Prices are falling, this week coming to under $4 per mBTU, close to half of the five-year average of $7 per mBTU. The prices downtrend has been there for a while now, as last year American gas futures prices fell 25 per cent and have slumped 29 per cent in 2010 as an increase in production in countries such as the US and Qatar has coincided with a slump in demand.
Though Middle East and North Africa (Mena) region has got almost half of global reserves of natural gas, and its production increased in recent years, the fulfilment of the Algerian proposal could prove very difficult for variety of reasons – the least of it is that gas supply contracts are long-term ones and usually based on a set price. Other factor suggested by analysts is the fact that domestic gas demand in producing countries is growing rapidly and surplus for export might decline, striping producers of manoeuvring power.
International Energy Agency (IEA) estimates that gas constitutes about 20 per cent of global energy consumption and that share is set to increase in coming years. Significant part of meeting the rising demand relies on Mena region in creasing its output, to meet domestic rising demand as well as export to gas-thirst economies.
In one of its scenarios, IEA expects the share of the Mena region in total gas production to rise from 17 per cent in 2007 to 20 per cent in 2015 and 27 per cent in 2030, with the region's output reaching 1.2 trillion cubic metres at the end of the period, compared with 513 billion cubic metres in 2007. It also estimates gas demand in the region to increase by three per cent at least.
In a recent article, the Economist Intelligence Unit (EIU) suggested that many countries in the region, including substantial gas producers, are facing chronic shortages of supply of natural gas for their own power and desalination plants and gas-based industries. Though reasons for mismatch between supply and demand vary from country to country, EIU drew some common themes. Rapid economic growth rates in the region in recent years stoking a big increase in energy demand, an investment focus on crude oil rather than natural gas, and price distortions in domestic energy markets, with end-users benefiting from extensive subsidies are among those themes.
Algeria might be keen on agreeing a way to push the prices of spot gas, and other producers would welcome the idea, but setting a quota of production is not that likely. Yet, the Oran meeting of GECF is bound to attract media attention as the talk about OGEC would make sensational headlines.
Follow Emirates 24|7 on Google News.