Oil below $82 on investor risk aversion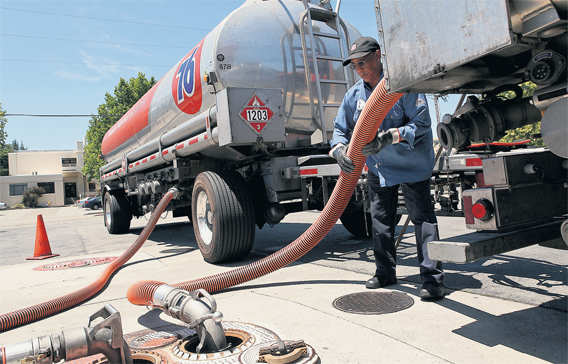 Oil prices steadied below $82 a barrel yesterday as a stronger dollar and lackluster equities markets dragged commodity prices and offset encouraging the US housing data that fed economic optimism.
Sales of existing US homes fell less than forecast in February, according to the National Association of Realtors in figures that are closely watched for an indication of economic activity in the world's biggest oil consumer.
US stock markets pared early gains, with the S&P 500 index up 0.07 per cent in late-morning trade, as healthcare companies and drugmakers retreated after rising on Monday following the passage of US healthcare legislation.
A firming US dollar helped to hold down oil prices, as concern over Greece's debt crisis has pushed down the euro.
Commodities often move inversely to the dollar as they are priced in the US currency on international markets, and a stronger dollar can also denote a sell-off in riskier assets such as commodities and equities.
US crude for May delivery was up 20 cents at $81.80 a barrel by 11.53am EDT (1553 GMT). The April delivery contract expired on Monday, settling up 57 cents at $81.25.
London Brent crude for May rose 18 cents to $80.72.
"We are paralleling the swings in the dollar and the broader financial markets," said Gene McGillian of Tradition Energy in Connecticut. "There's anemic demand for fuel, and we haven't yet seen the (crude) inventory levels come down."
Oil prices have mostly traded between $75 and $84 a barrel so far this year and high global oil inventories have prevented oil from rising more sharply even amid indications that global economies are recovering from the worst recession in decades, as fuel demand fails to recover at a similar pace.
Oil prices have traded above $83 on four occasions this month, but failed to hold the gains, partly due to fears of oversupply of oil.
World oil demand remains well below its level in 2007, before record prices and recession slashed consumption and global oil inventories are well above their five-year average.
Uncertainty surrounding potential aid for debt-stricken Greece has made investors more risk averse, pushing the euro down against the dollar yesterday.
Concerns the European Union may not bail out Greece after a summit in Brussels later this week have kept the euro close to a three-week low against the dollar and fanned risk aversion, supporting money flows out of commodities and into assets perceived as safe-havens, such as the dollar.
Follow Emirates 24|7 on Google News.