Oil slips below $85 despite weaker dollar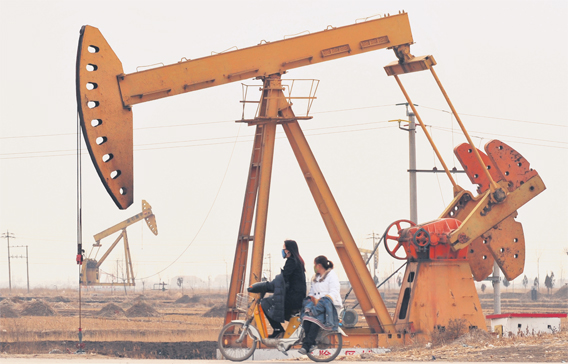 Oil prices slipped below $85 a barrel yesterday, consolidating despite a drop in the dollar and bullish data showing a big jump in Chinese crude imports.
Technical chart analysts said the oil market was running out of upward momentum after a sharp rise in prices at the end of March and in early April. The pull-back came despite factors that analysts said were supportive for oil prices.
Euro zone finance ministers approved a giant €30 billion (Dh149.88bn) emergency aid mechanism for debt-stricken Greece yesterday but stressed Athens had not requested the plan be activated yet.
The news drove the euro to its highest levels in nearly a month in Asian trade, while the dollar index fell 0.6 per cent against a basket of currencies yesterday.
A weak dollar often supports oil prices, making commodities denominated in dollars cheaper for other currency holders. The US crude for May delivery was down 47 cents to $84.45 a barrel by 1200 GMT, wiping out an earlier 79 cent gain.
"The weaker dollar and strongly bullish Chinese data should be very positive for oil," said Daniel Briesemann, commodities analyst at Commerzbank.
"Of course fundamentally, these high oil prices cannot be justified, but based on sentiment, the market still has room to go up, we think."
London Brent crude fell 19 cents to $84.64, moving to a premium above the US crude, also known as WTI, for the first time in months with traders saying the North Sea grade was benefiting more than its US counterpart from the Chinese data.
"International demand is having a more positive impact on Brent than WTI," said Christopher Bellew, broker at Bache Commodities in London.
"US crude oil stocks are high and WTI has its limitations as an [international] marker price because it is based on a landlocked crude, well away from the coast, said Bellew."
The North Sea crude oil market is also tightening ahead of routine maintenance work. The last time Brent futures traded consistently above the US crude was in December.
China's strong demand for oil and copper showed no let-up in March, with imports rising rapidly despite higher prices as factories returned to work in earnest after the long Lunar New Year holidays.
Crude imports by China jumped 13.8 per cent from the previous month and reached 4.95 million barrels a day, preliminary data released by the General Administration of Customs showed.
Barclays Capital analysts said oil prices had convincingly broken out of the $70-$80 a barrel range and could rise towards $90 as the global economy regained strength.
Follow Emirates 24|7 on Google News.