Oil surges to 18-month high at over $86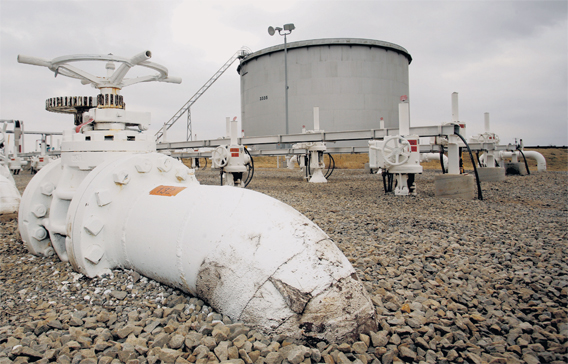 Oil prices surged to 18-month highs yesterday, after data on Friday showed the United States added the most jobs in three years, boosting prospects for economic recovery in the top oil consumer.
The US payrolls rose by 162,000 last month, the fastest rate in three years, Labour Department data showed on Friday.
The US service sector grew in March at its fastest pace in nearly four years while pending home sales also rose, according to the ISM industry survey and a National Association of Realtors report yesterday. The US equities rose while the dollar weakened against a basket of foreign currencies and commodities gained broadly.
The US crude oil for May delivery surged 1.9 per cent, or $1.62, to $86.49 a barrel by 11am (1500 GMT).
The US markets reopened after a three-day weekend including the Good Friday holiday. London markets were closed on Monday for Easter.
Brent crude rose $1.60 to $85.61 per barrel. "Economic optimists have taken control of the market after jobs data, manufacturing and pending home sales data all came in better-than-expected," said Gene McGillian, analyst at Tradition Energy in Connecticut. "We're in uncharted territory. I think we can keep trending higher."
The Opec members, including the world's largest crude exporter Saudi Arabia, said last week at the International Energy Forum in Cancun, Mexico, that they favoured an oil price in the $70 to $80 a barrel range. But Opec, which pumps about a third of the world's oil, has no immediate plans to revise output targets and produce more crude even with oil near $85, a person familiar with Saudi oil policy told Reuters last week.
Technical analysts, who follow the movement of prices on historical charts, have become more bullish and suggest the oil market could move higher in the next few weeks.
"Our take on crude oil prices in the short-term is that we likely will push higher from here," said senior commodities analyst Edward Meir at brokers MF Global.
"Technically, there is very little resistance showing on the charts given the upside breakout evident," said Meir.
In industry news, US Tesoro Corp said on Sunday crude oil intake at its Anacortes, Washington, refinery was down to about 70 per cent of its 120,000 barrel per day capacity after a deadly explosion and fire on Friday.
Follow Emirates 24|7 on Google News.