Traders bet on petrol's strength this spring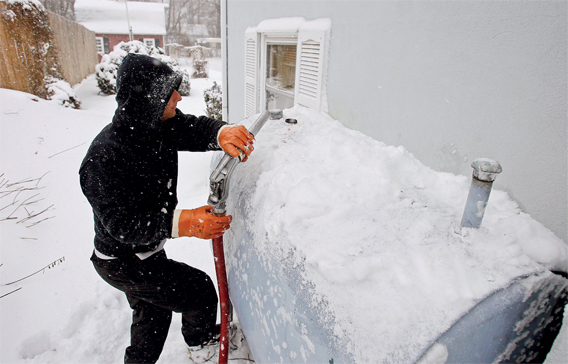 Some of the boldest speculative oil traders at banks and hedge funds are betting on a return of petrol's strength ahead of peak summer demand, bringing an early shift to summer from winter to the oil market.
Many traders use a popular spread play between petrol and heating oil to try to make money from seasonal shifts in demand in the Northern Hemisphere.
But the spread is one of the most volatile and unpredictable in the oil market and is often called "the widowmaker" after the plight of those who have made the wrong bet.
Unusually cold winter weather and a belief in resurgent petrol demand this summer has lured traders back onto the seasonal play after 2009's relatively flat demand picture, analysts and traders said.
"We have seen massive speculative inflows this year and this has helped boost the petrol premium over distillates," said Olivier Jakob of Petromatrix. "It is trying to price in the petrol season a bit early."
Traders said historically low refinery utilisation rates of around 80 per cent in the United States and Europe triggered by a sharp drop in industry demand for middle distillates, such as diesel, should constrain petrol supply in the world's top oil consumer.
"The hot money is on petrol this season and a lot of hedge funds have bet on it," said an oil products trader at a bank and a regular widow maker trader.
"Seasonality is back because of run cuts and because it's been such a cold winter. There is a belief that demand for petrol will be very good this year because it is not as connected to the recession as distillates," the trader said. The disappearance of one of last year's most lucrative revenue streams, the floating storage contango play, may also be boosting the appeal of the "gas to heat" spread, sources said. Those who backed the liquid RBOB petrol futures contract on the New York Mercantile Exchange (Nymex) are already reaping the rewards after the front month contract jumped to a premium in late January, while historical data shows this typically happens in late February or early March.
Petrol's premium to heating oil rose sharply again in March as the benchmark RBOB price shot to a 17-month high of $2.29 a gallon on March 8.
Open interest on US RBOB petrol futures rose 76.5 per cent above last year's levels to 264,600 lots in February as speculative players increased length, the US Commodity Futures Trading Commission (CFTC) said in a report. Non-commercial players made up 29 per cent of open interest on RBOB petrol futures in February, compared with 24 per cent a year earlier, the report showed.
If the rewards for the play can be rich, the losses can be brutal.
In 2008 petrol remained below heating oil all summer as record high crude prices over $147 a barrel slashed demand for the motor fuel.
A crushing position on the wrong side of that anomaly brought a case of a loss of up to $500 million (Dh1.83m), traders said. "It is called the widowmaker for a reason," said a New York-based oil products broker.
The most active spread players are trading firms Vitol, Trafigura and Glencore and hedge funds in commodities trading such as Bluegold and Tudor Investment Corp, trade sources said.
Traders at banks such as Morgan Stanley and JP Morgan are also big players, they said. By backing petrol, this year's bulls are betting that a sizeable chunk of US and European refining capacity shut for maintenance or due to poor margins will remain offline.
"We expect US petrol stocks to draw down over the coming four months, driven partly by heavy Midwestern refinery maintenance and the seasonal increase in demand," said JP Morgan analyst Lawrence Eagles in a research note.
But some argued that better petrol margins will encourage refiners to ramp up production. One trader estimated that three million barrels a day of capacity will be back by late April.
"We could see higher runs if the margins are so good and a shift in yields from heating oil to petrol. It will probably keep a certain premium but the crack [petrol margin] is overdone," said Jakob.
Other unpredictable factors like hurricanes can also affect the spread.
"People think they can trade it because it is seasonal but sometimes it just blows the other way and catches people off guard," said an oil products trader with a hedge fund.
"Even the most experienced traders get caught out."
Follow Emirates 24|7 on Google News.