Heat safety drive starts from April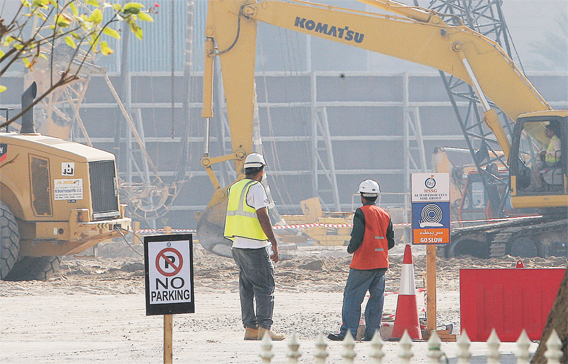 The Health Authority of Abu Dhabi (Haad), the regulatory body for occupational health in the emirate, will expand its 'Safety in Heat' campaign to protect workers in construction, oil and gas, agriculture, manufacturing, transport, sectors, etc, from heat stroke and heat-related accidents. The drive will start from April.
Speaking to Emirates Business, Dr Jens Thomsen, Section Head of Occupational and Environmental Health, Haad, said the campaign, which started last year with more than 400 major employers in Abu Dhabi, will be expanded to cover about 1,000 companies based in the emirate. Construction and industrial workers are vulnerable to heat-related ailments like heat stroke and fatigue, which are not covered by the compulsory health insurance scheme implemented in Abu Dhabi. Due to the slowdown in the construction activities in Dubai, many companies have now shifted part of their workforce to Abu Dhabi, where construction is on in full swing.
Thomsen said Haad would strongly support an amendment to the compulsory health insurance scheme in Abu Dhabi to cover work-related injuries and death. The emirate has grown in recent years, mainly due to the migration of expatriate male workers employed in construction and housed in labour camps.
The campaign in the summer of 2009 covered over 460 companies, with over 800,000 workers at 4,000 worksites and 1,700 labour camps. Bengali has been added this year to the list of main languages spoken by workers, and the media campaign will include visual messages for non-literate workers.
The official said the campaign would also cover summer heat protection for employees in small and medium enterprises in Abu Dhabi, which is witnessing a boom in highrise building construction. "This year, we plan to include about 1,000 companies in the 'Safety in Heat' campaign. Companies from Dubai too can participate in the campaign, which will be launched during the peak summer months.
"This campaign will cover not only companies in the construction sector but the entire spectrum of industrial employers. This will be in addition to the regular 'stop work' policy enforced by the Ministry of Labour during the two hottest months of the year – July and August – when workers are exposed to heat-related problems."
According to Haad data, out of the 623 deaths due to injury in 2008, occupational injury accounted for 68 deaths, second after road traffic injury (422). Besides debilitating heat, falling from a height and being hurt by falling objects are among the major occupational hazards that workers in Abu Dhabi face, said Thomsen. Such injuries had no insurance cover, he said.
Thanks to last year's campaign by Haad, the number of heat-related deaths and injuries has come down sharply, said Thomsen.
Safety tips
The 'Safety in Heat' campaign would provide special guidance to fasting Muslim workers during Ramadan. The campaign, kicking off in April, will give out thousands of training booklets, posters, superviser leaflets in English, Arabic, Hindi, Malayalam, Urdu and four Asian/Indian language, including Bengali.
Follow Emirates 24|7 on Google News.