DNV unveils design Quantum leap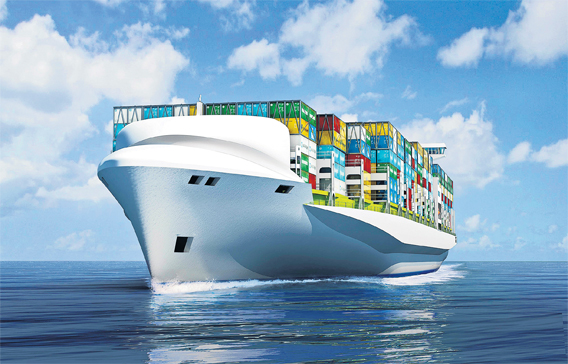 Det Norske Veritas (DNV), the Norwegian ship classification foundation, has said Quantum – its new concept design for container ships – should help the industry save significant capital expenditure in the long run.
The concept, the company claims, is designed to transport more cargo while using less fuel and with a reduced environmental impact.
DNV, in its latest report titled 'Quantum – a container ship concept for the future', points out that calculations show the total cost of the system including capital expenditure, operating expenditure and fuel cost will decrease by 14 per cent and the total CO2 emissions will be reduced by 35 per cent.
With a design speed of 21 knots, it can operate at speeds between less than 10 knots and more than 22 knots. A beam of 42.5 metres gives it good stability while its novel 49-metre Widedeck design increases its container capacity. Some more examples from a long list of innovative solutions are the need for ballast water is minimised and LNG is introduced as part of the fuel.
Speaking yesterday to Emirates Business, Per Wiggo Richardsen, Communication Manager, DNV Maritime, said everything developed in the concept can be realised in a real ship within the next three to five years.
"We have been working on this since September 2009 with more than 30 DNV professionals. Although ship owners can start incorporating the findings into their new designs in the coming years, it is unlikely that every solution will be realised in one single ship."
The vessel is designed to use a dual fuel LNG/diesel system that will allow reductions in emissions with the use of existing technology. In addition, the Quantum concept allows for the ship to be refitted with other drives as new technology, such as fuel cells, is developed.
"Ships built with the new design can use LNG in the coastal areas while opting for marine oil in the deep sea," said Richardsen.
DNV developed a model to evaluate how a ship will perform in any given liner service to ensure that new designs and solutions are adapted to best serve a given trade. When implementing the different design speed scenarios, the crucial issue the study concluded is to evaluate not only the effect on the individual ship operations but also how the design speed affects the entire service in areas such as cost, fuel consumption, CO2 emissions or required number of operation days.
In the section titled 'Exploring industry needs', the DNV report says: "The carbon footprint from delivering one TEU between the last port in Europe and the first port in ECSA is reduced from 1.3 tonnes to 0.7 tonnes by using a ship designed for (and sailed at) 17kn compared to the 25kn ship. However, by reducing the speed, two more ships are needed to uphold the service level (one weekly port call) and the number of annual service days required increases from 2,200 to 2,900."
It said further calculations show the total cost of the system including capital expenditure, operating expenditure and fuel cost will decrease by 14 per cent and the total CO2 emissions will be reduced by 35 per cent. Calculations of the Energy Efficiency Operational Indicator, as suggested by IMO, give a similar decrease from an average of 510g to 330g of CO2 per TEU-nm.
"As has been demonstrated, the operational cost and environmental footprint will change significantly if even relatively small changes are made in the trading speed. The requirement that a ship must be flexible, which is to say that it should be energy efficient over a larger range of speeds than before, must therefore be reflected in the way that the power production and consumption are configured as well as in the hull design itself."
Tor Svensen, President and Chief Operating Officer of DNV, drawing a comparison with the automotive industry, which has a long tradition of introducing new concepts as a lodestar for the future development of new cars, said: "Even if it would be possible to realise the Quantum within three to five years, this is a concept ship designed to stir up a debate about shipping innovation. We all know that the shipping industry is facing tough times. But now is the time for innovation and a focus on new solutions."
Quantum, as it is designed, is 272.3 metres long with a 42.5 metres beam and 6.5 metres wider than this at deck level. Its total container capacity would be 6,210 TEU.
Alphaliner, a provider of shipping market intelligence, recently concluded that, "Ships in the 5,500 TEU region may become the new workhorse of this industry".
Vebjørn J Guttormsen, Business Director, Container Ships at DNV, pointed out: "The change in the global economy and increased global environmental concerns mean that shipping is facing a new reality. Vessels ordered today will be in operation for the next 25 to 30 years and decisions made today will determine your market position in the years to come.
"In the long term, the oil price is expected to remain high and to keep on increasing. A tax on carbon emissions will probably be introduced. Should we design for the current super-slow steaming speed, or will the speed return to normal when the market recovers?"
The Quantum also features a state-of-the art hull form that is designed for an optimum speed of 21 knots and is ideally suited to smaller ports with limited draught allowances.
DNV's research concluded: "We foresee a market potential in the 5,000 to 7,500 TEU segment, as there are a number of growing economies and emerging trade lanes that will require relatively smaller, more compact ships with features such as shallow draft and high reefer capacity."
By making greater use of composite materials in construction of parts of the ship, DNV reckons on saving some 1,100 tonnes in the vessels weight. The use of fibre-reinforced plastics for a large wind deflector and wave breaker are expected to vastly improve the concept design's aero-and-hydrodynamic performance.
Follow Emirates 24|7 on Google News.