DP World container volumes rise 4%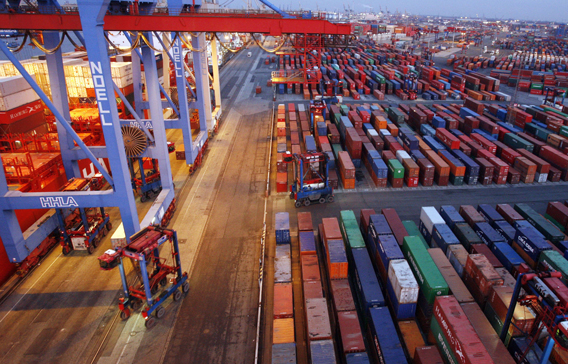 DP World says container volumes during the first two months of 2010 has registered a four per cent growth compared to the same period last year. While the industry witnessed a 12 per cent drop in container volumes last year, DP World reported a six per cent reduction in gross volumes.
Mohammed Sharaf, CEO of DP World, yesterday told reporters that it is however too early to judge if the growth pattern witnessed during the first two months would continue to sustain during the rest of the year.
"In the first two months of 2010 we have seen four per cent volume growth across our portfolio from a very low base last year and an improvement in Ebitda margins from the final quarter of 2009 as cost cutting initiatives continue to be realised," said Sharaf.
"Faced with the first decline in container volumes the industry has ever seen, our global portfolio, which is focused on emerging market origin, destination and gateway cargo, demonstrated resilience with consolidated volumes only falling eight per cent. We are seeing positive signs of recovery. However, it is still too early in 2010 to confirm sustainability as the macroeconomic environment and global trade patterns remain unpredictable. We will continue to focus on increasing market share and driving efficiencies through our terminals to generate revenue while maintaining tight cost control measures," he said.
Expressing confidence over the long term outlook he said: "We are confident about the long-term outlook for the container terminal industry and believe the challenges and our initiatives implemented in 2009 will position DP World in a far stronger position as we move into the future."
Non-container revenue continued to decline in the second half of 2009, which resulted in a weaker second half than first half for Europe, Middle East and Africa.
Chief Financial Officer Yuvraj Narayan said the decline in non-container business in Jebel Ali is just a straight refelection of decline in the activity in the real estate business. "In the past, Jebel Ali was full while last year we saw some cargo move away from Jebel Ali. What we are doing now in our capacity is to try and bring the cargo back. In general the cargo business is not high investment in terms of equipment and so the margins are high. One of the main reasons for our decline in margin has been the loss of cargo business," he said and added that although there has been some improvement the business would remain a little weak in the coming years.
According to Narayan, DP World's capital expenditure this year is about $800 million (Dh2,938m).
"All our projects are based on market conditions. In 2009 while we slowed down some projects, some projects continued and were delivered last year. We will be delivering some in 2010. We have not written down any of them. It is our intention to invest only in response to market demand. The capacity utilisation on our existing terminals on an average is 74 per cent. We don't see the necessity to expand in any of our existing facilities. However, there are certain areas identified where we would like to see our presence. As the right opportunities come, we will continue to invest in those locations," he added.
During the year DP World opened two new developments at Doraleh in Djibouti and Saigon in Vietnam as well as completed the expansion of the terminal in Jebel Ali. "We were awarded new 30-year concession agreements in Algeria, for ports in Algiers and Djen-Djen, which we began operating in the second quarter. We also successfully renewed two more concessions in Australia, in Adelaide and Sydney, for a further 30 years and 15 years respectively.
"Our confidence in the long-term performance of our industry led us to continue investing in new capacities during the year. As well as the new terminals at Doraleh in Djibouti and Saigon in Vietnam, construction of Callao in Peru and Vallarpadam in India continued and both will open this year," he added.
Alongside the investment in new terminals and, following the successful concession renewals in Australia, we have continued to invest in our portfolio there. In doing so we are improving efficiencies and winning market share – a strategy also executed in those terminals recently joining our portfolio such as Tarragona (Spain), Dakar (Senegal) and Sokhna (Egypt)," he said.
During the year, DP World acquired a minority stake in the development of Brazilian Embraport, the largest private multi-modal port terminal in Santos, Brazil which is planned to become operational in 2012.
In January 2010, DP World said it would proceed with construction of essential infrastructure that lays the foundation for our London Gateway (UK) terminal development. We will continue to review the development of the port and park operations in line with market demand.
According to Sharaf, work on the basic infrastructure has started with dredging work operational from March 13. "The key wall and the dredging is going on," he said. On Vallarpadam he said: "We are expecting the operation to start in June. However, there is bound to be some delays because of the monsoon. As the first phase we will have to move the current business from the Cochin port to the new terminal. We can think of new customers only after we are comfortable with the new facility becomes fully operational."
Meanwhile, DP World said it would continue to focus on port development in India. According to Narayan, India is going to spend a $1trn in the development of ports and infrastructure during the next five years.
"Our investment in Vallarpadam itself will be in two phases. We are in line for 300 metre JNPT 3. We have bid for that project. We will be interested in JNPT 4 when it comes up. India needs to get a capacity of 20million TEU's compared to its current 6-7million TEUs," Narayan said.
He, however, ruled out any immediate need for raising cash. "It is our endeavour to make sure our investment in these new businesses is within the free cash flow generation of our business. If you look at the financial situation of DP Wworld, we currently have $2bn in cash," he said.
Follow Emirates 24|7 on Google News.