First reclaimed part of London Gateway ready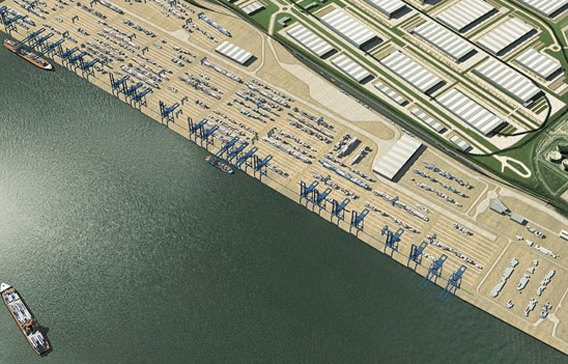 The first section of reclaimed land has become ready for human landing less than a month after the dredging work started at the UK's newest port and logistics development, London Gateway.
Work on the basic infrastructure and dredging became operational from March 13.
DP World Chairman Sultan Ahmed bin Sulayem inspected the first section of reclaimed land as part of a visit to see DP World's newest development get underway. The dredge and reclamation programme is a key element in the £1.5 billion (Dh8.5bn) project at London Gateway.
London Gateway is currently one of the largest inward investments into the United Kingdom and is the single largest jobs creation project, which will create some 36,000 jobs when complete. The project will be a major positive contribution to UK business.
The deepening of the River Thames for the project will allow the world's biggest trading vessels to once again deliver goods to the heart of the UK consumer market. This will save UK firms significant transportation and distribution costs as well as improving carbon footprints. More than 65 million freight miles will be saved every year and 140,000 tonnes of CO2 emissions.
Simon Moore, CEO of London Gateway, said: "We are progressing with the project very well and we are on course to deliver an exceptional piece of infrastructure for the UK."
The Logistics Park will offer more nine million square feet for the distribution, manufacturing and high-tech sectors.
The port, which will be one of the most automated and efficient in the world, will add an additional 3.5million TEUs to the UK's port capacity.
DP World also said that it has invested in a major hi-tech scheme, unprecedented in scale, to ensure the dredging is carried out safely and responsibly.
Work carried out includes assessments of the impact of the dredge to wildlife including internationally significant wading bird populations, fish and marine life, as well as to fishing communities and local habitats.
Follow Emirates 24|7 on Google News.