Iata projects savings of $4.9bn from e-freight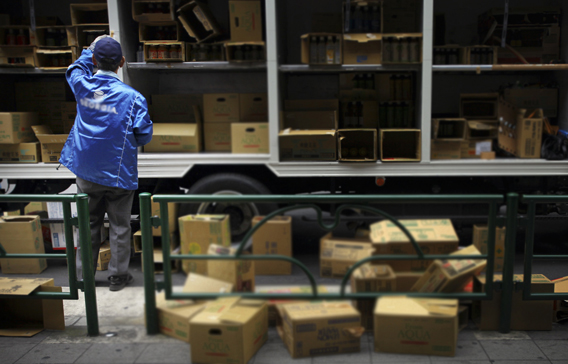 E-freight has the potential to eliminate $4.9 billion (Dh17.99bn) in costs across the air cargo supply chain, according to the International Air Transport Association (Iata). A senior official said yesterday that e-freight volumes increased five-fold during the past 12 months.
"We have come a long way but we need to spread the capability of e-freight even wider," said Giovanni Bisignani, Iata's Director-General and CEO, in a message to 750 industry experts attending the Iata World Cargo Symposium being held on the theme, "Bounce Back – Rebuild for the Future," in Vancouver, Canada.
Iata has urged the entire air cargo value chain to drive efficiencies and improve competitiveness by supporting Iata e-freight. It also called for renewed focus on quality via Cargo 2000 and a more effective and cost-efficient approach to security with the Secure Freight program.
"We are starting to see some signs of optimism on the horizon. But we cannot rebuild on the old foundations. This recession has changed global business. To remain competitive, air cargo must improve its quality and reduce costs," he said.
The global recession saw cargo revenues down by one quarter in 2009 compared to the previous year – the most precipitous drop ever. The end of 2009 and the beginning of 2010, however, saw a strong upturn in cargo volumes to a level 28 per cent higher than the low point seen in late 2008, according to the new Iata Cargo e-Chartbook issued yesterday.
This is still three per cent to four per cent below the early 2008 peak level. There are new signs of yield increases on specific routes and regions, with Asian markets bouncing back the strongest.
Fleet expansion
In 2009, the wide-body fleet saw utilisation fall by seven per cent and the freighter fleet, specifically, down by 160 aircraft. The industry is expected to take delivery of 50 freighters in 2010 and the wide-body fleet overall looks to expand by four per cent to five per cent.
"The recession has hit the industry hard. We have lost two to three years of growth. We are starting to see some encouraging signs with traffic volumes improving. Volumes don't automatically translate into profits. The challenges are many, including low yields, volatile fuel prices and matching capacity to demand," said Bisignani.
The e-freight agenda was a way to accelerate recovery and improve prospects for future profitability, said Bisignani. "E-freight has the potential to eliminate $4.9bn in costs across the air cargo supply chain. In 12 months, e-freight volumes increased five-fold." E-freight now operates in 24 countries or territories and at over 100 airports. So far, 16 out of a planned 20 air cargo documents have been converted to electronic format.
"This year will be critical for e-freight. We will convert a further four documents to the electronic format and add 20 countries to the program. This will give us the capability to remove 64 per cent of the paper from the system and cover 80 per cent of international shipments. With this capability, now is the time for customers, customs and governments to insist on e-freight as the standard way to do business," he said.
The electronic airway bill (e-AWB) is one of the 20 documents planned for conversion with e-freight. An industry standard e-AWB that will eliminate the need to print, handle and archive paper airway bills is being trialed by three airlines and 11 freight forwarders. Besides greater efficiency, the trials have proved that e-AWB can deliver faster air freight shipments with reduced delays. The e-AWB standard has been filed with governments around the world for approval. Earlier this month, the US Department of Transportation endorsed the new standard.
Critical year for security
Global quality standards and process simplification are critical for air cargo. Under the Iata umbrella, Cargo 2000 is a group of more than 70 major airlines, freight forwarders, ground handlers, trucking companies and IT providers. The organisation has streamlined cargo processes and publishes global quality standards. "Iata e-freight can only be successful in the quality-controlled environment that Cargo 2000 is building. We need the whole supply chain to embrace Cargo 2000 as the quality standard for the entire industry," said Bisignani.
"Besides removing paper from the shipping process to improve efficiency, 2010 will also be a critical year for security. Our Secure Freight strategy focuses on a data-driven, risk-based approach with shared responsibility throughout the supply chain," said Bisignani.
Secure Freight aims to secure the supply chain by defining, auditing and registering secure operators that act in compliance with a quality assurance system. Iata's target is $468 million in cost savings with enhanced security through consistent standards and procedures. The first pilot is in Malaysia and there are three more planned for this year.
Follow Emirates 24|7 on Google News.