Order books weigh down shipping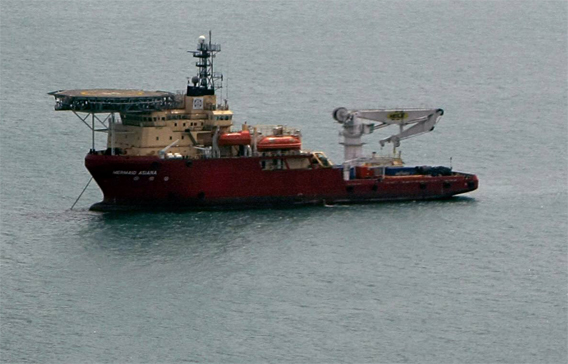 Shipping companies in the Middle East account for approximately $3 billion (Dh11bn) worth of orders, release of which will further affect the shipping industry, a senior industry official has warned.
The movement during the next 24 months will determine how several players in the industry will move forward, he said.
Kevin Oates, Director of Teviot Consultancy, yesterday said: "Although some of these orders are being cancelled or delivery delayed, most of them will receive the vessels over the next two to three years."
Oates told Emirates Business he has been negotiating with regional players in the private equity market to tie them up in a joint venture with serious European shipping companies. Oates, who is also the Director for Greece for Marine Money International, which is organising a day-long Gulf Ship Finance Conference, said one of the main issues that would be discussed is the very large order books in the shipping industry.
"The number of vessels on order is enormous. The question right now is if these order books have the potential to cripple the industry. There are simply too many vessels being built than are being absorbed into the shipping industry, creating a potential for real risk," said Oates.
According to a recent report by Moody's Investors Service, ships currently on order to be built make up about 60 per cent of the existing fleet for dry bulk carriers, 30 per cent for tankers and 40 per cent for container vessels.
"The region is in no way resilient to this factor. There are quite a few companies in the region, which have quite a number of vessels on order at Far Eastern shipyards and their value is much less compared to the contracted price a couple of years. We are talking about approximately $3bn worth of order books pending," he said.
The dry bulk shipping market, he said, is reasonable at the moment but declining. "It is likely to decline further during the year because so many new buildings are being delayed. The tanker market is very soft and the container market is rock bottom. So generally speaking, the shipping markets are quite depressed," he added.
Commenting on the finance available for the shipping industry, he said that despite all efforts alternative sources of funding have only managed to match up to a minor portion compared to finance from commercial banks.
"Shipping is a capital intensive industry and this time around there is very little capital around. The banking market is the weakest link in the chain. The traditional shipping banks are not lending. Their focus is on managing existing portfolios and losses," said Oates.
According to him, the new buildings, which were contracted a couple of years ago in the Far East are still with uncommitted finance. "A lot of these new builds will either not be delivered or there will be serious friction between the shipyards and the ship owners. Although we haven't really seen very much distress in terms of companies going bankrupt, as the year goes on, for some companies it is going to be increasingly more difficult and we may see some foreclosures and liquidation scenarios," he added.
For the last coupe of years all banks have been focusing on restructuring and that continues, said Oates. "But covenants are being broken and so it all depends on whether the market improves, remains stable or gets worse. If it gets worse, the whole situation will be tipped over the edge and the banks will have no option but to foreclose and liquidate the security and that is a serious threat. In 2010, we will reach a point when several owners will run out of cash," he said.
Many banks, despite still being in business, have changed their terms quite significantly, said Oates. "I suspect the banks will continue to say, 'yes we are open for business'. But the truth is that they are open for business for very selective deals, on existing clients, and on very conservative terms. In short, they are not really open for business as they were two or three years ago. They are cherry picking. This is the situation with all the banks in terms of shipping finance," he said.
The other main issue, he said, was the general lack of alternatives to bank finance. "Although we have private equity and Islamic finance, all of these is just like a drop in the ocean compared to finance from commercial banks," he said.
"However, I think there is a good opportunity for private equity at the moment provided investors are looking for a medium-term return ranging between three to five years. One of the things that I am investigating at the moment is whether any of the sovereign wealth funds or private equity sources from this region would be interested in making shipping investments. So far, I believe the answer is 'no'. I haven't seen any concrete evidence of interest. But there is an opportunity," he added.
In terms of Shariah-compliant funds, Oates said: "There are some Shariah funds such as Tufton Oceanic Shariah fund, The Q-invest that recently setup a joint venture with Fortis bank to invest in Shariah related transactions. Although these have been successful, in dollar terms this is just not sufficient."
Teviot Consultancy, he said, was involved in private equity in the US. "We are doing an equity raise in the US for European ship owners. I am trying to source private equity in this region as well, especially from those who may be interested in investing on a joint venture basis with serious European ship owners."
Keep up with the latest business news from the region with the Emirates Business 24|7 daily newsletter. To subscribe to the newsletter, please click here.
Follow Emirates 24|7 on Google News.