UAE dhows switch ports to avoid pirates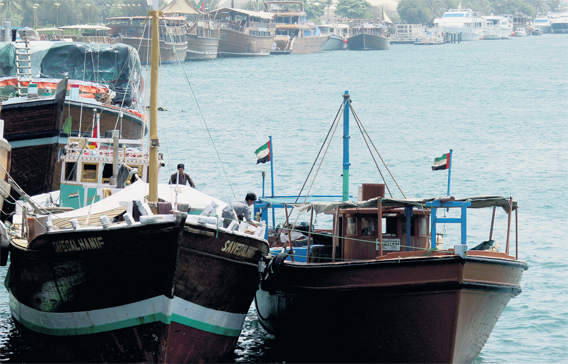 Traders and dhow owners in the UAE say more and more vessels are sailing to the Somalian ports of Berbera and Bender Cassim in the Gulf of Aden to avoid pirate attacks.
According to industry officials, freight charges could increase if dhows owners decided to stop operating to the Somalian ports located on the Indian Ocean.
Meanwhile, pirates have released one of the dhows that was hijacked last week and released 15 sailors.
Last week ship owners and businessmen decided to halt for 10 days all dhow movement to the port of Chisimayo and Mogadishu on the Indian Ocean side of Somalia, following a series of pirate attacks resulting in the hijacking of more than seven dhows with 97 to 110 people on board.
Almost 70 per cent of dhows from the UAE operate to Chisimayo and Mogadishu as they can then transport back loads of charcoal. One ship owner yesterday told Emirates Business that opting for the much safer ports of Berbera and Bender Cassim would mean ships return empty thereby transferring the additional cost to customers.
According to Younis Mohammed of Al Sabba, a medium-sized vessel returning empty would result in a loss of Dh300,000 per voyage.
Meanwhile, even as another meeting is scheduled this week to discuss the issue further, a couple of dhows scheduled to start the journey from Dubai to Chisimayo next week were continuing to load goods.
When asked why they continued to load when there was a ban, one representative of Somali traders said they expect some negotiated settlement within the next week or two. "Right now we are loading sugar. We have already loaded 900 tonnes of sugar and we are filling diesel," said the official who did not want to be identified.
According to him, on an average 30 to 40 dhows transport cargo to Somalia from Dubai every month. A majority would opt for the Chisimayo port.
"Dhow owners usually preferred to go to Chisimayo, which is a 11 to 13 days voyage, compared to seven days it takes to reach Bender Cassim because of the additional revenue they can earn from transporting charcoal," said the representative.
While presently about 30 per cent of the dhows operate to Berbera and Bender Cassim, the number is expected to increase.
Mohammed, whose Al Sabba is presently loading to travel to Berbera, said a decision on whether to resume operations to the ports located on the Indian Ocean side of Somalia would be taken within the next four days.
"We are scheduled to hold a second meeting soon. If the problem worsens, I am sure traders and ship owners would completely stop going to Chisimayo and Mogadishu. We will be left with no other option but to undergo a loss by returning empty or trasfer the cost on to our customers," he added.
Al Sabah, which has a capacity to load 1,600 tonnes of cargo, used to operate between Dubai and Chisimayo until January. "We decided to move to Berbera and Bender Cassim due to better security. We have a good naval escort in the Gulf of Aden. Although there is a threat of piracy even there, the chances of getting hit is much less, compared to the Indian Ocean," he added.
Meanwhile, according to reports pirates have released one of the ships that was hijacked last week. The ship, Krishna Jyot, with 15 sailors was released some time back, said media reports quoting the ship owner.
Andrew Mwangura, co-ordinator of the East Africa Seafarers Assistance Program, yesterday said efforts are being made to ensure the release of the other vessels.
"It usually takes time. Some times they take several weeks to establish contact," said Mwangura.
According to him, dhows from the UAE mainly opt to carry charcoal despite a ban on export of the commodity.
"The government of Somalia had banned the export of charcoal back in the nineties. However, trade continues with the support of certain warlords. Traders encourage it, as it is profitable for them," he added.
Mwangura also said that transporting goods to Berbera and Bender Cassim has another disadvantage as the land route between Mogadishu and the northern region is even more dangerous.
The US last week warned that Somali pirates are expected to step up attacks on merchant vessels as better weather allows them to operate more easily at sea.
"Vessel operators should anticipate an increase in piracy attacks from March through May… when calmer weather favourable for small boat activity will prevail," said a Reuters report quoting the US Department of Transportation's Maritime Administration. "Despite the increase in presence and effectiveness of naval forces in the region, as well as the effectiveness of defensive and protective measures, pirate activity has continued," the Maritime Administration said in an advisory.
Senior US Admiral Mark Fitzgerald also told Reuters Somali pirates have extended their range.
Follow Emirates 24|7 on Google News.