Abu Dhabi bourse drifts higher on thin volumes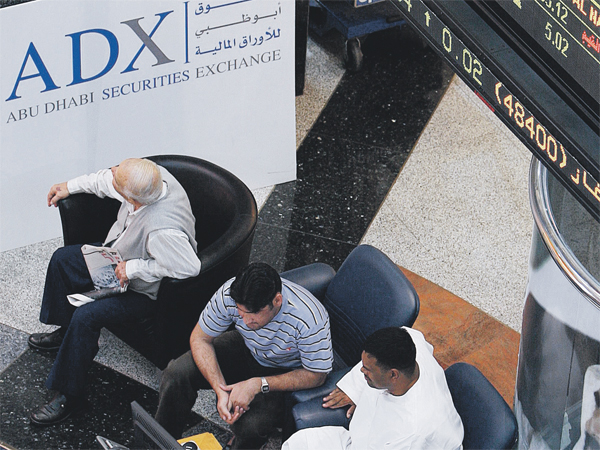 Taking positive cues from global markets, the Abu Dhabi Securities Exchange (ADX) closed on a positive note yesterday with market players expecting a continuation of support following the buying binge on the Dubai bourse.
The ADX general index rose 0.86 per cent, or 24.24 points, to close at 2847.68 points from its close of 2823.44 points on Thursday.
Market players are upbeat about short-term gains as a majority of stocks are trading at lower levels. This buying support may turn the market bullish, prompting further bargain buying on the bourse. Oil prices were also in positive territory, with crude hovering above $84 per barrel.
Barring insurance and healthcare stocks, all other sectors closed higher. Realty, construction and energy stocks gained the most, while the telecom, banking, consumer and industrial sub-indices closed with less than a per cent of gains.
"Realty stocks, Aldar and Sorouh, were in the limelight. There was concentration on big players such as Emaar and, naturally, this resulted in brisk trading in realty stocks on the ADX, too. I saw a tendency among investors to go for more liquid shares following sensitive news on Emaar's IPO," Wadah Al Taha, senior financial analyst, told Emirates Business.
Realty stock Aldar added 3.63 per cent and closed at Dh4.57, while Sorouh moved up by 3.77 per cent to close at Dh2.48. RAK Properties ended flat at Dh0.53.
Another major mover on the bourse was the energy sector. Aabar Investment and Dana Gas gained more than two per cent each. Aabar's shares closed at Dh2.35 and Dana Gas ended at Dh092. Taqa shares closed 1.59 per cent higher at Dh1.28.
Qatar Telecom, Gulf Cement, Union Cement, Sorouh and Aldar were among the top gainers, while Dhafra, Agthia, Julphar, GCIC and Sharjah Islamic Bank were the major losers. Dana Gas, Aldar, Sorouh, etisalat and First Gulf Bank were the most active stocks by trading turnover.
"The ADXGI closed above 2847 points and it may continue higher until the 2856/2864-point resistance levels," said Shiv Prakash, senior technical analyst at MAC Capital. "Bearishness can be seen if we see a break below2839 until the next support levels of 2830 points."
Among construction stocks, Gulf Cement, RAK Cement, RAK Ceramics and Union Cement shares closed higher. Telecom major etisalat's shares moved marginally upwards by 0.47 per cent and closed at Dh10.65. The Qatar Telecom stock added 4.84 per cent and closed at Dh158.
Gulf Pharmaceutical Industries' (Julphar) shares eased 1.91 per cent and closed at Dh2.05. Julphar has informed the ADX that it has reviewed the report of its board and approved the balance sheet. Its general assembly meeting has also approved the proposal for distributing an eight per cent cash dividend and four per cent bonus shares.
ADX sees modest turnover
The ADX recorded a modest turnover of Dh138.06m and a volume of 80.50 million shares yesterday in 1622 deals involving 29 stocks. Mirroring the positive undercurrent in the market, 21 stocks advanced, five retreated and three remained at their previous levels.
DFM leads GCC
Led by the Dubai Financial Market, most GCC markets closed higher yesterday with the exception of Kuwait and Bahrain. The Qatari bourse gained 1.15 per cent while the remaining bourses closed with less than a per cent in gains. The Kuwait index eased by a marginal 0.23 per cent and the Bahrain index fell 2.30 per cent.
Ahli United Bank, Bahrain's largest bank, fell for the second consecutive session and led the losses on the Bahraini bourse. Ahli's shares rallied last week ahead of news of a 25 per cent stake sale. However, market players turned net sellers in the stock as there was no confirmation about the prospective investor for the stake sale. The country's central bank said it was not aware of the stake sale. Profit booking pulled the Kuwait bourse down as investors switched their attention to other regional markets. Agility's shares remain suspended for disclosure of 2009 financial results.
Follow Emirates 24|7 on Google News.