Abu Dhabi index up 0.62% on realty stocks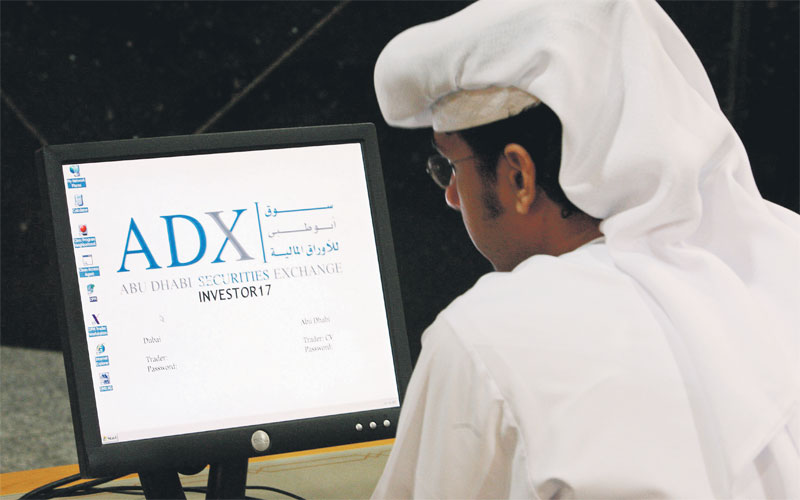 Led by realty and energy stocks, the Abu Dhabi Securities Exchange (ADX) closed on a higher note yesterday.
Sustained buying, though in a restricted way, propelled the index to close 0.62 per cent higher at 2865.26 points, a gain of 17.58 points. The key factor of a positive oil price, coupled with encouraging global cues, boosted market sentiment. Market players are upbeat on the ADX's near-term direction and have forecast 3050 points in the short term based on the anticipation that the index would get a support at the 2800- points level.
Aldar, Sorouh and etisalat were the most active stocks and attracted most of the turnover. The ADX recorded Dh149.10 million in turnover yesterday, as more than 72 million shares changed hands in over 1660 transactions in 32 stocks. Mirroring the positive trend on the bourse, 17 stocks advanced, 10 fell and five remained unchanged at their previous levels.
Aldar's shares rose 1.53 per cent and closed at Dh4.64, RAK Properties' stock added 1.89 per cent to end at Dh0.54, while Sorouh moved 1.61 per cent up and closed at Dh2.52.
"The trading pattern, as usual, is stable on the Abu Dhabi bourse. The oil price rise has also boosted trading sentiment. The Greece package, too, supported the oil price rise. Aldar and Sorouh are likely to go up further," Vyas Jayabhanu, Head of Al Dhafra Financial Broker, told Emirates Business.
Drive, RAK Cement, Agthia, RAK Properties and GCIC were the day's top gainers, while NMDC,
National Bank of Abu Dhabi, QCEM, Abu Dhabi National Hotels and Methaq fell the most.
"We expect that the market to continue rising until the 2876/2888-point resistance levels. Bearishness can be seen if the index breaks below 2862 points until the next support levels of 2850," said Shiv Prakash, senior technical analyst at MAC Capital. Energy stocks Aabar Investments and Dana Gas rose, while Taqa shares closed flat at Dh1.28. Aabar shares added 0.43 per cent and closed at Dh2.36 and Dana Gas gained 1.09 per cent to end at Dh0.93.
Telecom major etisalat moved 1.41 per cent up to close at Dh10.80, while Qatar Telecom shares closed flat at Dh158.
GCC on positive terrain
With encouraging global cues, all GCC markets barring Saudi Arabia and Kuwait traded higher yesterday.
The Saudi Arabian Tadawul index eased a marginal 0.17 per cent, while the Kuwaiti index recorded a minuscule loss of 0.03 per cent.
With gains of more than two per cent, Bahrain led GCC bourses yesterday, followed by Muscat with a 0.65 per cent gain, ADX with 0.62 per cent, DFM with 0.50 per cent and Qatar with 0.20 per cent gain.
Bank stocks pulled the Saudi index lower, while petrochemical stocks moved up. Riyad Bank announced a 55 per cent rise in net profit for the first quarter and this prompted market players to look forward to better results from other banks.
Agility shares on Kuwait's bourse closed 6.7 per cent higher yesterday on renewed buying support after the announcement of a 22 per cent net profit for the first quarter.
Board meetings
This month is going to be hectic for investors as most companies are scheduled to hold their board meetings.
Gulf Cement Company informed the exchange that its board meeting would be held on April 14. Alain Ahlia Insurance's board meeting is scheduled on April 19. The market major Dana Gas's AGM and EGM will be held on April 14.
Among the companies that have already held their board meetings, Abu Dhabi Commercial Bank disclosed the minutes of its AGM and EGM held on March 30.
The Union Cement Company also disclosed its financial results for 2009 to the exchange, while ADSB has submitted its corporate governance report for 2009. Fujairah Trade Centre has also disclosed the results of its general assembly meeting held on April 7.
Follow Emirates 24|7 on Google News.