ADX hits 12-week high as index adds 0.74%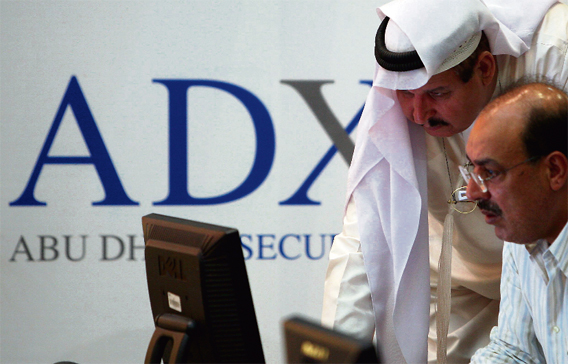 The Abu Dhabi Securities Exchange (ADX) hit a 12-week high yesterday as the general index added 20.66 points, or 0.74 per cent, to close at 2,795.03 points.
The increase means the index has risen by 1.87 per cent since the beginning of the year.
The market advanced for the third session running with a significant rise in turnover as 158.8 million shares worth Dh354.1 million changed hands.
Aldar and Sorouh were the most active stocks and biggest gainers as they added 7.89 per cent and 5.91 per cent respectively.
Rakprop advanced 1.9 per cent to Dh0.87 amid general positive sentiment towards realty stocks.
"There is currently a gradual uptrend on the market," said Ahmed Tabbo, a financial analyst at Darahem Brokerage. "The ADX may face some profit booking and go down slightly before it resumes the uptrend again.
"There is increasing interest in real estate stocks after the rally in Emaar on the DFM. These stocks also attract speculators and daily traders as they are liquid and they can cash out easily."
Energy stocks also maintained their uptrend as Aabar Investment turned active and advanced 3.2 per cent to Dh2.28. Taqa added 1.6 per cent to Dh1.26, while Dana closed flat at Dh0.87.
Waha Capital saw good trading even though the stock retreated by one per cent to close at Dh0.93.
This came amid reports that Al Waha Maritime, a subsidiary of the company, was planning to acquire an offshore support company operating in North Africa.
The general sentiment on the market remained positive and there were high expectations of a further rally during the coming weeks.
Humam Al Shamaa, Financial Consultant at Al Fajr Securities, said: "The sentiment need sustainability through further support to the market. The banking sector is showing positive signs and there is a need to support this."
Aldar advances
Aldar advanced sharply by 7.89 per cent yesterday to close at Dh3.90 despite negative reports and ratings.
The stock attracted strong buying interest after the company revealed that certain infrastructure and other property assets at Yas Island were sold to the Abu Dhabi Government last December for Dh9.1 billion.
Deutsche Bank reduced Aldar's target price to Dh5 from Dh7.10, while Citigroup raised its risk code on Aldar to "buy/high risk" from "buy/medium risk" on the back of Moody's recent downgrade of Aldar's rating to Ba1 from Baa2 with a negative outlook.
"Despite the downgrading of Aldar the market response was positive because the sale of its assets on Yas Island will guarantee good cash flow for the company," said Ahmed Tabbo. "This will enable the company to pay its creditors and complete its projects, so investors interpreted this announcement as a positive sign."
RAKBank trading
There was no trading in RAKBank yesterday after the stock witnessed strong selling pressure during the previous session when it was the biggest loser.
The bank said yesterday that it would distribute a 10 per cent cash dividend with a total value of Dh96.2 million to shareholders who are registered by March 15. It will also distribute 20 per cent bonus shares totalling 192.4 million shares.
Keep up with the latest business news from the region with the Emirates Business 24|7 daily newsletter. To subscribe to the newsletter, please click here.
Follow Emirates 24|7 on Google News.