ADX stays sideways amid calm trading and low volatility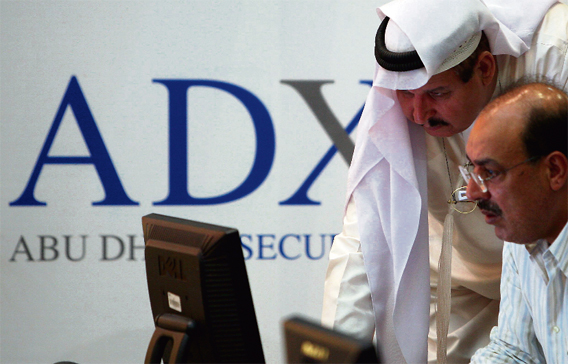 The Abu Dhabi Securities Exchange (ADX) continued its sideways trend yesterday and moved in a very narrow range, ending the session almost flat.
The ADX index closed slightly up at 2860.73 points, adding 1.16 points. It moved up to 2875 points during intraday trading and witnessed a gradual downturn until the end of the session.
In general, the market was trading in a calm trend as there were no strong fluctuations in the index and the turnover remained at low levels. Around 75.9 million shares worth Dh155 million changed hands during the session. Real estate and energy stocks remained the top active players in the ADX and both sectors advanced. Aldar was the top active player, with the stock adding 2.63 per cent to close at Dh4.62, while Sorouh added two per cent to close at Dh2.52.
Rakprop faced selling pressures and went down by 1.8 per cent to Dh0.54. Aabar advanced 1.25 per cent to Dh2.41, while Dana and Taqa ended the session flat at Dh0.90 and Dh1.28 respectively. Pressures in the market came from etisalat, which retreated by a slight 0.24 per cent to Dh10.75 after going up to Dh10.90 during intraday trading.
"The ADX remained calm and moved sideways during the session with narrow gaps in prices," said Ehab Rashad, Trading Manager at Direct Broker for Financial Services. "The market witnessed limited profit booking in some stocks after it rallied during early trading.
"However, speculators could not move in the market yesterday as prices were moving in very limited gaps.
"Leading active stocks in the real estate and energy stocks moved in a narrow range and speculations were very low in the market."
Aabar sees active trading
Aabar Investments witnessed relatively active trading yesterday amid buying interest in the stock, which placed it among the top players.
The stock advanced 1.25 per cent to Dh2.41.
Investors were buying the stock after the company announced plans to issue convertible bonds worth Dh7.346 billion at a conversion price of Dh2.50 per share. The bonds will be issued to the International Petroleum Investment Company.
Aabar said the proceeds of the bond issue would be used to finance general corporate purposes. Aabar's board will invite an extraordinary general assembly to consider the issuance of the bonds.
FGB buys back shares
FGB retreated by 0.83 per cent to close at Dh17.85 yesterday at low turnover.
The bank continued its buyback programme and bought a total of 48,754 shares yesterday and on Thursday according to statements. The bank increased its shares in the programme to more than 28.6 million and it can buy back an additional 108.88 million until the end of December this year.
Rakprop retreats
Rakprop witnessed selling pressures yesterday and retreated 1.8 per cent to Dh0.54 as speculators were dumping the stock after the company's annual general meeting decided not to distribute dividends for earnings in 2009.
The stock saw good buying interest from speculators last week and advanced to Dh0.56 amid rumours in the market that the company might propose a five per cent cash dividend.
However, Rakprop decided in its meeting not to distribute dividends and preferred to keep cash in hand to support its operations.
Follow Emirates 24|7 on Google News.