Bourses likely to rebound as oversold areas reached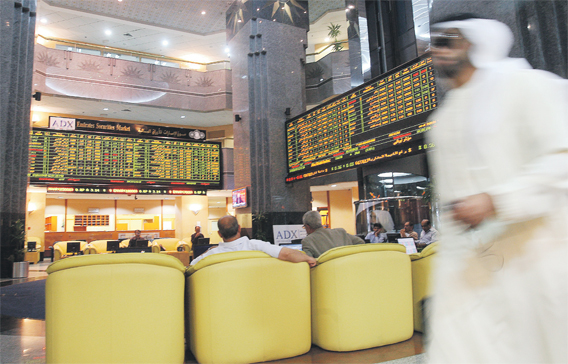 The UAE stock markets are projected to test their support levels before they can rebound amid declining volatility and turnover. However, the markets reached oversold areas and can witness good upside movements.
The lack of strong movers is expected to dominate the markets' sentiment as investors are waiting for first-quarter results while the season of cash dividends and bonus shares distribution is nearing its end.
The country's stock markets in general witnessed bearish movements last week, which dragged indexes near their important support levels and the bourses need strong movers, mainly positive surprises in the first-quarter results, to rebound in the near future.
Distribution of cash dividends and bonus shares played a major role in the bearish trend as the markets were pricing in cash dividends and additional shares that were distributed to shareholders. Also, investors created more pressures by selling their bonus shares to cash their profits.
The Dubai Financial Market (DFM) faced strong downturn movements last week and the index lost 5.09 per cent to close at 1765.23 points. The index is approaching its important support level around 1750 points and is expected to test it early this week before it can rebound.
Leading active stocks are also nearing their support levels and buying interest will appear at these levels as investors are trying to accumulate stocks at lower levels in anticipation of good upside movements on the back of first-quarter results.
"The DFM index broke through two support areas at 1825 and 1790 points last week. The index reached oversold areas, especially after it tested the next support at 1750 points during intraday trading on Thursday," said Ahmed Hetta, Head of Research at Tadawul Shares and Bond Mediation.
"Buying interest was seen at the support level and helped the DFM to narrow its losses by the end of the last session. We expect that the index will be able to maintain the support level and stabilise above it early this week."
"Later this week, we expect the DFM may be able to rebound and retest its resistance area around 1825 points. The turnover dropped last week and foreign investors were sellers. However, we expect renewed buying interest at support levels," Hetta said.
Foreign investors were net sellers of shares worth Dh22.6 million while institutional investors were net buyers of shares worth Dh31.2m last week.
Banks were the strongest sellers among institutional investors while investment companies and other institutions were good buyers in the market.
The Abu Dhabi Securities Exchange (ADX) is also expected to continue its sideways trend amid calm trading this week as the index came near its support area around 2800 points.
The distribution of cash dividends and bonus shares in heavyweight etisalat led to significant downside pressures in the ADX last week. Other listed companies also distributed dividends for shareholders and that led to more bearish pressures.
"Despite these pressures the turnover in the markets dropped sharply last week, which shows that most investors are maintaining their positions in the markets waiting for new movers, which will push prices up again," said Hummam Al Shamaa, Financial Consultant at Al Fajr Securities.
"The psychological impact of the global financial crisis is still affecting investors' sentiment and this will take some time," he said.
This was unjustified reaction to Emaar's plan to refinance its debt, which is a positive action by the company to maintain its cash positions and finance its uncompleted projects. Emaar is in a very good cash position compared to its peers in the real estate sector and the market will return to the positive side again after investors realise positives of such actions."
Follow Emirates 24|7 on Google News.