DFM flat amid modest profit taking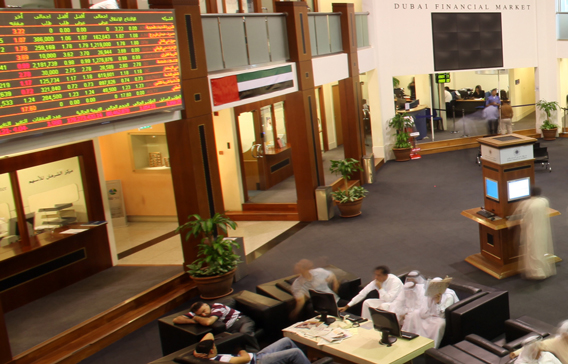 Moderate profit booking in leading active stocks dragged the Dubai Financial Market (DFM) down yesterday amid high volatility and declining turnover.
The general index fluctuated sharply between gains and losses four times on increasing speculation and quick profit booking movements, especially on active stocks in the real estate and construction sectors.
The index ended the session slightly down with a loss of 6.86 points, or 0.37 per cent, at 1,843.47.
"The market is facing strong resistance around 1,880 points," said Ahmed Tabbo, a financial analyst at Darahem Brokerage.
"After making quick gains during the past few weeks on positive sentiment from the Dubai World restructuring proposals, the DFM is facing a profit taking wave which may continue for some sessions.
"Leading active stocks, especially Emaar and Arabtec, saw strong gains in a short period and this opened the way for a correction after these stocks reached overbought levels. There is also high volatility due to wide gaps in prices during intraday trading. This shows active speculation and quick movements by daily traders."
However, Shiv Prakash, an equity investment analyst at MAC Capital Advisors, said profit booking pressure was limited during intraday trading and the index suffered limited losses at the end of the session.
"The market is holding its previous gains and we did not see massive selling pressure on leading stocks," he added. "After the recent gains we expect the market to consolidate during the coming sessions in the area of 1,800 to 1,880 points."
Turnover continued to decline with 273.8 million shares worth Dh577.9 million changing hands.
Trade values have declined significantly so far this week since hitting Dh1.7 billion last Thursday.
Arabtec has continued to lead the market this week, while Emaar remains a leading active stock. The two stocks together accounted for more than 65 per cent of the total values.
Tabbo added: "This dropping turnover is another indicator that the DFM's rally is losing steam and the market has entered a profit taking period. However, the DFM index is correcting in a gradual trend and this will help the market to consolidate in the coming weeks."
"We expect speculation to dominate the market in the coming weeks amid rumours and reports about the first quarter results. Banking stocks may be subject to strong speculation as there are high expectations that they will report satisfactory earnings for Q1."
Emaar ended the session flat at Dh4.00, while Arabtec retreated slightly to Dh2.71.
DFM stock declined to Dh1.90, DIB ended the session flat at Dh2.72 and Emirates NBD advanced by 0.9 per cent to Dh3.08.
Prakash said: "There is a kind of shift in the market as investors are booking profits from one stock and move to other stocks that did not move during the recent rally. This was clear from the trading patterns for Emaar and Arabtec during the past two sessions. Investors were selling Emaar and buying Arabtec on Tuesday, and yesterday they sold Arabtec to buy other stocks."
He said the DFM's short-term trend remained bullish and the market might witness some upside movements. "However, the medium-term trend in the market is still bearish as the DFM index is moving under the 200-day simple moving average," said Prakash.
Positive territory
The Dubai Financial Market (DFM) ended the first quarter of this year in positive territory with a gain of 2.21 per cent. The index witnessed a strong rally during March as it added 15.7 per cent and managed to erase all the losses it had made since the start of the year.
Turnover on the DFM declined in the first quarter compared with the last quarter of 2009.
It reached Dh29.4 billion with a daily average of Dh452 million during Q1 2010 compared with a total of Dh49bn and average daily turnover of Dh777.3m during the previous quarter.
Insurance becomes bullish
Insurance turned bullish on the DFM yesterday as stocks in the sector outperformed the market amid buying interest and good gains for Salama, Aman and Dartakaful, which was the top gainer after it rallied by 4.69 per cent to Dh1.34.
Insurance stocks did not move during the recent rally on the DFM and there is now buying interest in these stocks from low levels as investors try to match the gains they made in other sectors, said analysts.
"Real estate and banking stocks witnessed good rallies and investors are booking profits in these sectors and moving to other stocks," said Ahmed Tabbo.
"Insurance stocks always move late and the uptrend may focus in these stocks during the next few sessions." Shiv Prakash said a rally in insurance stocks started yesterday amid accumulations by institutional investors. "There is no clear reason for this buying interest but insurance stocks are cheap following the recent rally in the market," he added.
"Trade volumes in insurance stocks are increasing sharply and this reflects accumulations.
Follow Emirates 24|7 on Google News.