Gold likely to stay bullish on demand as safe asset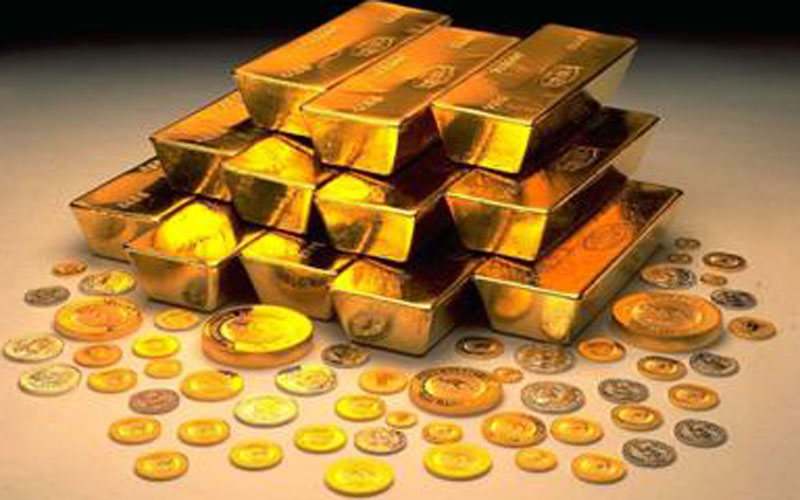 Gold is expected to continue the upward movement and will stay above $1,160 per ounce, according to technical analysts.
Adam Hewison, President of MarketClub.com, said gold must increase above the $1,160 area or risk retreating. Rallies in the past several months were met with heavy resistance at the $1,160 level.
Investment interest in the precious metal has grown as inflation and sovereign debt fears persist. Barclays Capital said holdings of the 18 gold-backed exchange-traded products it tracks set record highs last week.
Gold prices rose to their highest level this year on Friday, above $1,160 an ounce, as a downgrade of Greece's debt renewed fears over the euro zone's financial stability, prompting a flight to safer investments.
The metal ended the week about three per cent higher, which marked the biggest gain since the week of January 10. Rising investment demand also underpinned the market, as holdings of the world's largest gold-backed exchange-traded fund, SPDR Gold Trust – often referred to by its GLD stock symbol – rose to a record of more than 1,100 tonnes.
New York-listed GLD also increased its holdings by nearly 10 tonnes to a record 1,140.433 tonnes on Thursday, its biggest one-day climb since September.
Other precious metals also climbed, with silver rising with gold to $18.41 an ounce, the loftiest price since January 20. It was last at $18.35 an ounce against $18.04 on Thursday.
Spot gold peaked at a four-month high at $1,164.35 an ounce, the firmest since December 8. June gold futures settled up $9 at $1,161.90 an ounce on the Comex division of the New York Mercantile Exchange.
Gold investors took heart on a euro rally after a European Union source said euro zone leaders had reached a deal on terms of a possible emergency loan to help Greece manage a worsening debt crisis. Potential currency volatility also increases bullion's appeal. In addition to a choppy euro, New York Times also reported this week that China was close to announcing a shift in currency policy, a sign that Beijing could let the value of the yuan rise.
Gold has benefited from a flight to hard assets amid persistent concerns over the fiscal health of debt-laden Greece and other smaller euro zone economies such as Portugal, Italy and Ireland, helping it shrug off dollar strength this week.
Fitch Ratings on Friday cut Greece's credit ratings by two notches and signalled further downgrades are possible, citing the intensification of fiscal challenges in the debt-ridden country.
Follow Emirates 24|7 on Google News.