Ad pick-up raises H1 profit expectations at DMGT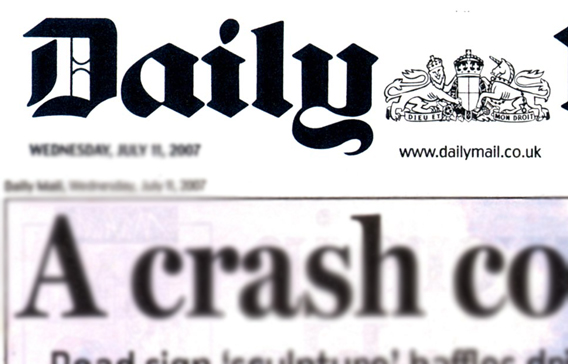 British media group Daily Mail and General Trust (DMGT) said first-half results should show a significant improvement, thanks to better profitability at its consumer newspapers where advertising was picking up.
The group reported an eight per cent rise in underlying advertising revenues at its national titles this quarter so far (its fiscal second quarter) led by mid-market tabloid, The Daily Mail. Regional ad sales fell five per cent compared with a 13 per cent drop last quarter. "Trading has continued to be ahead of our expectations but we remain cautious about the second half of the year, particularly in the light of political uncertainty in the UK after the general election," DMGT said.
Cuts in public spending, including public-sector advertising, are widely expected after the May election. The British government is the country's biggest-spending advertiser. Shares in DMGT, which had rallied 12 per cent this month so far, were down 0.7 per cent at 495 pence yesterday, broadly in line with a subdued European media index. UBS called it a "solid trading update" and kept its "buy" recommendation and 550 pence price target, saying the stock looked cheap at 11 times 2010 annualised earnings – slightly above the sector average.
Newspapers in Western Europe and the United States have started to see an improvement as a recession that put some titles out of business begins to ease, though they still face the structural problem of readers and advertisers moving online.
DMGT's circulation revenues from national titles fell four per cent for the five months to end February, while regional circulation revenues fell seven per cent. Future circulation trends may not follow previous patterns, as the UK newspaper market prepares for some deep changes.
News International plans to charge for the online versions of its Times and Sunday Times national broadsheets from June – while the rival Independent is about to be taken over by new owner Alexander Lebedev, who may turn it into a freesheet.
DMGT's business-to-business operations, which include large trade shows and B2B media group, Euromoney, bring in over 40 per cent of group sales and have helped offset weakness in newspapers. Euromoney, which brings in about 15 per cent of group revenue, said last week that trading conditions were beginning to improve but it was still too early to call when in the second half, revenue growth would return. DMGT said total revenues for the five months to end February fell five per cent on an underlying basis, with improvements at all its B2B operations excluding events.
Follow Emirates 24|7 on Google News.