Arab animation gets a boost as Abu Dhabi and Blink sign pact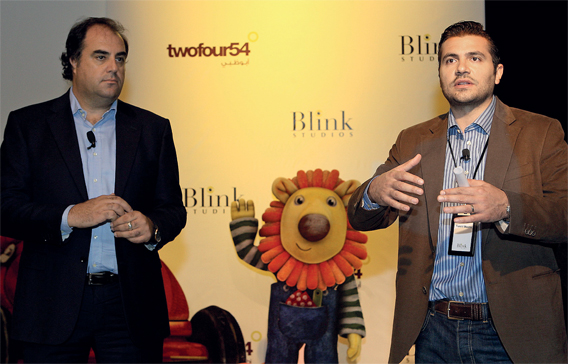 As a boost to the animation industry, twofour54, the Abu Dhabi-based content creation community, announced a strategic partnership with Blink Studios, one of the leading Gulf-based animation studios.
The agreement will see Blink Studios establish a production facility at twofour54 in Abu Dhabi initially to produce the Arabic version of Driver Dan's Story Train, working with 3Line Media, the UK based producers of the English version of Story Train. This move by twofour54 will open up enormous opportunities to young Arabic talent.
Commenting on the partnership, Tony Orsten, CEO of twofour54, said: "Driver Dan is the perfect platform for adapting content to the Arab market. The show will not be a dubbed version of the English content, instead we will use Arabic writers to provide the story telling element, Arab animators to create content and Arab children to make up the live action component."
Twofour54 has so far tied up with 60 regional and international partners developing quality media content from its Khalifa Park campus. This number will continue to grow significantly throughout 2010.
Arab animators will work alongside some of the world's leading children's animators to create a brand new, original version of the show specifically tailored for the Arab market and the pre-school audience. These exciting opportunities will help guarantee the long term future of the region's animation industry.
By establishing a sustainable industry base in the UAE capital, twofour54 will provide job opportunities in the media sector and ensure skills development and knowledge transfer through internships and work experience placements.
"Our partnership with Blink is an exciting phase for twofour54 on our mission to develop a sustainable Arabic media and content industry here in the region," added Wayne Borg, Chief Operating Officer, twofour54.
"One of our key roles is to facilitate content creation in a supportive and collaborative environment. The relationship with Blink allows twofour54 to further develop new animated content in the region, working with talented Arabs to bring their ideas to both regional and international audiences".
Blink Studios was established to service the region's growing need for high quality visual impact. Blink has developed a dynamic approach to TV, Motion Picture and corporate productions, with strategically engineered studios providing a fully integrated production solution including shooting for documentaries, cinema and TV commercials, 3D walk-through animated graphics and fully-animated, television programmes. In order to ensure a sustainable presence in Abu Dhabi, Blink will commit to producing the majority of its long form animation production at its twofour54 base. Further to this, twofour54 is creating a development fund in order to collaborate with Blink to identify animated content which can be developed for the region.
Talking at the signing of the pact, Lea Badro, Partner, Blink Studios said: "The vibrant, fast growing economy of the UAE and the Arab region has given rise to increased demand for Arabic content, particularly in children's animation. We have recognised the need for quality programming and have developed a dynamic approach to TV, motion pictures and corporate production. Our partnership with twofour54 will cement our leading market position and is a step in the right direction to establishing a true animation industry."
Follow Emirates 24|7 on Google News.