Brand tweets influence buying decision in Mena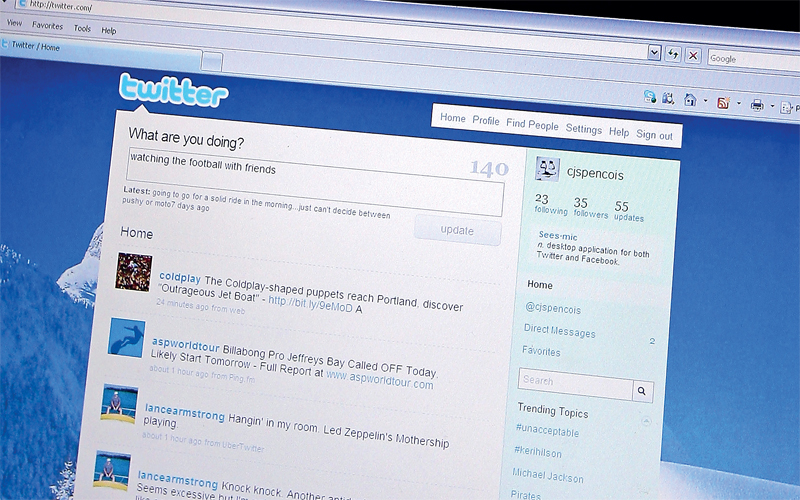 Twitter seems to be gaining ground, according to a survey conducted by Spot On Public Relations. The results show that an increasing number of people in the Middle East are taking to twitter – one of the fastest growing social networking tools.
The survey shows 95 per cent of Middle East and North Africa (Mena) Twitter users believe brands should engage with customers on Twitter and about nine out of 10 say that Twitter has affected their perceptions of a brand or company.
In addition, highlighting the conversion power of social networking and communicating through tweets, the survey – 101 things brands should know about Twitter – shows that 50 per cent of those polled have actually bought a product or service as a result of using the micro-blogging service.
On a cautious note, many Twitter users in the survey also slammed brands that spam other users, broadcast impersonal messages and fail to listen to their customers on Twitter.
"The concerns and negative reactions to brands entering social media are now well documented and have made many brands cautious of using social media platforms. Therefore, it's great news for marketers in the region that people on Twitter actually welcome engagement with brands," said Spot On PR's Managing Director, Carrington Malin. "Most users surveyed felt brands should engage with customers on Twitter and 82 per cent said they'd be more willing to buy from a brand that has a relationship with them over the service. However, the message that brands must prove themselves on Twitter by demonstrating that they know the difference between advertising messages and social media conversations, came through loud and clear."
Though the survey included Twitter users and consumers, no marketeers or business owners have been covered.
Nilesh Ved, Chairman and Founder of Apparel Group, which has more than 600 outlets in the Mena region and more than 60 international brands feels that social networking tools, such as Twitter and Facebook are very affective in the developed markets, "but in this region, its not very effective at the moment."
"We would like to use these tools here as well, but the demographics are not in favour of these tools with limited reach and a small number of users," he added.
Use of Twitter grew 579 per cent last year from a total of 2.7 million visitors at the start of 2008 to 18.9 million visitors worldwide at the end of 2009. However, Twitter community in the UAE only numbers to about 15,000, from an estimated 40,000 users across the Middle East and North Africa. There were less than 3,000 users 12 months ago in the country.
Twitter activity grew from 5,000 tweets per day in 2007 to 300,000 by 2008 and 2.5 million tweets per day in 2009. Figures released by Twitter in February 2010 registered 50 million tweets per day (or an average of 600 tweets per second).
No such figures are available for the Middle East and North Africa.
Corporate activity in the Mena Twittersphere has grown too, with an estimated 400 brands represented on Twitter in the region including companies, government departments, NGOs and non-profit organisations (more than 300 can be tracked via Spot On's Middle East Brands Twitter List).
Though the number of users of the social networking tool is very modest in the region, the survey shows that Twitter is definitely having an increasing effect on the relationship between its users and brands. In the previous survey by Spot On in August 2009, only 61 per cent of users had changed their perception of a brand via Twitter, while the number grew to about 90 per cent in this year's survey that was conducted last month. The survey also show that 53 per cent of respondents asked a brand for customer service and 36 per cent said they have been proactively contacted by a brand on Twitter over customer service issue.
Twitter has been a more useful tool for communication purpose by the service industry as was evident by a recent tweeting exercise by du, the Dubai-based telecommunication operator.
Farid Faraidooni, Chief Commercial Officer of du said that in a non-conventional approach to connecting with its users, du initiated a tweeting platform seeking an interactive response by its users and the result was a barrage of tweets that reinstated the connection between the two – service provider and its consumers. Within days, du representatives and its agency representatives at OMD claim that it had as many as 850 followers.
Faraidooni said: "To ensure that we're connected with our customers we need to be present in their space and listen and engage in the conversation happening on the different platforms."
Meanwhile, Malin said: "Twitter is fast moving and challenges brands to engage effectively with consumers, but with something like 65 per cent of people telling us that they would be interested in receiving special offers or coupons from brands over Twitter and 88 per cent of people saying they would recommend a brand based on their Twitter experience, it is becoming an increasingly powerful platform. Those 101 responses provide advice to any brand contemplating using Twitter as part of its marketing mix. They reflect the opinion of the people."
Mena Customer Service and Twitter Survey was carried out last month and is based on 174 respondents to a questionnaire sent to them after they had been contacted via Twitter and had agreed to participate.
Quotable quotes
The survey includes 101 responses to the question, "What one piece of advice would you give to a brand using Twitter" – some key responses include:
- Don't sell me anything and don't talk about yourself... build a relationship with me and provide me with value, no strings attached
- Take a less corporate and more human approach with your Twitter presence. Don't make it sound like your tweets are part of your official company newsletter
- Transparency, genuineness and immense respect for the customer are the more important aspects than the media of communication. If you don't get these [things] right, no amount of old or new media flogging will fix your image
Follow Emirates 24|7 on Google News.