Dubai Studio City sees 10% growth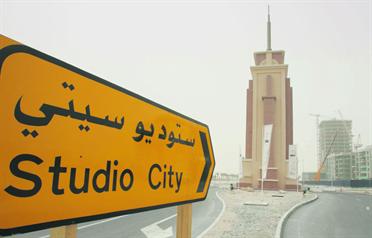 Jamal Al Sharif, Executive Director of Dubai Studio City, expects five-to-10 per cent growth in 2009, despite the adverse impacts of the global financial crisis.
The entertainment business goes on good and bad times, he told Emirates Business. "People will always want to be entertained."
Will film production replace real estate as a major sector in the local economy? Al Sharif said it would rather complement other industries in the future.
DSC also has its real estate aspect, selling office space, studios, warehouses and workshops – its major source of revenue.
Al Sharif said Dubai was now going back to its state of normalcy with the current global crisis, following the soaring costs of living in the past few years.
DSC has recently delivered its first phase of offices, the commercial complex, with a 42 per cent occupancy rate, a satisfactory result, according to Al Sharif.
The initial occupancy rate expected was almost 37 per cent. "We expect our occupancy rate to increase by another five to 20 per cent", said Al Sharif.
"No one is backing out, and there are clients who have demanded more space." Occupants, said Al Sharif, are all related to DSC business category, namely, media and production companies. 
"Now, with the current situation and with the cost hopefully getting back to normal, we should be able to attract a good number of productions including films, documentaries and TV series," he added.
DSC figures show the film production sector has pumped Dh890 million into the local market aside from production budgets.
"Crews of 100 to 200 professionals for each production spend budgets of Dh15m to Dh20m in a week or two. I don't know of any sector that can pump that amount of money in such a short period of time," said Al Sharif.
Location approval services applications have seen an increase of six per cent in January 2009, compared to the same period of 2008, he said. "This might be seen as a spill over from the last quarter of 2007, but I believe this growth trend will continue through February".
He said they hoped that the number of location approval services applications would increase in 2009, should advertising spend remain the same.
Yet, according to figures of the Arab Media Outlook and various industry forecasts, ad spend is declining from 41 per cent growth average to a one digit rate at best, touching six per cent.
PriceWaterHouseCoopers, who conducted the research for the Arab Media Outlook, expected the growth to switch to negative after reassessing the figures from November 2008 to current.  Advertising almost comprises about 60 per cent of the DSC applications.
Al Sharif said: "Ad spend is in decline because of real estate projects. However, most advertising agencies handling retailers and FMCG clients were not affected by the crisis. Everybody will still want to eat and go out. Dubai will remain a destination for companies launching new products.
"Advertisers mainly in the hospitality sector will still try to the maximum advertising with their available budgets, because they still need to attract clients. They will definitely not remain silent and will push themselves to get people more involved in their products. They will launch more offerings for restaurants, hotels and airlines. These are all new advertising projects and we can see them now. 
"Agencies are going to continue to come up with new ideas and new ways to reach consumers."
He said: "Budget cuts are inevitable. Yet, there are innovative ways to secure proper exposure such as product placements. People used to spend millions of dirhams to produce a 20-second TV commercial or a time-bound outdoor campaign. Imagine using the same amount of money to put an ad in a TV series that goes on for 30 or 60 episodes. It can also go on DVD at a later stage, or become a movie or a computer game. It stays in people's libraries, giving it a longer shelf life."
Al Sharif said they also expected that a major shift should happen in the business and that brands would start to get more into product placements. "Consequently, more sponsors will support more TV series and film productions, and the cycle continues.
"I can't lie about it there is going to be some slowdown in the market. For our future projects, we are redesigning and revisiting our upcoming projects to offer the right products with right prices to go match our clients' requirements."
He said DSC projects planned for 2009 and 2010 are still running. "We will be stable this year. Our studios are coming up in September, commercial offices as well. We have already delivered 50 per cent of the offices while the rest is still going through the process of completion. The warehouses and workshops will be finalised between February and March 2010.
"The UAE market will be going in a slow motion. However, there is a possibility that some foreign production companies and film makers will come here to save the taxes, for Dubai remains a tax haven allowing them to save 40 to 50 per cent of their general income.
"Our currency, being pegged to the US dollar is still less costly than Euro and Sterling Pound. Dubai has benefited of this situation in the previous years when those two were at skyrocketing prices, and I believe will still make a good advantage of the relatively higher prices of those two currencies compared to the dollar. This said, Eurpoean film makers have been very keen on executing their productions in Dubai."
Al Sharif added: "I have been sounding a lot of complaints regarding Dubai's increasing costs of living compared to other countries in the region, although still cheaper than many European countries.
"Earlier, that gave us a great advantage and resulted a considerable development  in the market. Along with subsidised fares we offered to crews and projects executed in Dubai, we helped save 15 to 22 per cent of production costs in Dubai. As a result, the number of location service applications was increased by 33 per cent between 2007 and 2008.
"But again we realised that price increases were gradually causing a discomfort for crew coming down here to reside and do productions. With the current  situation, however, I think things are going back to normal, a big advantage to foreign investment to be attracted to Dubai."
Currently, UAE-based companies comprise 60 per cent of the industry. Europe, US and Far East including countries such as India, Hong Kong, Singapore and Japan are the most interested in choosing Dubai as a location for their productions.
"GCC countries such as Saudi Arabia and Kuwait also play a good role," concluded Al Sharif. "I am not saying it is going to be all bright and sunny. In the UAE, I believe many companies will tend to merge to secure future growth. We will help start up companies to develop strategies that will allow them to weather through the situation."
Follow Emirates 24|7 on Google News.