Global media leaders salute the digital age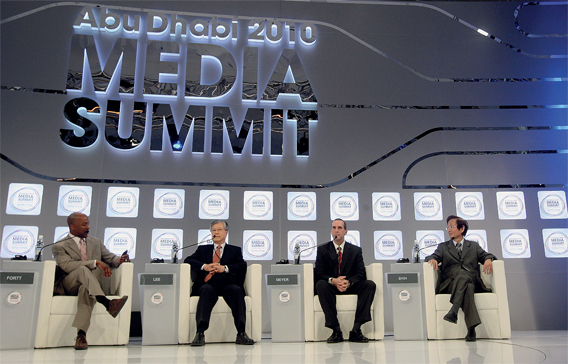 The Abu Dhabi Media Summit should be called the "magic summit", said Eric Schmidt, Chairman and CEO of Google, as he highlighted technology that is transforming communication methods.
He was speaking yesterday on the second day of the summit taking place in the capital. In his keynote speech, he highlighted that the biggest advantage of the internet and Google is the capability to communicate with anyone and everyone.
"Imagine, you can text to someone you cannot talk to," he said, referring to the instant capability of Google to translate more than 70 languages.
He noted that 160 million web pages are translated a day in 70 languages by Google, "and it's not done by any dictionary".
The summit also hosted media moguls from all over the world who spelled out their version of the future and the challenges it throws up.
The stage was shared by professionals from the media world and they unanimously voiced their support to the digitisation of media that will compel conventional media to evolve.
Edward Borgerding, CEO of the host company Abu Dhabi Media Company, said it is a delight to see partners from all over the world gathering and sharing their views and opinions on various subjects. "The representation at the summit has been much more than we expected and is encouraging for us."
Describing the direct benefit to the ADMC from the summit, he said: "We are a very dynamic company with very elaborate plans in various segments of the media, and listening to these industry professionals will help everyone not just in our establishment but every media representative in the region."
The sessions yesterday started with a glimpse into the future with a balanced view from technological executives and content-generating creative heads.
The road ahead
Citing the example of South Korea, Suk-Chae Lee, Chairman of KT Corporation, said broadband accessibility improves the networking potential of consumers, but what they do with the broadband will depend on what is available. He highlighted the growing research and development that is taking place in the country, which is making it the most well-connected and one of the most technologically advanced countries in the world.
"Connection to the world is one aspect of sharing technology," he said. "But to make it more productive and useful to the users so as to make a difference to the end users life, we need to focus on quality content. That's why, in South Korea, we have plans to connect all the schools with broadband connection," he added.
Dirk Meyer, President and CEO of AMD, one of the largest chip makers, conveyed a virtual truth about the future of media. "While computer does play a very important role in the consumption of media, we expect to see a vast change in the face of the computer itself.
"CPU will not be the core of the computer," he said. "While we will be using computers, computing will not be through keyboard or even the mouse," he said, sharing his view on the future.
The same was highlighted by Mohammed Omran, Chairman, etisalat, who said that the Education Council of Abu Dhabi is moving towards connecting all the class rooms of senior schools with broadband connection.
Elaborating on the growing role of etisalat as more than just a telecom service provider, Omran elaborated that telecom service providers are not just technical partners, but they enhance the life of consumers with entertainment, communication and interactivity That is essential in today's life.
"There was a time when 1GB was enough to connect a nation to the rest of the world, today it's not enough for an individual. Technology is expected to deliver and deliver at a very fast pace," he said in his opening address.
Highlighting the technological breakthroughs that have increased the accessibility of networking and thrown up new challenges, Hans Vestberg, President and CEO of Ericsson, said: "A normal phone uses 20MB a month, iPhone uses on average 400MB a month.
Connectivity is also a key player in extension of internet as a payment solution. Buying, acquiring and accessing require transactions that are tossing in new challenges.
But Omran presented some simple solutions to these. "Mobility for credit cards, there will be no losers, but only winners. From banks, to credit card vendors and the customers… all will gain from mobility.
"Banks have to evolve and charge accordingly to suit the requirements of the customer. What they are charging the client on offline service cannot be the same as for online services. If they offer competitive rates for services online, then all are winners," he said.
Vestberg also echoed the same, saying: "From epayment to downloads, they all need good quality network for which we are making big investments."
Omran elaborated on the growing role of etisalat and conveyed that it's vastly different and productive in other areas of their operations. "In other parts of the world, like in Africa, where etisalat is a very successful service provider, network connectivity is the only source of connection with the rest of the world. For this, we provide even better platform and speed, which when used by the user, generates extra revenue for us. So it's a full circle that benefits all," said Omran.
On the question of content generation, he categorically denied any intentions of etisalat getting directly involved in content generation. "We are not in the business of content development but we work with developers to customise this content that suits the needs of our customers.
"It's a vast industry and it has to be done by professionals in the field and we are looking at partnerships that also include financial commitment," he added.
Vestberg said: "Indirectly, we are involved with various content developers and accommodate their request to make their content acceptable to end users."
Television outside the box
The session on television that was moderated by Bloomberg's Brett Pulley had representation from major players in the industry, including Robert Bekish, President of MTV Networks International, and Dr Prannoy Roy, Executive Chairperson of NDTV, along with representatives of Orange Group in France and Dogan Yayin Holding representatives who own more than 50 per cent of the media business in Turkey.
Commenting on the largest and fastest-growing media industry in the region, Roy described the phenomenon in his analogy saying: "It's a beautiful, chaotic anarchy of creativity. The challenge is to maintain creativity with growth. Today, we have 50 news channels, more than 500 entertainment channels and more than seven million mobile phones add to the network and more than 30 million literates add to the Indian population.
Explaining the reason for such an explosion of media units in the country, he said: "It now costs you 10 per cent of what it used to cost five years ago to start a TV channel. The cost of investing in news channel is down by 90 per cent. So anyone can start a TV channel with little finance. But what we need is creativity to survive the challenge."
Stating the newly defined rules of the media industry, Bekish said: "You have to find niche in the business and that's why we have dedicated platforms for teenagers, children and grown-ups."
In support of the success of MTV in India, Roy said: "When MTV came to India, they only played Western music. They played local Hindi music and became an instant hit. Everyone who comes to India has to do that to be successful."
Raoul Roverator of Orange Group, highlighted the growing impact of IPTV. He said: "Today, television is available everywhere, from your buses to hospitals and even metro stations, not just in your house. As a result you can communicate with your customers with the advent of IPTV. This means content providers have to customise the content to fit the need and the customer.
"And when you watch the same content through your mobiles, the interaction becomes 24-hour long and the story on television can move and grow. The content is alive 24 hours a day and your brand is alive 24 hours a day."
Summing up his views on the development of TV as a brand, Bekish said: "First we use to say watch, now we say spend time. TV is becoming interactive and encourages people to spend time and money."
Follow Emirates 24|7 on Google News.