Media sector expected to turn around in 2012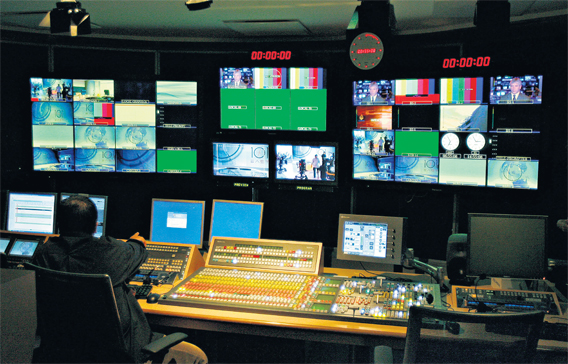 The regional media sector, which was affected by the global slowdown, has slowly begun the process of getting on to the recovery path. While the number of consolidations seen in the recent past will ensure better quality of content, the presence of conglomerates with global experience will ensure the Middle East industry is on par with the best in the world.
However, the region is behind developed markets when it comes to media monitoring methodologies, according to Ghassan Harfouche, Managing Director of Middle East Media Services (Mems). Realistic difference between the claimed media spend and the 'actual trading value' of media spend in the region has grown to as much as three times, he said.
In an interview with Emirates Business, Harfouche spoke about the current status of the industry and shed light on the sector's recovery path, which he said will not be earlier than 2012. "It's not fair to compare the current status of the industry with the pre-recession period of 2008, but it's also unrealistic to imagine of a recovery before next year," he said. "This year will be worse than past year," he said. "Every one had expectations of recovery in 2010, but Q1 2010 is worse than Q1 2009, and the trend is likely to continue until the year end. Only in mid-2011, will we see signs of recovery with a healthy turnaround somewhere in 2012."
Will there be any positive signs of recovery this year for media industry?
The industry is moving towards a lot of healthy consolidations, in the form of new ventures and new products. Many will be a result of mergers and acquisitions, while some established media houses could add some new dimensional platforms to their products line.
Showtime and Orbit merger was the first of many that the region witnessed and since then, many more media players have got into the process of adding more segments to their existing lineup of media bouquet. For instance, Jazeera invested in ART and Rupert Murdoch's News Group joined hands with Rotana Group.
These things are bound to ensure growth in the region in the near future. It will also add some sophistication to the industry and propose certain values to customers [advertisers] and viewers. It will lead to better employment for industry professionals and eventually lead to better content quality.
Does it mean that it will become difficult for newcomers or small players in the industry?
Yes certainly, the entry for newcomers will not be as welcoming now as in the past. In fact, newcomers had easy entries as it required very small investment for starting and an even smaller amount to run the operations with a network of freelancers. And this led to mushrooming of publishing houses. However, after overcoming the challenge of the initial investment of setting up the business, content cost is the most important to maintain good quality.
But all this is bound to change with the emergence of conglomerates who will bring in new levels of professional approach with healthy investments that are essential for maintaining good quality of content. And with content improving, newcomers will not only have to face the challenge to competing with big players, but will also have to ensure regulat flow of excellent content.
So you agree that content has not been up to the standard so far and this phenomenon of conglomerates appearing in the regional industry will improve quality?
I disagree a little bit about the statement and would maintain that the content so far has not been up to the international standards. But that's been true of every aspect of the industry.
When you compare the industry to the developed markets, mainly the US and Europe, we are lacking behind and media is not so sophisticated – including the content. We are behind the developed market, but with the emergence of new tools and formats, it will help us grow organically and contribute to improving the content. These multinational players with global approach will help improve content. And with latest technology, internet mobiles and social networks, geographical borders are collapsing bringing content providers on a unified dais.
What's your view on the statistics in the region and what's the relevance of these numbers for an accurate reach of media?
We are far behind world standards when it comes to media monitoring methodologies, collating data and creating statistical reports.
On the face of it, the numbers that are released by regional or local research companies are far from reality. The mechanics involve evaluating the media spend in various platforms, based on rate cards. However, the reality is far from this. On an average, most media houses give at least 30-35 per cent and smaller and lesser-known media houses offer much more than that to stand against established players. So, the difference between the recorded value of ad spend and the actual trading value of the same is very wide – almost as much as three times. The process of collating data and media monitoring is very complex and costly. While in other countries you can instal devices to record the viewing behaviour of people, in the Arab World you need to respect the cultural sensitivities.
Also the initial cost of installation is a factor that is working against such as approach. Apparently just the operational cost runs into millions, and so industry representatives are reluctant to make the initial investment. And therefore, media buying units have to gauge the reach of a publication or a channel based on their own research and evaluation. Different research houses indicate contrasting picture on the same subject. These differences are not just minor, but large gaps.
When do you think media will emerge out of this slowdown and how close will we get to the pre-recession figures?
Pre-recession figures around the middle of 2008 were unrealistic and we should not expect to return to that glorious time, at least not any time soon. Realistically speaking Q1 2010 was worse than Q1 2009 and we do not expect any major recovery in Q2. Now the summer break will follow. This year will show no signs of recovery. Media will pick up somewhere in 2011 and only by the middle of 2012 should we expect any healthy turn to a positive growth in the region. By then the current mergers and acquisitions will start showing signs of organic growth and improvement in content will also enhance the sector – not just in the statistical sense but in the true trading value of ad spend.
Follow Emirates 24|7 on Google News.