Nike's Tiger commercial ignites debate on taste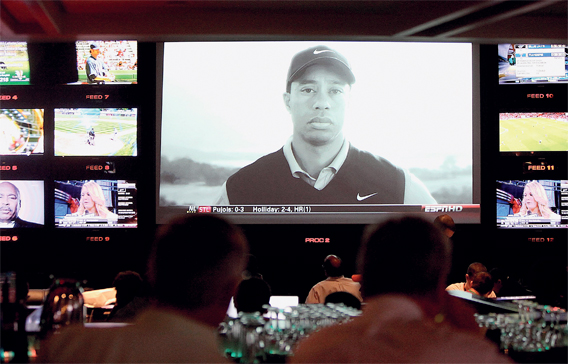 Is using the voice of Tiger Woods's deceased father in a TV commercial a piece of genius marketing or just plain creepy?
Nike is going to find out, courtesy of a controversial new TV spot it is running that features Woods staring silently at the screen as the voice of his father Earl plays in the background. The ad ends with the image of a Nike swoosh.
The 30-second commercial, which began airing on Wednesday, stars Woods in his first commercial since a sex scandal prompted some sponsors to distance themselves from the world's number one golfer and onetime most marketable athlete.
The spot is already generating intense interest – nearly 700,000 people had viewed it online by early Thursday afternoon – and a wide mix of reactions.
"Well, that will make you want to buy shoes, won't it? What the hell?" late-night talk show host Jimmy Kimmel said after showing the ad to viewers. "I guess you have to admire their chutzpah."
A poll by Yahoo showed 63 per cent of almost 166,000 voters said they liked it, while a separate poll at celebrity website TMZ found 77 per cent of roughly 91,000 readers thought the spot was "PR BS".
Some advertising executives say the commercial is a good strategy to move the story beyond Woods's extra-marital affairs, which have dominated media coverage for months.
"It's a worthwhile gamble to take," said Kevin Connelly, senior manager with Greenlight, a licensing, talent and rights agency owned by photo archive company Corbis. Nike is not a client.
"It is a little strange and creepy one way if you look at it, but we live in a world of YouTube and Twitter. People are pouring their confessions out right and left," he added.
But many experts and commentators were put off by the black-and-white spot from Wieden+Kennedy, featuring an older recording of Woods's late father.
"I want to find out what your thinking was; I want to find out what your feelings are, and did you learn anything" his father asks.
The athletic shoe and clothing maker declined further comment on the ad beyond its Wednesday statement that Nike supports Woods and that the commercial addresses his time away from golf using the words of his father.
Dave Zirin, The Nation's sports correspondent, suggested that the spot represents a "cultural rock bottom".Its broadcast this week coincides with Woods's first appearance back on a golf course since the scandal broke, at the Masters tournament in Augusta, Georgia.
"The idea that Tiger and Nike would see the incredible turmoil that has engulfed Tiger's life as an opportunity to rebrand Tiger and sell us more swoosh-laden crap is simply sickening," Zirin wrote in the magazine.
Michael Fanuele, chief strategy officer with Euro RSCG New York, part of advertising services company Havas, said the ad could damage Nike's brand and will not help Woods much either. Nike is not a client of his firm.
"Nike is a brand that has always championed virtue, the strength, the heroism of athletes, and I think this is a contradiction of that legacy," he said. "You might say it's off brand."
He added, "They've created the best brand in the world, so I don't think this is lethal to Nike by a long shot. I just think it's strange."
Nike has been one of Woods's strongest backers, while other sponsors, such as Accenture, AT&T and PepsiCo's Gatorade dumped him as a spokesman.
Before the scandal, Woods earned $100 million (Dh367m) a year in endorsements.
Follow Emirates 24|7 on Google News.