Pemra in bind over move to shut down TV channels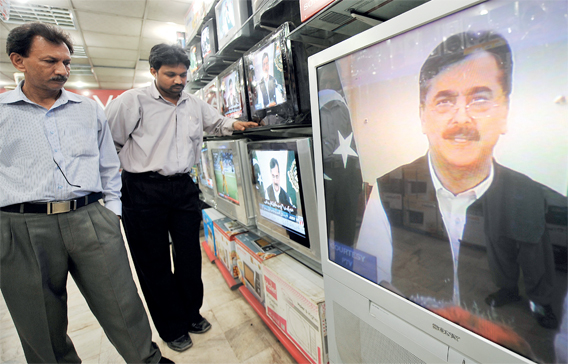 Pakistan's media regulator is in limbo over it's decision to close down about 100 unauthorised TV channels in the country, some of which are owned and operated by companies registered in Dubai Media City.
Pakistan Electronic Media Regulatory Authority (Pemra) had decided to shut down nearly 100 "illegal and unregistered" TV channels at the end of last week and had informed cable operators to remove the targeted channels from their bouquets.
Major TV channel operators said some of the channels closed by Pemra existed even prior to the formation of the authority in 2002. Some of these had applied for licences after Pemra's establishment, but have been waiting since then without receiving approvals, they said.
Pemra said its decision was an attempt to make space for legitimate satellite TV channels, that had obtained licences and paid their respective dues to the authority.
Pemra said in a statement that licensed channels were being exploited by cable distribution networks either by not carrying them on their respective networks or by tuning them on the last numbers that have poor signal quality. In order to increase their subscriber base, cable TV operators generally prefer foreign satellite TV channels, which however, are illegal for distribution purposes.
Salman Iqbal, CEO of ARY TV said: "Pemra hasn't done its homework properly. They have not switched off the TV channels that are really harming the industry."
He added: "The reason Pemra has cited for the sanctions is true. Households in Pakistan receive TV transmission through cable. This means that the capacity for receiving TV channels depends on the capacity of the TV set. In Pakistan, the maximum capacity is 100 channels. Therefore, we do believe that this action is meant to secure better placement for legal stations."
Cable TV networks in Pakistan operate on analog technology, restricting their channel capacity to 90. Pemra has granted 82 licences for satellite TV channels and 28 permissions for Landing Rights for channels that are broadcast from foreign countries. It also grants short-term permissions. However, Iqbal pointed out that one of ARY's TV channels – Quran TV – has also been shut down in the process.
He said: "Quran TV has a wide viewership. We have been awaiting Pemra's licence for this channel since it was formed in 2002. Now, eight years later, Pemra remembers to implement sanctions."
Iqbal said viewers have been putting pressure to resume broadcasting of the channel, to which the government responded by giving permission to cable operators to air the channel again, 12 hours after it had been shut down. "We are now in negotiations with the government for a licence."
Iqbal however, noted that Quran TV was among seven to 10 other Islamic channels that have been shut out of the 100 channels targeted for closure. A senior spokesperson in Pemra's technical division said the channels closed down as per the decision were not complying with the codes and did not receive any licence from the authority.
The spokesperson refuted claims that some of those channels existed prior to Pemra's formation. He said: "Before Pemra was formed in 2002, satellite TV was regulated by the Ministry of Information and the Pakistan Telecommunications Authority (PTA)."
Pemra has defined illegal TV channels as local satellite channels that did not receive a licence or as foreign channels that have no landing rights or no permission to broadcast in Pakistan.
The spokesperson said the policy would be implemented across the board and would include another batch of 'illegal' channels that will be marked for closure later, but did not specify their number. He explained that many of these 'illegal' channels only broadcast in certain territories and were therefore, difficult to identify.
Meanwhile, Fahad Lughmani, Marketing Manager for Islamabad Region, Express TV, said Pemra's decision has triggered a protest among cable operators.
"Knowing that a large share of viewership and hence revenue comes from foreign channels, cable operators are angry at the loss and have decided to stop the transmission of authorised news channels including ours, to put pressure on the authority to review its action. As a result, we have also been blocked from the air for a few hours, which has cost a lot of money."
According to Lughmani, Dunya News TV, a relatively new, 18-month old news channel, has received high ratings that have ranked it among the top three news and cable channels in Pakistan. Pakistan's Prime Minister has intervened after the decision was issued to restore some of the blocked channels such as Dunya TV in addition to a few Islamic channels.
Pemra had also decided to close down an FM radio station that was broadcasting BBC radio programmes, on the grounds that it is illegal to transmit programmes from a radio that is not licensed in Pakistan, as was the case with the BBC.
Follow Emirates 24|7 on Google News.