Global office property sales down 50 per cent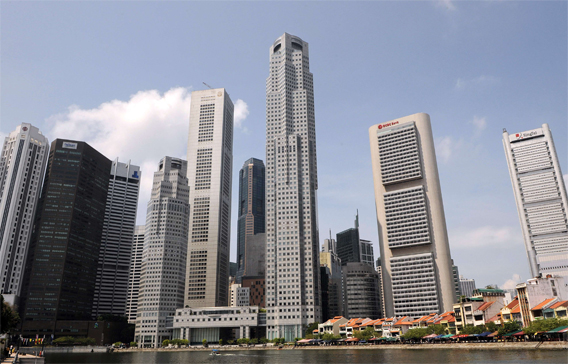 Sales of office properties worldwide were at just under $100 billion (Dh367bn) in 2009, falling 50 per cent year-over-year, according to a report.
"The fall off was less significant than the near doubling in volume from the first to the fourth quarter, as sales activity exploded in London, capping a year of steady growth," Real Capital Analytics (RCA) said in a report.
Surging fourth-quarter volume in Emea, which at $21bn was four times greater than in the struggling Americas and more than double Asia-Pacific levels.
The poor position of the Americas was also underscored by its skyrocketing cap rates, up nearly 300 basis points from 2007, including a stunning 150 basis points in 2009 alone.
By contrast, cap rates in Emea and especially Asia-Pacific turned decisively south in the second half of 2009, ending the year roughly 100 bps above the 2007 mark in Emea and dropping back to those levels in AsiaPacific after spiking at mid-year in investor buying power, as pricing declined and investors were able to grow deal size.
Emea buyers also gained scale even though prices fell less steeply, while buyers in the Americas recoiled at frozen values.
Shift in volume
Volume and price rankings shifted as sales spiraled downward in most markets, although there were some impressive growth centres, including Shanghai and Moscow (both up 83 per cent) and Melbourne (up 70 per cent), RCA said.
London's mere six per cent drop was a kick in the pants to New York, which was upended as a global leader with an 83 per cent plunge in volume, even as Chinese markets were ascendant.
Investment momentum reversed course in the two top markets, London and Tokyo, as London's volume skidded south for the first half of the year, while Tokyo posted record prices with significant sales such as the AIG headquarters. But by mid-year, the tables had turned and London emerged on top with $14bn in sales.
New York fell from No2 to No7, behind Paris, Seoul, Shanghai and Hong Kong. Manhattan also saw the steepest spike in cap rates of any major market over the past three years.
Moscow's 83 per cent volume gain pushed it from No31 in 2008 to No8 last year, but that triumph was overshadowed by a thunderous 600 per cent growth in distress. DC Metro and Beijing rounded out the Top 10. Meanwhile, although the Americas still had five markets on the list, Germany provided three; cap rates in Berlin have declined over the past three years.
Retail properties
More than 3,000 retail properties changed hands globally in 2009 for $50bn in sales volume, down 40 per cent year-over-year both by value and the number of properties sold. Despite the decline, transaction activity showed signs of life in fourth quarter with sales volume double that of second quarter, the likely low point of the cycle.
Just under $18bn of retail property changed hands in the fourth quarter, the highest quarterly total since third quarter 2008.
After anaemic activity in early 2009, transactions spiked in the Americas in the fourth quarter, rising above Asia-Pacific sales for the first time since fourth quarter 2008, RCA said.
Follow Emirates 24|7 on Google News.