Mena investors slash realty investments abroad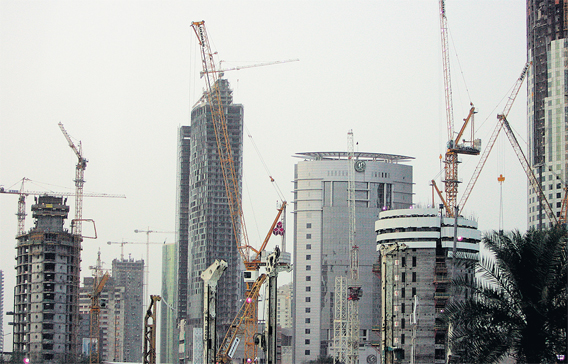 The total outflow of investments into the real estate sector by institutional investors in the Middle East and North Africa (Mena) halved in 2009, compared with 2008, according to an exclusive data shared by Jones Lang LaSalle (JLL) with Emirates Business.
About $4.5 billion (Dh16.5bn) was the total outward institutional investments by the Mena investors in 2009 compared to $8.9bn that was invested in 2008 from the region. Of the total $4.5bn, around $4.2bn went into the UK market.
However, there has been practically no inward investments with respect to the number of institutions or vulture money that was flying into this region, said Fadi Moussalli, Regional Director, International Capital Group, Jones Lang LaSalle.
"If you are talking about an investor buying a villa in The Palm then that is not accounted for. But if you are talking about UK pension funds, then I can tell you there was zero investments in 2009 into the UAE. There was no overseas institutional money that was invested in the UAE in 2009, although in 2008 there has been some," he said.
Breaking down the total outflow of this investment, JLL said government sovereign wealth funds (SWFs) amounted to $2.6bn, private funds amounted to $1.3bn and institutional funds $.6bn.
Moussalli said that in 2009, 90 per cent of the Mena investors' capital went into the UK markets.
"I can say more than 90 per cent of the money invested overseas in institutional investment sales transactions went into the UK."
JLL said that institutional investors mostly invested in income-generating assets such as offices and commercial properties. According to statistics shared by JLL, as a sector-wise break-down, of the total $4.5bn outward Mena institutional investments, almost $2.7bn went to the office sector across global markets in 2009. The retail sector across the globe was the next highest recipient of the total Mena capital standing at 19.6 per cent of the total $4.5bn.
Moussalli said institutions almost invested exclusively into the UK because of the double whammy effect with respect to the sterling pound weakening against the dollar and real estate prices looking up in the UK.
"In 2009 prices in the UK corrected much more and some investors from the Middle East pulled the trigger at the right time. Now, one year down the line, the bottom for the market was in March 2009 in the UK and we have seen investors buying in February, March, April and June. These guys got their market right," said Moussalli.
"The other incentive for institutional investors from Mena has been the fact that the real estate market in the UK corrected more than all other places. It was quicker to correct as opposed to all other places. Also, the connection between the Mena and the UK is very strong because of historical ties."
Defining what institutional investment meant, Moussalli said: "Institutional investment sales are those where investors are not investing for living or flipping purposes but those that involve bulky transactions. It is all about large institutional money being invested from the Mena region to other markets. This means investors buying for the sake of generating an income or for the sake of selling back. This does not include individual transactions but only includes the larger institutional funds.
"The Mena region has seen a mixture of investors from sovereign wealth funds, family-owned businesses and syndicators such as banks and investment boutiques to pool money from their client and invest it into overseas properties which has all gone into the UK," said Moussalli.
According to JLL, there was money in the Mena region in 2009 and that money was used for other purposes such as re-capitalise domestic firms. All Dubai-based institutions stopped buying. They are re-packaging their own domestic capital needs."
With respect to the kind of returns that these institutional investors could make on these funds, Moussalli said: "All the investors by definition need the highest returns with a certain risk they are taking. So it is all in the matter of perception. Usually, when the market is on fire the yields are tightening and compressing so investors have to accept to receive less money and earn less money.
"During 2009, the yields in the UK widened so you could buy in West End for 5.5 per cent or six per cent return," he said.
The SWF by definition is a fund that re-cycles some of the surpluses of the oil exports into property and other investments and property occupies a very big chair of that. "Then you have the family-owned businesses investment firms. Some family businesses did not suffer as much as others and they found themselves sitting on some good cash-worth, which they chose to deploy in London in 2009," said Moussalli.
"This is purely family money invested for the long-term future of their family. And you have also what I call the syndicators that are banks and investment boutiques where typically they go and collect clips of $1 million to $10m from their high-networth individuals. They gather let's say a $100m and with that they put another $100m debt and they go and buy plot size for $200m and that way it becomes a financial investment product. It is packaged like an investment product, like a bond," explained Moussalli. "There is money on the side-lines waiting for opportunity especially overseas money which is very active in terms of searching and reviewing the yields. But so far no deals have been struck."
Moussalli said that some overseas money is looking in the sidelines to invest into the UAE. Some of it is regional money from Saudi Arabia and Qatar that is looking keen to invest into the UAE.
"Interest also has come from US with some opportunistic funds eyeing UAE whereby vulture funds are looking to eat into distress assets," he said.
JLL said these institutional investors are looking for distressed assets. "But these distressed assets need to tick some boxes in terms of guidelines and right now they are not ticking all the boxes. In Dubai, the office buildings have multiple owners in a building and so if an investor is looking to buy a large portion of the building then they have to deal with multiple owners. This is not what the funds want to buy into," said Moussalli.
He said going forward, there will be no new commercial buildings that will be built in an oversupply environment. "But if some landlords and big developers want to conduct institutional transactions on their buildings they have to build a product that will suit them.
They need to offer investors a product which suits them where one building is owned by one landlord and hopefully a small number of good tenants with multi-owners on short-term leases is not suitable for the fund investors," he said.
Moussalli added the vacancy situation in commercial properties are linked to the oversupply situation. "Today, the office stock in Dubai is 44 million square feet with about 30 per cent vacancy. Further, in the coming 36 months, there is another 40 million sq ft of office space to be delivered."
He added, currently, commercial properties was not an attractive option for investors. He said commercial property prices and rents are likely to further drop by an average of 15 per cent.
"Selectively, there are places and locations that have done much better such as DIFC, Downtown Burj Dubai, Old Town," he said.
Follow Emirates 24|7 on Google News.