Office rents stabilise across Dubai in first quarter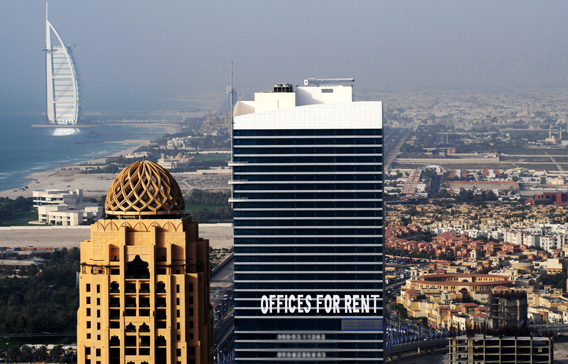 Office rents in Dubai stabilised during the first three months of 2010 across all the major areas in the city, show the latest figures from real estate agency Better Homes.
After witnessing an average drop of 5-10 per cent, with rents falling the most (by 20 per cent) on Sheikh Zayed Road in January, rents for office spaces remained flat in the first quarter.
With the exception of Dubai Investment Park, which saw a slight drop in rents, all the other areas of the city remained at the same levels seen during the beginning of this year, according to the data. However, this is no guarantee that rents have finally bottomed out. "We cannot say that. I'd rather say there has been no movement – upward or downward," said Porush Jhunjhunwala, Head of Commercial Leasing at Better Homes told Emirates Business. "But with weak demand and more supply coming into the market, rents will continue to be under pressure."
"Many buildings will come into the market," he pointed out. "There are many new projects in place, such as Business Bay and Jumeirah Lake Towers, [that are] due in the second half of the year."
In future, rents will be determined by the location, and the changes may not be uniform across the city, he said. "We can expect to see a further drop in rents in places such as DIFC, Tecom, Media City and Internet City, as the prices quoted there are still on the higher side.
"On the other hand, prices may remain stable in areas such as Garhoud and Deira. [If] one landlord owns a full building in [any of] these places, and if he has an occupancy level of 60-75 per cent, he will hold on to his other units rather than release them at a lower rate. In contrast, individual landlords in freehold areas may panic and give out their units for a lower price," he said
"It's too difficult to forecast how much the market will further correct at this stage, but I don't expect them to go up. It will likely be a flat market," Jhunjhunwala said.
Follow Emirates 24|7 on Google News.