Private funds may be allowed to turn Reit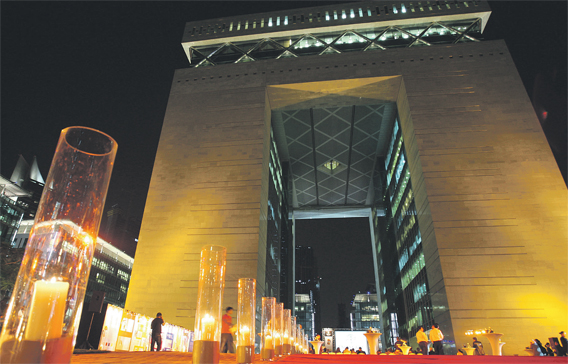 The Dubai Financial Services Authority (DFSA) may waive its certain rules to allow private property funds, operating within the Dubai International Financial Centre (DIFC), to convert into real estate investment trusts (Reits), according to a top authority official.
"We have had a number of debates with firms and legal representatives who are thinking of starting as private property funds and then metamorphosing into a Reit. But to achieve that we will have to consider certain waivers from our rules, which we might then consider," Simon Gray, Director Supervision, DFSA, told Emirates Business.
Although the rules relating to Reits are distinct from rules relating to other property funds, where there is a compelling case or a rule to be waived or modified, the DFSA has an established process involving its rules and waivers committee, which meets monthly or on an ad-hoc basis. The committee's main objective is to consider and determine all applications to waive or modify provisions of the rulebook or the Markets Law.
Although there have no Reits yet been listed on Nasdaq Dubai, Gray believes it is just a matter of time when the first Reit will list in Dubai and others will follow.
The DFSA has already adopted a flexible regime to accommodate both conventional and Islamic Reits, and has opened doors for retail investors as well. The authority further allows setting up of infrastructure Reits besides the equity and mortgage ones.
"Islamic Reits have done well in Malaysia and we see a tremendous potential for those here," Gray added. Excerpts from the interview:
Have any UAE or GCC-based firms approached you for listing of Reits – conventional or Islamic?
We were very close to progressing a number of enquiries from DFSA authorised firms and we continue to have interest, but the property correction has dampened expectations to some extent. For a firm to establish a Reit within the DIFC, it would need to be regulated by the DFSA with a category three licence to carry out fund operation activities. The actual listing would be a matter for Nasdaq Dubai, which we regulate as an authorised market institution. We continue to get enquiries – primarily for law firms representing their own clients.
Do you see Reits augmenting well for development or investment companies?
In spite of the significant correction in the market, I believe that it is an appropriate time to introduce Reits to the GCC market. They are a means to open up the real estate sector as an avenue for investment without the investor having to take specific property risk.
It has nothing to do with where the market is in the real estate cycle in terms of prices, but has much more to do with how developed and mature the market is becoming. The DFSA's approach with the introduction of its Reits regime has been to create a commercially acceptable system of regulation which satisfies the needs of both regulator and the regulated.
What benefits can international companies derive by listing Reits on Nasdaq Dubai since the region is a tax free one?
Tax is not the only driver of interest in Reits – often tax is used to encourage demand via tax incentives. The growth experienced in Dubai did not need any tax incentive. That said, one hurdle that still needs to be overcome is people's perception that Reits are popular as much as tax efficient vehicles as they are good investment vehicles. For the DIFC, we see the main demand coming as a welcome source of new liquidity and greater "financial democracy" – a sign of a maturing market.
Do you expect foreign direct investment coming into the region's real estate markets through Reits?
That is possible, but a large part of this investment will continue to come via private property funds – though much will depend on the terms and conditions that may prevail in their own jurisdictions.
It is also worth noting that a Reit is as much an investment vehicle for a retail audience as it is for institutions.
Will Reits be a key driver for building a successful and sustained infrastructure for the UAE real estate sector?
I certainly hope. Although this is a question perhaps best answered by an economist. However, from my personal perspective I think Reits could be a helpful driver for reasons stated earlier, though it will still take some time for buyer confidence to return to all project developments. Once the first Reit has been established and listed, I think there will be greater interest and this is likely to follow quickly.
What were the factors in the DFSA establishing its Reits regime?
In many of the world's major capital markets, Reits have become a favoured method for attracting public ownership in property investments. They provide a convenient forum for listed and traded property ownership with transparent pricing and abundant liquidity.
Reits are not a new phenomenon, however in this region, the DIFC regime is the first of its kind. In the context, of what was until recently, a booming real estate sector within the Gulf and wider regional markets there remains huge scope for real estate investment funds. Indeed, the Middle East as a region has a relatively higher exposure to real estate investments in private portfolios but thus far very little exposure to Reits style property investment. Investing in property is also culturally very attractive to the Muslim investor. These were just some of the key factors in the DFSA's decision to introduce its internationally benchmarked Reits regime in 2006.
How did the DFSA set about establishing its Reits regime?
The Reits regime within the DIFC was established using a rigorous process of benchmarking with the best. The DFSA was established using a blank sheet of paper, which meant that existing legislation and rules did not have to be adapted. In addition, its zero tax regime meant that fiscal legislation did not need modification.
What challenges did you have? Do these challenges remain?
The new regime faced a number of challenges, which were achieved via the approach taken with respect to international benchmarking. First, it was important to make the new regime attractive without having the normal tax incentive – with a zero tax regime, one of the principle incentives for a Reit was missing.
Secondly, it was vital for the DFSA to achieve the correct regulatory balance given that it began as wholesale environment for sophisticated investors rather than retail. Retail was introduced in July 2008. The DFSA also had to ensure that the Reits regime here is recognisable as a Reit for an overseas investor and acceptance that whilst the Islamic investor likes property investment, culturally a Reit is very much a new type of investment vehicle for this region. As a risk-based regulator, the DFSA handled these challenges via benchmarking with the best and public consultation with industry practitioners, in 2005.
Of course, challenges remain – most significantly persuading firms that we have a globally benchmarked regulatory regime so now is the time to proceed to setting up the first Middle Eastern listed Reit.
Do you believe a Reit is a vehicle well suited to the UAE and the Middle East region?
Yes certainly. The structure and format is already well tested elsewhere and there is no reason why they cannot prosper in the Middle East, so long as an appropriate regulatory structure and exchange exists – as they do here within the DIFC.
Given current market conditions, a Reit could also provide a welcome source of liquidity. In addition, a flexible Reits regime allowing not just for established projects but also infrastructure projects sits well in an environment where infrastructure continues to be needed.
Is a Reit also a vehicle well suited from the perspective of Islamic finance?
Most definitely and facilitating the growth of Islamic finance remains one of the DFSA's key priorities.
From the perspective of Islamic finance, there is also a strong cultural driver for investing in real estate projects and so this is another likely driver for the region.
The DFSA has adopted a flexible approach to regulating Islamic Finance. We have a specific category to cover a wholly Islamic financial institution – acknowledging this defined market.
However, our regime is flexible enough to allow the use of Islamic windows – effectively providing conventional financial houses with the flexibility of continuing with what they know and do best but allowing them to also seize the opportunity arising from Islamic Finance, thus accommodating both conventional and Islamic Reits and avoiding any particular interpretation of Shariah.
How would you like to see expansion within the Middle East?
Although the DIFC regime was the first Reits regime in Middle East and North Africa, more regulatory regimes covering all aspects of financial services should be put in place to absorb the liquidity. Alternative Reits regimes should not be seen as competitors but rather as complimenting the DIFC regime. As Reits develop to provide an additional investment vehicle they should help create a secondary market for these types of securities.
DFSA's reit regime
The DFSA Reit regime has a number of core characteristics, which have been achieved via benchmarking (against Hong Kong, the US, the UK, Australia, and Singapore, for example) many of which will be familiar to Reits investors across the world.
The regime only applies to closed end public funds which may distribute over 80 per cent of income. The Reit must not invest in a single property and borrowing is limited to 70 per cent. There is also a cap of 30 per cent on investments in property under development, the ban on single property Reits provides additional investor protection by avoiding concentration of risk. It also has the flexibility to allow investment in infrastructure projects which provide core services to private and commercial property developments.
The regulator
The DFSA is the independent regulator of financial and ancillary services conducted in or from the DIFC, a purpose-built financial free-zone in Dubai.
It supervises 322 entities in total, 246 authorised firms, 57 ancillary service providers, 17 registered auditors and two authorised market institutions – Nasdaq Dubai and the Dubai Mercantile Exchange.
The DFSA is part of a larger regulatory universe that provides guidance for national regulators. It has signed 47 bilateral memorandum of understandings (MoUs) with regulators world-wide and two multilateral MoUs (The Boca Declaration on Co-operation and Supervision of International Futures Markets and Clearing Organisation) and actively participates in a number of standard setting bodies globally.
Inside Reit
Reit is a security that sells like a stock on the major exchanges and invests in real estate directly, either through properties or mortgages. The trust receives special tax considerations and typically offers investors high yields, as well as a highly liquid method of investing in real estate.
Equity Reits invest in and own properties (thus responsible for the equity or value of their real estate assets). Their revenues come principally from their properties' rents. Mortgage Reits deal in investment and ownership of property mortgages. These Reits loan money for mortgages to owners of real estate, or purchase existing mortgages or mortgage-backed securities. Their revenues are generated primarily by the interest that they earn on the mortgage loans. (Investopedia)
Follow Emirates 24|7 on Google News.