Public-private tie-up to fund big projects in Mideast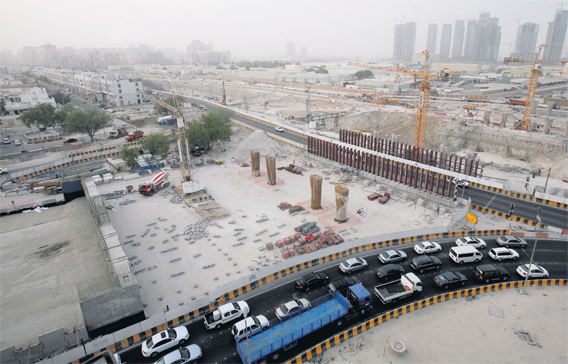 The financing of major multi-billion dollar infrastructure projects such as roads, railways, electricity, water and universities in the Middle East is likely to be driven in future by increased use of public-private partnerships (PPP), according to industry observers.
"The fact is that international investors are finding it tough to secure traditional infrastructure project funding in today's new world economic climate," said Graham Wood, Group Director of CityBuild Abu Dhabi, a trade show for the building and construction industry.
Since 1995, project finance deals have been completed around the world totalling more than $1.5 trillion (Dh5.5trn) but global activity dropped by 40 per cent in 2009 as funding costs made long-term finance scarce and expensive.
"The construction boom may have slowed down within the Arabian Gulf, now with a more considered approach to development, but there are still about $114bn worth of construction and infrastructure projects due to be awarded over the next 12 months," Wood added.
"In addition, the market is being driven by projects in Abu Dhabi.
"The UAE capital accounts for more than half of the top 10 infrastructure projects by value, in the Gulf."
"Abu Dhabi is already leading the way in private financing to pay for infrastructure," said Wood. "It is using PPP funding methods with the new campus at Al Ain University and the new Paris-Sorbonne and Zayed Universities in the capital."
PPP funding works on the basis of the government agreeing to payments over the life of a contract or 20 or 30 years with the contracting consortium investing initial capital expenditure – though in this case the Abu Dhabi Government has taken an equity stake in the special project vehicle set up by the consortium.
"The PPP approach is also being used on a highway through Abu Dhabi to the UAE's border with Saudi Arabia and other Gulf countries, such as Qatar and Bahrain, are looking at the using the system," he added.
"A whole range of new trends are emerging in the region's construction sectors as businesses assess the impact reduced client finances are having on budgets, tenders and supplier criteria. Margins are under pressure with contractors and consultants being squeezed to achieve better value and there is tighter due diligence than before as organisations attempt to reduce risk."
Advisors are also urging a back-to-basics risk management approach when it comes to project financing.
"The inherent risks faced by construction firms in the Gulf over the past three to four years demonstrate how important a risk management plan is to a contractor," said Cynthia Corby, Audit Partner, Construction Industry Leader, for Deloitte in the UAE, in a recent report.
"In the current environment, it is important to get back to the basics of risk management by focusing on understanding the requirements and resources, cost management tracking systems and cash flow management and thereby focusing on the fine balance between risk and reward."
Follow Emirates 24|7 on Google News.