Stable prices push sales up at Springs, Meadows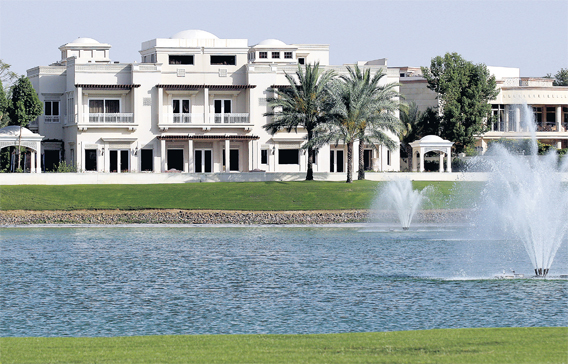 The Springs and The Meadows have seen the highest sales and leasing activity within Emirates Living since the beginning of this year owing to stable prices and rentals, according to real estate agents.
Vineet Kumar, Head of Sales, Dubai, Asteco Property Management, said: "The Springs and The Meadows have seen increased sales and leasing activity since the beginning of this year as ongoing sales prices and rental rates for these properties have been stable for the past two months."
According to Mohanad Alwadiya, Managing Director, Harbor Real Estate, between January 1 and March 18, The Springs and The Meadows recorded 66 sales transactions, marking a 50 per cent increase for the corresponding period in 2009.
He said between January 1 and March 18 last year, The Springs and The Meadows saw 44 sales transactions and during October 1 to Dec 31, 2009, 89 sales transactions were recorded.
Sales transactions up
Alwadiya disclosed that The Greens, The Lakes and The Views recorded 79 sales transactions between January 1 and March 18 this year, marking a 103 per cent increase over the corresponding period last year. "The Greens, The Lakes and The Views recorded 39 sales transactions between January 1 and March 18 last year and a total of 109 sales transactions in these communities between October 1 and December 31, 2009," he said.
Paul Musson, Residential Sales Consultant, Better Homes, said current sale prices for a two-bedroom and three-bedroom apartment with study and maid's room in The Springs were at Dh1.1 million and Dh2.2m, respectively. "In The Meadows, current sale prices for a three-bedroom and five-bedroom villa with a study and maid's room are around Dh2.8m and Dh5.4m," he said.
"In The Lakes, prices are currently at Dh3m and Dh4.5m for a three-bedroom villa with a study and maid's room and for a five-bedroom villa with a study and maid's room, respectively," he added. In Emirates Hills, prices of villas range between Dh10m and Dh25m, but Musson said the villas are not selling at Dh25m. In The Greens, a one-bedroom apartment is currently selling for Dh680,000 while a three-bedroom apartment is selling for about Dh2.8m.
Musson said the bottom-end of the apartment market is still falling slightly in the studios and one-bedroom apartment segments. "The two-bedroom apartments are still holding up."
He said demand from buyers in the market today was largely for villas and was no longer just price-driven. "Villas are what buyers want now and not just at the best price. Early this year, buyers were only looking for the best price, now however, end-users want the best unit for the best price."
Rentals on a slide
Tamara Stubbs, Residential Leasing Consultant for Better Homes, said: "Annual rentals in The Springs range from Dh90,000 for a two-bedroom villa to Dh150,000 for a full lake-view three-bedroom villa."
She said in The Meadows, rents ranged from Dh180,000 per annum for a standard three-bedroom villa to Dh375,000 per annum for a five-bedroom to six-bedroom villa. In The Lakes, annual rents for a three-bedroom townhouse were at Dh130,000 while for an upgraded three-bedroom villa, rents were at Dh160,000.
In Emirates Hills, annual rents are at Dh280,000 for a four-bedroom villa and at Dh400,000 for a four-bedroom to five-bedroom villa. In Dubai Marina, annual rents are at Dh60,000 for studios to Dh250,000 for a four-bedroom penthouse. In The Greens, annual rents are an approximate Dh40,000 for studios and Dh120,000 for a four-bedroom villa.
Stubbs added: "You can get higher rents for different units depending on the finishing and interiors."
Alwadiya said the current rental prices within the development are lower than those prevailing six months back by an average of five per cent to 10 per cent. "Sale prices in The Greens and The Views are lower by 13 per cent to 15 per cent. But for villas, prices are slightly higher by around five per cent."
He added: "Due to the decrease in rental and sale prices by around 35 per cent and 45 per cent that this area witnessed during the past 15 months, we have noticed an increase in demand for all the communities within Emirates Living with a focus on The Greens, The Views and The Springs. This trend was carried over during the first few months of 2010."
Sahali Saleem, Residential Leasing Consultant, Al Barsha, Better Homes said among the communities, The Greens and The Springs had the lowest number of rentals when compared to the other sub-communities in Emirates Living because of the ongoing road construction."
Occupancies within the Emirates Living district vary from one community to another. According to Harbor Real Estate, occupancy in The Greens is highest at 85 per cent, followed by The Springs with 80 per cent occupancy levels.
The Views and The Links have about 75 per cent occupancy followed by The Meadows which have 80 per cent occupancy. The Lakes currently has about 60 per cent while Emirates Hills has about 55 per cent occupancy levels.
"The rate of people moving in and out of the development is almost equal. Emirates Living did not witness a sharp drop or a drastic increase in population compared to the same period last year. This was mainly fuelled by the influx of new tenants who upgraded their homes taking advantage of the newly reduced prices," said Alwadiya.
High occupancy levels
According to Asteco, occupancy levels within Emirates Living have been given a push and currently stand at 75 per cent overall levels as many owners held back selling their properties and instead looked to lease them. "Occupancy is quite high as a majority of inventory has been handed over for more than a year. In our estimate, the occupancy level is above 75 per cent as a lot of inventory has been held back for sale and owners have decided to lease their villas. This has given a push to occupancy levels," said Kumar.
The villas only pay community fees for the use of common facilities such as parks, pool, landscaping, use and upkeep of roads. "This fee ranges from Dh7,500 to Dh16,000 a year. Maintenance of villas, like any other property, is on the owners' account," added Kumar.
Alwadiya said: "The community service fee charges for villas and townhouses are more or less the same. For The Greens, service charges continue to increase. However, the option of payment over four instalments was highly appreciated by many owners in the development."
Asteco said the overall buyer profile of Emirates Living was a mix of families from all over the world. "The development has a strong presence of clients from Europe, Asia, the GCC, Lebanon and Iran," said Kumar. "The community is ready and offers convenience for occupants. Villas of two-bedrooms to five-bedrooms are popular for family living."
Alwadiya said: "For The Lakes, The Meadows and The Springs you cannot define a buyer profile. Nowadays we see different nationalities with different professional and income profiles moving into these areas."
In Emirates Hills, high demand continues from wealthy South Asian, Russian and GCC nationals. "All of these buyers come with very high budgets and ready cash to pay for their luxury dream homes," he said.
Master plan overview
Emirates Living comprises The Springs, The Meadows, The Lakes, Hattan, Ghadeer, Montgomery and Emirates Hills. The Emirates Living district also comprises The Views and The Greens.
The Greens are mid-rise apartment blocks comprising nine projects in all – Al Sidr, Al Jaz, Al Nakheel, Al Ghaf, Al Samar, Al Dhafrah, Al Arta, Al Thayyal and Al Ghozlan.
The Views are apartment buildings comprising eight projects in all – Arno, Travo, Turia, Una, The Fairways, The Links, Golf Towers and Mosela.
The Springs comprises townhouses built around man-made lakes. The properties in The Springs range from two-bedroom to four-bedroom townhouses and are located close to The Greens, The Lakes and The Meadows.
The Meadows are detached villas offering double-storeyed villas from three to seven rooms, each surrounded by a garden and garage.
The Lakes are detached villas and townhouses comprising Deema, Furat, Maeen, Zulal and The Ghadeer which was the last to be handed over recently. The Lakes has been built around a lake, located near the Emirates Golf Club and The Greens development. Initially, properties in The Lakes were only for rent, but in 2007, Emaar offered freehold titles to the properties, with first refusal granted to the then existing tenants.
Emirates Hills are luxury-detached villas that have been sold as plots to investor to build their properties on.
The community also includes schools such as the Dubai International Academy, Emirates International School, Dubai British School, Regents School, a community centre, restaurants and supermarkets, children's playgrounds, and communal swimming pools.
Emirates Living residents also have access to the Emirates Hills' Montgomerie Golf Course and its Golf Academy which includes a clubhouse and other facilities.
Follow Emirates 24|7 on Google News.