Subdued opening for Cityscape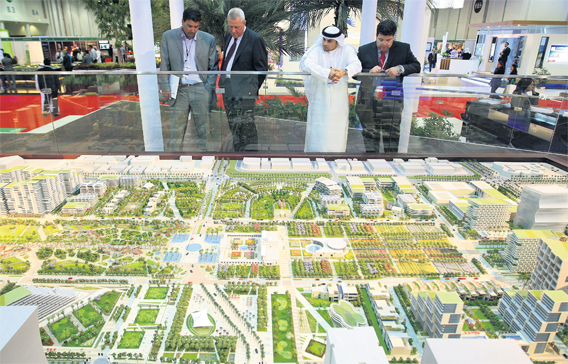 A subdued opening to Cityscape Abu Dhabi yesterday underlined the impact of the global financial crisis and a shift in emphasis to the completion of projects already launched.
"All projects are under construction," read a gigantic billboard put up by a major property developer on the road leading into Abu Dhabi – to give the impression of this being business as usual.
The four-day show has drawn 250 exhibitors from 35 countries. But business has changed dramatically from the pre-crisis era, when property developers in the UAE, mainly Dubai and later Abu Dhabi, would sell massive projects off plan within hours of their being announced.
No new projects appear likely to be announced at the show, which features dozens of glitzy models of projects announced during the Dubai-led property boom, which burst spectacularly in autumn 2008.
Among them stands a huge scaled-down model of Abu Dhabi as it would look in 2030, if the government's masterplan keeps to its schedule.
"A lot of the schemes announced over the past four to five years have been slowed down," said Mark Morris Jones of research firm CB Richard Ellis, noting that developers have been looking at balancing delivery times with demand.
"We had to look into some projects as the demand in the market has changed," said Ousama Ghannoum, marketing manager at Aldar Properties, Abu Dhabi's largest developer by market value. He said developers are now focusing on "affordable housing" with less emphasis on the high-end market.
Due to Abu Dhabi's oil wealth and a lack of newly developed property, the crisis has not hit hard like in Dubai, where prices have halved as investors vanished and thousands of new units went on the market.
Only nine projects, worth S491million (Dh1.8 billion) have been cancelled in Abu Dhabi, while 42 others, valued at $6.8bn, have been put on hold, according to a study by Proleads research company, published at the show.
Follow Emirates 24|7 on Google News.