The right vision for global dominance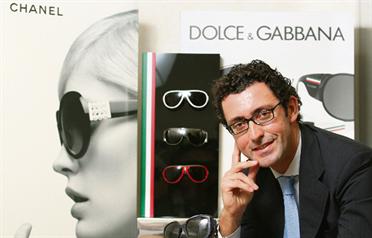 "If you manufacture the best, with the means and resources you have available, then it is virtually impossible that the customers don't see this and prefer the competitors."

A simple philosophy, but it's one that has led the Milan-based Luxottica Group, now the world's biggest eyewear company, to where it is today.

"It may seem trivial, but until now it has proven effective. I am convinced of this, I have been repeating it for a long time, and the results, until now, have shown that I am right," says Founder and Chairman Leonardo Del Vecchio, who drafted the vision.

Del Vicchio, who today is one of Italy's richest men, founded the company in 1961 after he decided to turn his metalworking skills to making spectacle parts. Starting off as a contractor manufacturing parts of recognised brands, he decided to do direct sales after acquiring a retail company. Five years later, Luxottica Group was born.

Today, with net sales of €5.2 billion (Dh27.48bn) in 2008, more than 61,000 employees and 6,250 retail locations around the world, Luxottica Group is undoubtedly a leader in premium, luxury and sports eyewear.

From established brands such as Ray-Ban, Persol, Oakley to licensed designer names including Prada, Chanel, Bulgari and Versace, the company's success in building its ever growing list of eyewear brands can be attributed to the simple philosophy of its chairman, says Andrea Zaffin, General Manager of Luxottica Middle East.

"The success is in the vision," he says. "It might seem obvious but when you do the best you can, you do strive to be the best."

Zaffin, who came to set up the company's Middle East operations in Dubai a decade ago, says Luxottica was quick to recognise the potential of the region, which today is a key market for eyewear. "Before we came, retailers and distributors had to wait for a while until they saw the latest collections launched in Europe. And there was this view among consumers that markets in Europe had more diverse styles and choices. We came to change that," he says.

"Today, Middle East retailers stock the latest collections and launches take place simultaneously with top markets around the world."

"The region, thanks to various reasons, is definitely sunglass oriented and our growth here has been tremendous."

What's more, Luxottica Group has also launched special-edition collections exclusively for regional consumers, with huge success, he adds.

The Bulgari Precious Collection, a range of sunglasses embossed with precious stones was launched with the Italian jeweller two years ago. Its massive appeal has tempted other designer brands to move to limited-edition offers exclusively for the Middle East, says Zaffin.

"High-end brands have performed phenomenally well here," he says. "The market is very interested in having items specially made for the region."

But the company's strength has been the relationship it shares with its dealers and retailers, he says.

"At the end of the day it's all down to the quality of distribution and the retail environment which our partners have maintained.

"This is a very dynamic market. It is also a region where people are generally very well travelled and aware of the latest trends. So there's a challenge to be ahead of the game."

Luxoticca Group acquired Sunglass Hut, one of North America's largest sunglass retailers in 2001. Along with LensCrafters, a retailer of prescription eyewear, the Group quickly became one of the biggest retailers in the US. Sunglass Hut subsidiaries in the UAE are however owned by franchisees.

The group now owns 12 in-house brands and about 19 licensed brands. While sunglasses constitute 70 per cent of the business, 30 per cent of the group's business is involved in manufacturing frames, says Zaffin.

The challenge of owning and manufacturing for well-known brands is making them relevant to consumers and keeping them in trend, he adds. "We need to fit into the vision of these brands and at the same time be ahead with our designs and quality."

According to a recent official release, group sales in the second quarter grew to €1.4 (Dh7.2bn) from €1.3bn.

"The most acute phase of global economic restructuring probably took place between September 2008 and March 2009, while today the environment is less uncertain albeit certainly still challenging," it said.

"There are considerable differences between geographic regions: North America is still negative but now more stable than during the first few months; Europe is improving and key emerging markets continue to be positive overall."

It is during these times, that companies have to capitalise on their heritage, says Zaffin. "Luxury has been affected worldwide, and this is when we look at our well-established brands."

The current Ray-Ban Colorize campaign is an attempt to give classic and legendary designs, such as aviators and wayfarers, a new twist, says Zaffin.

"The campaign marks the return of the iconic designs and is our take on classic styles with innovative designs," he says.

"It's like we are all sailing in this beautiful boat and we're competing in a race and there's no more wind. The ones who succeed are the ones who take advantage of the small winds that come their way.

"This is our small wind."


Timeline

1961

Leonardo Del Vecchio turns his metalworking skills to making spectacle parts in Italy. As business grows, he starts selling complete frames directly. In 1967, the Luxottica brand was born.

1974

Del Vecchio acquires Scarrone, a distribution company, and begins to distribute his products directly.

1988

Luxottica Group enters the world of high-fashion by signing a licence agreement with Italian designer Georgio Armani. Bulgari, Chanel, Salvatore Ferragamo, Prada, Versace, Dolce & Gabbana and many other fashion brands follow suit.

1999

The company acquires Ray-Ban from Bausch & Lomb for a reported $1.2 billion ((Dh6.2bn).

2001

Sunglass Hut, a top North American retailer of sunglasses joins the Luxottica family.

2007

Luxottica Group buys Oakley Inc, an American manufacturer of high-end sunglasses and sports eyewear for a reported $2.1bn.
Keep up with the latest business news from the region with the Emirates Business 24|7 daily newsletter. To subscribe to the newsletter, please click here.
Follow Emirates 24|7 on Google News.