Asian electronics firms' shares soar to new highs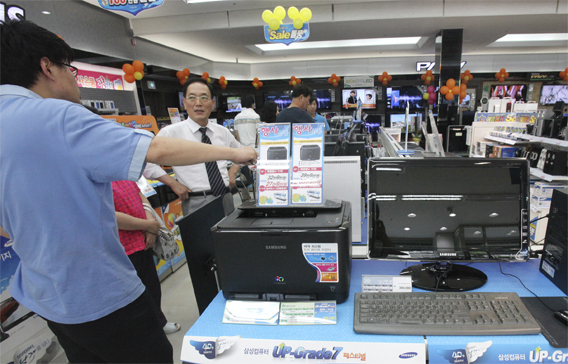 Shares in Asian PC and LCD TV makers, including Sony and Samsung Electronics, have hit new highs recently as they ride unrelenting consumer demand for new computers and flat-screen TVs.
The tech firms are to book bigger profits this year as new flat-screen TVs at affordable prices tempt consumers and demand for sleeker computers also rises.
On the downside, an oversupply of LCD panels, a shortage of some parts that could crimp output, and the advent of Apple's iPad, which could displace popular mini netbook computers, could hurt their shares.
Shares of Sony hit a one-and-a-half year high late last month, while Samsung, the world's No1 maker of memory chips and LCD displays, hit an all-time high. Taiwan's Acer, the world's No2 PC vendor, rose to a two-month high in March.
"Growth momentum on LCD TVs is strong and we don't have to worry too much," said John Chiu, a fund manager at Fuh Hwa Securities Investment Trust in Taiwan, adding it would be safe for investors to hold consumer plays such as Sony and Samsung until the third quarter, the sector's peak sales season. Chiu declined to identify individual stocks in his funds, only saying he owns shares of some panel parts makers.
Jerry Lee, a fund manager at Yuanta Securities Investment Trust in Taipei, said Sony remains attractive even after the recent run-up, based on a price-to-book ratio of 1.23 times his earnings forecast, lower than the average two to three times for electronics shares in Taiwan and South Korea.
"There's a turnaround story," said Lee, who manages about NT$10 billion (Dh1.16bn) worth of equity assets for clients. Sony is among Lee's top picks.
Of 44 brokers tracked by Thomson Reuters I/B/E/S, 42 rate Samsung a 'buy' or a 'strong buy'. Most also rate Sony a 'buy'. Sony reported a first profit in five quarters while Samsung said it was on track to top market forecasts with a record quarterly profit.
Analysts say the LCD industry could risk falling back into oversupply later this year or next year if makers invest the huge amounts in production that they did in the previous boom.
For PC makers, the double negatives include the much-hyped iPad launch and a shortage of key components such as DRAM memory chips.
Follow Emirates 24|7 on Google News.