Google shuts down China search portal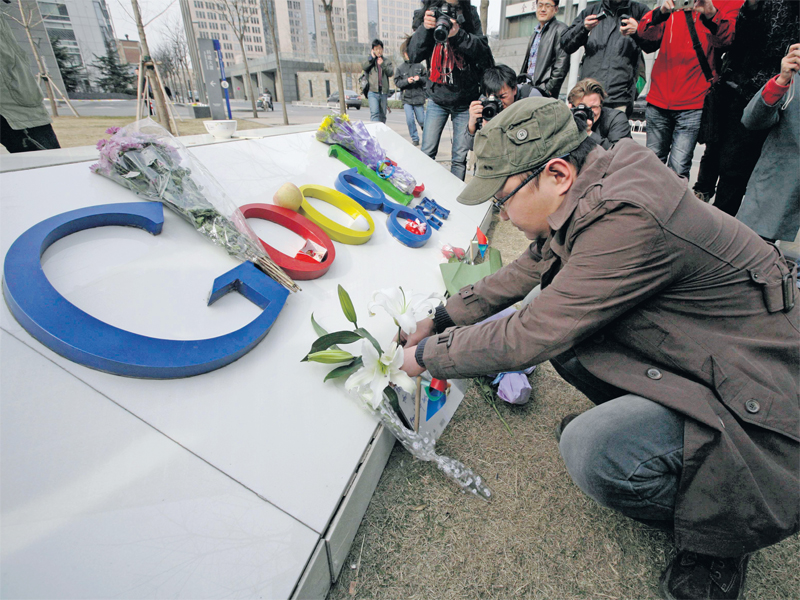 Google shut its mainland Chinese-language portal and began rerouting searches to its Hong Kong-based site, unleashing a blast of ire from Beijing and prompting concerns over its future business in the country.
China lost little time in warning Google that its rejection of self-censorship angered the one-party government, which is wary of ceding control over domestic use of the internet with 384 million users in China.
Google's decision comes amid heightened tensions between Beijing and Washington over a range of issues, from internet freedom to the yuan exchange rate, economic sanctions on Iran and US weapons sales to Taiwan.
Google shocked the world and the business community in January when it announced it might quit China on censorship issues and after suffering from a sophisticated hacking attack that it said originated from within China. Beijing has strongly denied it was involved in any hacking.
"Google has violated the written promise it made on entering the Chinese market," said an unnamed official from China's State Council Information Office, which helps oversee internet rules, according to the Xinhua news agency.
"We firmly oppose politicising commercial issues, and express our dissatisfaction and anger at Google's unreasonable accusations and practices," said the official.
Chinese Foreign Ministry spokesman Qin Gang told a regular news conference that Google's move was an isolated act, and that relevant government departments would handle it in accordance with the law.
"The Google incident is the individual act of a commercial company. I don't see that it would have any impact on China-US relations, unless some people want to politicise it," Qin said.
Those who were rerouted to Google's Hong Kong website, Google.com.hk, were still unable to access sensitive websites, however, because China's government firewall continues to filter all content reaching the mainland. Google said it intends to continue research and development in China, and keep sales staff there. But the US company is likely to be closely watched by officials, possibly emboldened after months of friction with Washington.
"I don't think it's sustainable for Google to conduct rerouting of traffic," said Edward Yu, Chief Executive of Analysys International, a Beijing-based research company specialising in technology issues.
"The thing that makes the government unhappy is this kind of gesture. That Google will not follow [the rules], and that gesture will anger the government so they may set up barriers against Google," he added.
Analysts said it was possible Google's plans for other services in China, such as its Android smartphone software, could be jeopardised by its move.
"Ordinary [Chinese] internet users won't be much affected, because the only difference they'll see is that the burden of censorship has shifted from Google to the government," said Wang Junxiu, a Beijing-based internet entrepreneur who has campaigned against online controls.
"But Google's business may take a hit. Advertising may fall, and [Chinese] companies that have invested in joining up with Google innovations and content will be hurt," said Wang.
China gave no ground on the censorship issue in its dealings with Google, the company's Chief Legal Officer David Drummond wrote in a blog post on Monday.
The impasse was the most likely scenario as Google challenged China's ruling Communist Party who is wary of any political challenges in the world's third-biggest economy.
Drummond also wrote that "the Chinese government has been crystal clear throughout our discussions that self-censorship is a non-negotiable legal requirement".
Follow Emirates 24|7 on Google News.