UAE TV market to go 3D in second quarter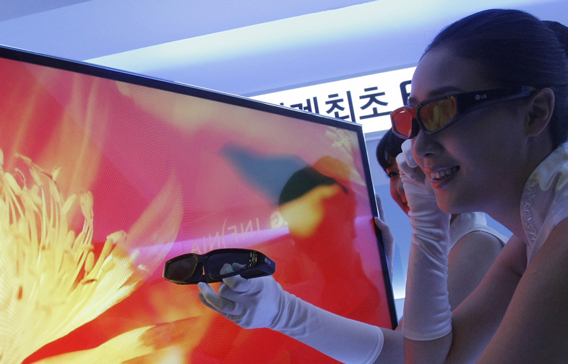 Consumers in the UAE will be the first in the MEA region to be able to buy 3D TVs, with leading manufacturers planning to launch sets at the end of the second quarter of 2010.
3D technology hit the headlines last year thanks to the success of James Cameron's Avatar, and sports events such as the football World Cup that helped drive demand for the TV sets.
Despite these factors, a shortage of 3D programmes and the need to use special eyewear are expected to slow down adoption and sales of these products. However, TV manufacturers are upbeat as they develop new 3D products, in particular improved eyewear. They do not expect 3D sales to make an immediate impact in 2010 but are positive about it in the long term.
TV manufacturers Sony, LG, Samsung and Panasonic all plan to tap the potential of the UAE market by launching 3D TVs priced from Dh10,000 upwards.
Analysts say that by 2013 most TV sets sold in advanced markets will be 3D ready, and research firm DisplaySearch predicts global sales of 3D TVs are likely to reach 15.6 million units in 2013, up from 1.2 million units this year.
In the US, one in four households are expected to have 3D TV by 2014, while in Europe 15 per cent of the market will have 3D during the same period.
To find out more about the prospects for 3D TV in the region, Emirates Business spoke to Osamu Miura, Managing Director of Sony Gulf, KW Kim, CEO of LG Electronics Middle East & Africa Regional Company, and Ram Modak, General Manager, Digital Media Business, at Samsung Gulf Electronic.
When do you plan to launch 3D TVs in the UAE and what will the starting price be?
Miura: Sony Gulf will be launching 3D-compatible Bravia LCD TVs by June 2010. We cannot comment on price levels at the moment.
Kim: LG is set to launch 3D TVs in June. This will be a premium segment and will make sense as LG's major focus is on 3D gaming, movies and photographs. We are in the process of finalising the pricing for our products which will range from 10 to 20 per cent above the current cost of an LED TV.
Modak: Samsung will launch a range of 3D TVs in the second quarter of 2010. While pricing has not been finalised we expect prices to start from around Dh10,000 for a 40-inch model.
Will the UAE be a first market for the launch globally or in the Middle East?
Miura: Sony will launch its 3D TVs first in Japan in June 2010. The Middle East launch will follow shortly afterwards with the first regional launch happening in the UAE.
Kim: LG 3D TVs were launched in India and February and globally this month. The UAE will be the first market in the MEA region.
Modak: Samsung's 3D LED TVs were launched this month in the US during an event along with the hip hop group Black Eyed Peas and Avatar director James Cameron. The event marked the arrival of the TVs at a worldwide level. The UAE launch will introduce 3D LED TVs to the region.
Do you expect the sale of 3D TVs to make up for the overall fall in TV sales in 2009?
Miura: Sony is very optimistic about the TV industry for 2010 and, with a strong line-up focusing on 3D, we expect to grab 30 per cent market share. Sony expects 3D TVs will make up approximately five to 10 per cent of sales of all Sony LCD TV sets during FY 2010.
Kim: This is difficult to predict at the moment since 3D TVs have not yet been introduced into the market.
Modak: 3D TVs will definitely invigorate the TV market. Since 3D will be at the top end of the line-up this year, it will help by slowing down the price erosion that the industry suffered last year. The year 2010 marks the beginning of 3D in-home viewing on television screens and, as such, it is too early to assess the market size for this new category.
How many models are you planning to launch?
Miura: We will be launching a complete range of 3D-compatible Bravia LCD TVs with screen sizes ranging from 40 inches to 60 inches. In addition to LCD TVs, we will be launching 3D-enabled Blu-ray disc players and 3D-enabled home theatre systems and will also provide a firmware upgrade for the PlayStation 3 that will make the console 3D-enabled.
Kim: LG will be introducing 47-inch and 55-inch sets initially and will come up with more advanced range of 3D TVs in the second half of 2010. LG 3D will be called 3D Full LED TV, which makes LG very different than other brands in terms of image quality.
Modak: Samsung will offer the largest line-up of 3D products in our market. Our 3D offering will consist of a line-up of LED, LCD and plasma televisions. We expect to launch around a dozen models this year.
3D TV is expected to cause eye strain among viewers, especially when active technology is used. What is your view on this and which technology will you be focusing on?
Miura: We recognise the effect of any new technology on the human body as an important issue and have carefully studied the impact of 3D entertainment. Sony enrolled a third-party specialist research institute to study the impact of 3D viewing on people's health and the report did not find any area of concern. Thorough internal studies as well as third-party research will guide the launch of 3D-compatible products in the market.
Kim: LG is trying to design special glasses to prevent eyestrain. This will avoid dizziness and we are also trying to produce glasses with a reduced weight of 30 grams. This will again reduce the stress on the viewer. LG is planning to come up with technologies like narrow bezel, which produces a more expansive 3D picture, and full LED, which offers better brightness and clarity.
Modak: Watching any television for extended periods of time will cause eyestrain, and 3D TV is no different. It is recommended that viewers sit a fair distance from the TV. For 32-inch to 42-inch sets Samsung recommends a minimum distance of 1.5m. A well-lit room will also minimise eyestrain. However since the technology is new more research over a period of time will provide better guidelines for viewer comfort.
With the emergence of 3D TV, do you expect any existing technology to be phased out?
Miura: We definitely believe High Definition (HD) and 3D are going to be the future for TV technology and home entertainment for a significant period of time.
Kim: There won't be much of a phase-out but we will definitely continue to upgrade our sets.
Modak: 3D TV has always been viewed in the industry as the next frontier, and now the wait is over for consumers. Watching everything from sports and news to movies and TV shows in 3D will become a whole new experience, and the fact that viewers can have that in their living rooms will spur a new generation of TV upgrades. As with the introduction of HD TV a few years ago, broadcasters will play an important role in determining the rate of uptake and adoption, but there is no doubt that by the end of 2010 3D TV will become the new standard for home entertainment. We have no doubt that 3D TV is the future of home entertainment, and Samsung continues to invest heavily in making advances in this area.
What do you think the uptake of 3D TV will be in the region?
Miura: Our region is a strong visual products-oriented market as far as electronics are concerned and the immersive entertainment that 3D TVs provide will find wide acceptance here. We are confident of good sales for 3D TVs in this region. We believe early adopters, movie buffs, gaming enthusiasts and sports fans will find the overwhelming reality of the 3D experience compelling and will trigger early purchases. Following this trend, word of mouth and experiential marketing will subsequently tap into replacement markets.
Kim: Interest in 3D has increased in recent months with the release of Cameron's Avatar, which smashed box-office records, and also Tim Burton's Alice in Wonderland. These movies have exposed millions of people to 3D, which in turn has sparked a race to market 3D TV in this region. Based on people's enthusiasm for 3D content, we strongly feel that the UAE surely will take up 3D in this region. LG Electronics is already in talks with broadcasters to provide 3D content.
Modak: We expect early adopters to embrace 3D. Of course the hardware will improve progressively as more research is carried out. In addition, we anticipate the availability of TV programmes, movies, and games will improve and diversify year on year. This region has a history of embracing new technology and 3D TV will be no different. We have been receiving an unprecedented number of inquiries about the imminent availability of 3D TVs and look forward to robust sales when they are launched in the second quarter of the year.
Follow Emirates 24|7 on Google News.