Banyan Tree eyes 7% of revenues from region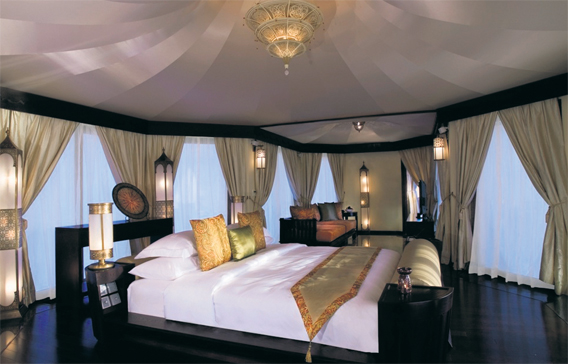 Luxury resort and hotel operator, Banyan Tree Hotels & Resorts, expects about five to seven per cent of its total global revenues from the Middle East in two years' time, according to the company's top executive.
The Singapore-based company, a part of Banyan Tree Holdings, also expects to double its current portfolio of six hotels in the region in a couple of years.
"Once we open the projects, which we currently have in the pipeline in the Middle East, every year we would look at an estimated management fee of S$5 million (Dh13.34m) coming out of this region," Ariel Vera, Group Managing Director of Banyan Tree Holdings, told Emirates Business.
"With regards to revenues, we are expecting about five to seven per cent of our total global revenues to come out of this region in the next two years."
The company, listed on Singapore stock exchange, with two brands in portfolio – Angsana and Banyan Tree, is looking at a turnover of more than S$300m for the full-year 2009, Vera said, adding that 2010 numbers would be higher than 2009.
The Banyan Tree's current project pipeline in the Middle East – all of which are management contracts – comprises one project each in Ras Al Khaimah and Abu Dhabi in the UAE and two each in Oman and Egypt.
While the region's first Banyan Tree property – Banyan Tree Al Wadi in Ras Al Khaimah, would officially open its doors on Saturday, the Abu Dhabi project – Angsana Eastern Mangrove, is due to be launched in 2011, followed by Oman and Egypt property openings in 2012.
There are more projects in the future pipeline of Banyan Tree in this region, according to Vera.
"Yes, we are in talks with other parties in the region but I cannot disclose any details unless we sign the management contracts," he said.
But while some deals have worked out well for the hotel operator, some have fallen by the wayside. Banyan Tree last week terminated its management contract for the Banyan Tree Al Areen resort in Bahrain, owing to breach of contract by Al Areen Holding Company, the owner of the resort.
Prior to that the hotel group in February got into a dispute with Meydan Hotel, a part of the Dh10 billion Meydan Racecourse in Dubai, as a result of which, Banyan Tree Hotels and Resorts launched legal proceedings against Meydan.
Banyan Tree signed a contract with Meydan in 2007 to manage the hotel and a villa resort but later filed proceedings against the developer for breaches of the hotel management agreement.
"Meydan project is still under dispute. It is with the arbitration court and the verdict could be out either within this year or the next," said Vera.
Asked if Banyan Tree is pursuing any projects in Dubai at present, Vera said: "We have no active project in Dubai as of now. There were several projects we signed in Dubai but unfortunately some of them got cancelled because of economic and financial issues," citing the termination of the management agreement for Angsana Dubai as one such example due to "owner issues".
In yet another case, the work on an Abu Dhabi beach hotel – Al Gurm resort, has come to a halt as due to re-tender of the main contractor, according to earlier reports. The project between Banyan Tree Holdings and Aldar Properties was signed in 2006.
"Overall, we remain committed to business prospects in the Middle East and are progressing on several projects there in our pipeline," said Vera. "We will continue to work with owners who place a high importance on the quality of the service and product and in the sanctity of contractual obligations, and believe that the growing strength of the brand will ultimately benefit the hotel they own."
Exploring other segments
Even though budget or mid-segment hotels are aggressively increasing their share of the hospitality pie, Banyan Tree Holding has no immediate plans of stepping into that (economy) segment of the market, according to Vera.
"I am not saying we don't want to step into that segment but we have no concrete plans as of now to get into the budget or the mass end of the market. However, we are always weighing options," he said.
When quizzed about the potential markets for the budget segment should Banyan Tree explore the options later, Vera said: "In a country like China, budget hotels could be a great possibility. Similarly, we would consider the Middle East and India markets for sure if we look at getting into the budget hotels segment."
Of market dynamics and room rates
At a time when hoteliers in the Middle East as well as the world over are slashing room rates in order to sustain occupancy levels, Banyan Tree would have tariffs at the top end of the rate card for its hotels, Vera said. "The rates would vary from location to location but generally we would have our room rates at the top of the range of the market."
He added there would also be room for flexibility. "At the same time, we will not be stubborn and not bring down our rates if the situation demands so," he said.
"In terms of product offering you always need to be offering more and more and stay ahead of everybody," Vera added.
EQUITY INFUSION
While Banyan Tree Holding has no current investments in the Middle East market, the group is open to exploring capital investments in the region.
"If a good opportunity comes along we would be happy to look at investing into this market. But we are not in active talks with anyone at present," said Ariel Vera, Group Managing Director of Banyan Tree Holdings.
"As of now all our projects in the region are management agreements. We have zero equity in the current projects," said Vera. Of its current global portfolio of 27 hotels in operation, Banyan Tree Holding, according to Vera, has equity interest of varying degree in 16 hotels. "The other 11 are pure management agreements," he pointed out, adding that the hotel group also owns hotels in other parts of the world.
Follow Emirates 24|7 on Google News.