Hoteliers invest own capital in projects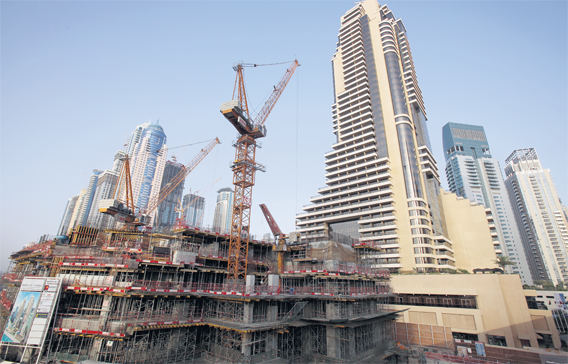 As investors take a cautious approach to investments, hotel owners have come forward and are investing their own capital in new projects, said a recent report by international consultancy firm Ernst & Young.
This trend is also reflected in the region, which has been predominantly known for its good return on investment as far as the hospitality sector is concerned.
Industry analysts said the Middle East and Dubai in particular has been a booming market for hospitality.
And investors have been betting on the region, for some time now.
However, following the gloom in the world economy, investors have been playing the wait-and-watch game.
"Hotel owners are being forced to invest a greater proportion of their own capital in any new projects and take on new risks, leading to fewer hotel projects being realised," said the E&Y report "Hospitality and leisure outlook Europe, Middle East, India and Africa".
Offering a domestic perspective on the issue, an industry analyst said that investors are returning in the region and they have been more active than they were until some time back.
"The investors are again taking interest in the hospitality sector and things are happening on the operational part. As far as investments are concerned, investors will enter the market only after they are convinced that the market has reached the bottom," Charbel Boutros, Manager, Mergers and Acquisitions, with Roya International, a Dubai based hospitality consultants, told Emirates Business.
"Investors are waiting for right valuations and they are unsure if that [current valuation] has hit a nadir or will go down further. But the interesting thing is that investors who were not even considering deals in this region have now at least started to explore," said Ahmed Ramdan, Chief Executive Officer, Roya International.
Echoing similar thoughts, another industry analyst, Arnaud Andrieu, Vice-President of CB Richard Ellis Hotels (Middle East), had earlier said: "There still exists some parity between the expected price of certain properties that are up on the block and what the investors are willing to pay for that. In some properties, the owners and the operators are also reconsidering the earlier planned investments. In some of these cases they have been altered."
Meanwhile, sources said that some small investments may start taking place by the end of this year.
But the sector could take at least a year before it can witness big investments like the peak 2007 levels.
"There are buyers who are waiting for the bottom. Has it been reached" questions the E&Y report. According to market trackers, the property prices have more or less bottomed out although it may take some time before they start to recover. Whereas in the hospitality sector, the hotel rates, which are again considered an indicator for the sector, have bottomed out, a senior analyst recently said.
"Hotel prices [room rates] have hit the lowest point and cannot dip beyond this. The price is actually a good value for money with regards to Dubai. I would say that prices are very attractive," said CBRE Hotels' Andrieu.
Reflecting similar views about the hospitality sector, Samir Daqqaq, Senior Vice-President, Mena, Oetker Hotel Collection (OHC), said in a recent interview that the region's hospitality sector is definitely better placed than what it was some time back.
"The indicators, such as occupancy, reflect that, even though revenue per available room (RevPAR), is not what the hoteliers would like it to be." Daqqaq said, adding that the hotels in the region would improve their position gradually from the current stage. "It is definitely going to rain," said Daqqaq.
If the industry analysts are to be believed, there is also some consolidation that has started taking place in the hospitality industry.
"Though it is difficult to know if the big players are actually consolidating as such information is not available in the public domain. But the medium and small players in the sectors are consolidating and in some cases even benefitting from that," said an analyst.
However, some other market trackers are of the view that the market has bottomed out and the prices may not fall further. HVS, the global hospitality consultants, recently said in a report that there would be a slow recovery in European hotel transaction prices over the next four years.
Although it would take some time before they reach the 2007 peak.
"The credit crisis absorbed all liquidity in the market and its return will be noticeably slow, evidenced by the low number of transactions to date. Together with the price expectations gap across Emeia (Europe, Middle East, India and Africa) markets, there continues to be a conspicuous lack of confidence. Many purchases are being left to vulture funds," the E&Y report said.
The report throws light on one more aspect where it states that many investors who had initially decided to exit earlier are holding on to their investments.
And as a result, they are finding themselves to be owners in many cases.
Follow Emirates 24|7 on Google News.