Hotels use social media to lure customers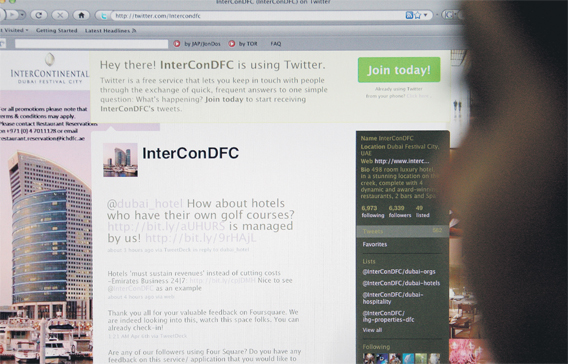 Hospitality companies eager to increase revenues in the wake of last year's recession are flocking to social networking websites such as Twitter and Facebook to boost sales and reach out to a broader customer base.
In the UAE, big brands such as the InterContinental Hotel Group, Jumeirah and Fairmont have an increasing online presence, with nearly 9,000 followers between them, on Twitter alone.
While direct returns from social media are difficult to quantify, 74 per cent of respondents in a 2009 survey by the US-based Society for New Communications Research agreed – including 14 per cent who strongly agreed – that they chose companies and brands based on what others said online about their customer service experiences.
"When you engage guests with social media it develops online customer advocates that impacts how your hotel is perceived, drives referrals and can generate a great deal of new business," was the conclusion by San Francisco Hospitality Consulting company Hraba on the benefit of social media to hotel brands.
"Social media is all about creating a more personal approach to a business and those in the hospitality industry are realising its potential through practice," Ray Tinston, Sales Director, The Hotel Show, told Emirates Business.
The show, a trade event for the hospitality and leisure sector, which runs from May 18 to 20 at the Dubai World Trade Centre, will feature social media as one of the discussions during the 'Trends in Hospitality Technology' session during The Seven Star Conference that is running alongside. The fact that industry leaders such as Emaar Hospitality, Rotana Hotel Group and Jumeirah are participating in this event, underscores the seriousness of these brands.
Tinston revealed that a recent survey suggested the number of Twitter users in the Middle East and North Africa had increased from 3,000 to around 40,000 in the last 12 months alone, creating new marketing opportunities for businesses. Plus the cost only entailed dedicated manpower that keeps the web pages up-to-date.
"Social media is a fantastic marketing tool as the only cost to the business is the time it takes to get involved, Rob Singleton, Online Marketing Executive at IHG, told this newspaper.
Singleton added: "While direct returns from social media can be extremely hard to measure, the general application of managing a company's reputation online should be seen more as public relations instead of marketing, as you are relating to the public via providing them an access point of interaction. It does however, transfer to marketing when activities such as loyalty rewards for members are offered."
IHG, with its Twitter handle of InterConDFC, is arguably one of the most active hospitality brands on the website from the region, with more than 6,000 followers. The hotel actively offers discounts, runs special competitions and organises 'Tweet-ups' to bring in more customers, and ultimately, more revenue.
Yet, while hotels are benefiting from this 'free' marketing exercise, many are doubtful it will entirely replace traditional advertising or cut costs dramatically.
Tinston explained: "When it comes to consumers spending real money, social media may not be a major competitor just as yet for traditional media.
"However, it could provide added value or bring some awareness to a hotel or a promotion. After all, just because I spend three hours at a shopping mall does not mean I am going to buy anything," he said.
Singleton agreed, saying: "I don't believe that social network marketing can replace traditional methods of paid advertising. In my view, this should be more of a support tool.
Whilst advertising may be used to carry a specific message to an audience, and promote a brand generally, social media can be used to transmit many smaller messages on a daily basis to followers. Our hotels didn't decrease marketing spend, yet used social marketing as an extra push to support this."
Tinston also believed independent hotel brands stood to benefit more from this trend, considering they have lesser financial resources, yet are hungry for a more focused and aggressive approach online.
Experts, however, agree that while hospitality brands can greatly benefit from this marketing tool, those comfortable enough to drive it should only tackle it.
"However, brands and hotels would be foolish to ignore the social media all together. Angry guests do not simply tell their friends of an unfortunate incidence, they now have been given a voice that can be heard internationally and instantaneously," said Singleton.
Tinston also warned that brands needed to exercise caution in their use of online platforms to avoid leaving themselves vulnerable to competition that could learn firsthand about their marketing strategies.
ADTA BRINGS IN THE EXPERT
If the hospitality industry can do it, then the tourism sector cannot be far behind.
One of America's leading internet experts has been signed up by Abu Dhabi Tourism Authority (ADTA) to guide the emirate's tourism industry on ways to maximise its internet marketing.
Laszlo Horvath, founder of ActiveMedia, a global online search, advertising and media agency, will next month deliver a workshop on search engine maximisation to ADTA's stakeholders, partners and marketing professionals at the Travel and Tourism Agencies Council. Said Horvath: "It is not enough to have a website on the internet, it has to be visible. Companies should use search engines to drive web traffic to their website and increase sales to improve revenues."
Follow Emirates 24|7 on Google News.