UAE-Thailand tourist traffic sees no change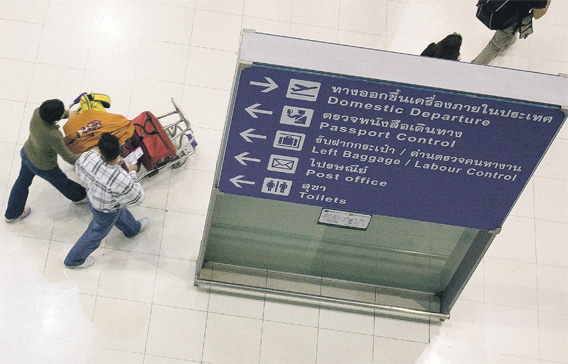 Travel to Thailand from the UAE has not been affected by ongoing riots, according to industry insiders, even as the Emirates maintains its travel advisory, warning citizens against travelling to the Southeast Asian country.
However, travel experts have warned a dip in tourist numbers would be noticeable – possibly reaching 2009 levels that recorded a 20 to 25 per cent decline – if the Thai "red shirt" protests continue into the peak summer travel period between June and August.
"We have had no cancellations or rescheduling of flights since the protests started last week in Bangkok," Manu Mehrotra, General Manager of Al Tayer Travel Agency, told Emirates Business. "However, some are maintaining a wait-and-watch approach before making future travel plans."
He added while it was hard for a tourist decline to reach 2009 levels that saw Thailand suffering one of its worst years with the recession and the H1N1 health scare, it couldn't be ruled out either. "Should the rioting continue into the summer when schools shut for holidays, we could anticipate a 20 and 25 per cent drop in travellers."
Asim Arshad, CEO of Orient Travel, meanwhile took a more conservative stance, saying: "It is still too early to gauge the after-effects of the riots, as tourism to Thailand is predominantly seasonal, peaking during the summer vacations."
Arshad stressed that because this market was largely driven by last-minute bookings, it was too soon to predict the impact of the political situation on summer travel.
Meanwhile, flights between Dubai and Bangkok's Suvarnabhumi Airport appear to be operating normally, with national carrier Thai Airways assuring passengers that everything remained on schedule.
A spokesperson from the airline told this newspaper: "Thai Airways is operating all flights and there is no cause of concern at the Bangkok airport. The rioting is contained in neighbourhoods far away."
The airline's spokesperson however, did confirm that there were a few passenger no shows in Dubai, but were not too significant.
The Tourist Authority of Thailand (TAT) stated it was "in close communications with the parties responsible for the operation and security of the airport", adding that the airport was operating normally. Last year, the UAE was a top source from the Middle East with 91,000 visitors travelling to Thailand, up 22 per cent from 2008.
It was reported in the media that from March 2009 until February 2010, the total number of available airline seats with direct air access from the GCC states to Thailand, had crossed 1.9 million, marking an increase of 34.4 per cent when compared to the same period a year earlier. Emirates, Etihad Airways, Qatar Airways and Gulf Air operate weekly flights to Bangkok.
Mehrotra stated: "Thailand continues to be a sought-after destination for people in the UAE, featuring among the top five destinations to visit. It would take a lot more to derail this tourist demand."
However, reports in the Bangkok Post said the country's tourism sector, which accounts for six per cent of its annual gross domestic product, stands to lose more than 35 million baht due to the skirmishes.
The Deputy Chairman of The Federation of Thai Industries, Thanit Sorat, was quoted as saying: "Tourism and service businesses, restaurants… near the rally sites could lose more than 35 billion baht in total." Reuters earlier reported that out of 100 flights booked for Chinese tourists to fly in for the Thai New Year Songkran festival this week, more than 60 per cent had been cancelled.
Follow Emirates 24|7 on Google News.