US and India to boost economic relations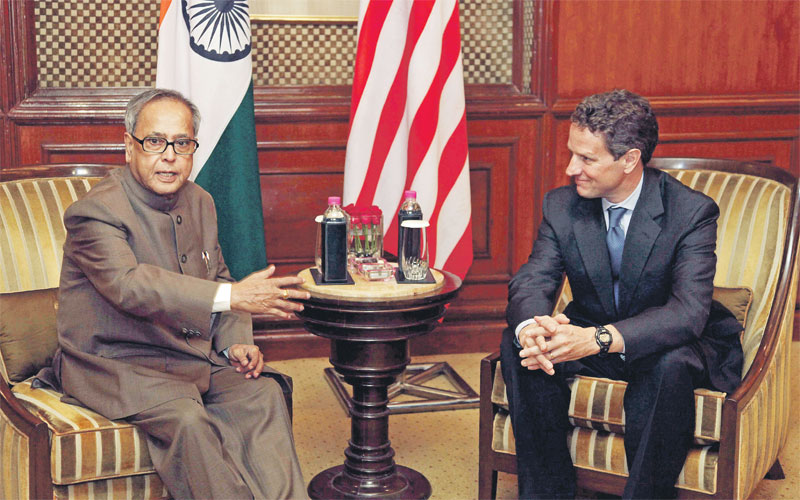 The United States and India formally launched high-level economic partnership talks yesterday, aimed at boosting commercial ties that are often eclipsed by US trade with China.
The partnership was launched by US Treasury Secretary Timothy Geithner and Indian Finance Minister Pranab Mukherjee.
Mukherjee hailed the project as "a milestone" that would add a "new dimension" to ties between the world's largest and fourth largest economies.
Geithner said the partnership underscored the need for both countries to work more closely together.
"Our ability to co-operate on economic and financial issues will be important to the success of global efforts to create conditions for a more stable global financial system," he said.
"Our economic relationship presents huge opportunities," he said, adding that both countries faced an "urgent challenge" in ensuring the benefits of economic growth could be shared by all. The two sides are working on a long-term strategy focusing on macroeconomic policy, regulation and infrastructure financing.
The Asia expert met Indian Prime Minister Manmohan Singh before his talks with Mukherjee in which he pressed India to open up its highly regulated markets to US investment.
Washington argues freer Indian markets would give the emerging nation cheaper access to capital to finance the billions of dollars needed to overhaul its dilapidated infrastructure, seen as a restraint to higher economic growth. The new US-India Economic and Financial Partnership was first announced last November by US President Barack Obama during a visit by Singh. It involves regular cabinet-level meetings in line with a similar dialogue between the US and China.
Geithner said he was keen to talk to Indian policymakers about tightening global standards for controlling risk as markets become more integrated in the wake of the financial crisis.
Follow Emirates 24|7 on Google News.