GCC states need to ensure economic stability: Samba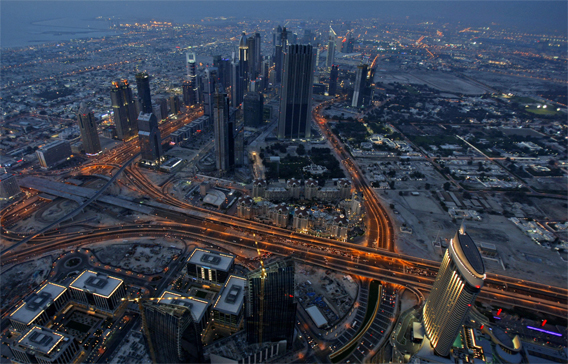 The Gulf Co-operation Council (GCC) oil producing countries have made great progress in long-standing plans to diversify their economies away from unpredictable crude exports, but they face the challenge of ensuring fiscal and economic stability.
The six states – the UAE, Saudi Arabia, Kuwait, Bahrain, Oman and Qatar – which sit atop more than 40 per cent of the world's oil resources and a fifth of its gas deposits, have gained experience in managing their vast hydrocarbon wealth but still face what the International Monetary Fund (IMF) has termed as "the resource curse".
In a 12-page study on GCC economic diversification efforts, the Saudi American Bank Group (Samba) said the UAE and Bahrain are spearheading such efforts while Dubai has emerged as an example. Samba said more work needed to be done by the six states to further diversify their economies and lessen reliance on oil sales in order to ensure viable growth and generate jobs for their rapidly increasing native populations.
"While considerable progress has been made in developing and diversifying GCC economies, the process is still underway and challenges remain. Two issues stand out – the need to ensure that macro-stability is maintained and that fiscal policies are sustainable, and two, the need to provide productive employment for the rapidly growing labour force," Samba said.
"As things stand, GCC government revenues remain dominated by hydrocarbon earnings and are thus susceptible to historically volatile global oil prices in the short term, and the inevitable reduction in oil output in the long term."
The report said government control of hydrocarbon export earnings has also entrenched a system that has left most GCC nationals reliant on public sector employment. "This costs governments a lot of money and is particularly burdensome during extended periods of low oil prices. It also leaves the private sector heavily dependent on foreign nationals."
Inflation needs attention
According to the study, GCC nations need to pay greater attention to inflation after it surge to record high levels in 2008 because of high public spending, weakening US dollar, a spurt in food prices and rents and other reasons. It noted that when prices are forced up, government revenues are in part dissipated by the additional costs. It said this was especially true of the construction sector which is prone to bottlenecks in land, roads, infrastructure and material inputs.
While some inflationary pressures are an inevitable result of the desire to spend oil revenues on fostering the development of the non-oil sector, attention needs to be paid to the speed at which a country's construction sector can expand without severely driving up prices, the report said.
"In boom times there may be less scope to accelerate spending. However, the reverse is true during a downturn, and this is something Saudi Arabia is keen to take advantage of by starting a $400 billion (Dh1.47 trillion) five-year investment programme that should benefit from lower project costs," it said.
"Generally, increases in domestic spending need to be phased in over time, taking into account each country's specific macro-economic conditions, their absorptive capacities and long-term sustainability," it said.
Challenge of managing revenues
It added that managing large and volatile hydrocarbon revenues was challenging and the GCC was becoming increasingly "adept at avoiding the so-called resource curse – a complex phenomenon in which, through several economic, institutional and political economy transmission mechanisms, an abundance of resource revenues can translate into stagnation, waste, corruption and conflict.
"This owes much to the region's understanding of the need to build infrastructure and diversify the non-oil economy while preserving long-term fiscal."
Regarding sustainability, the report noted that non-oil revenues in most GCC countries remained low and fiscal consolidation continued to be a key challenge. This could be done through reducing and better targeting subsidies, improving tax administration, cutting current outlays and redirecting spending towards capital formation, both human and physical, the report said.
It cited recent statements by GCC officials about plans to introduce Value Added Tax (VAT), possibly by 2012, and to embark on more structural reforms to generate additional revenues. In addition, the report said, the GCC countries were moving towards casting fiscal policy in a medium-term framework using conservative oil price assumptions, and this would help reduce the reliance of expenditure on short-term oil revenues.
Diversified economies
"Despite the still prominent role of hydrocarbons, GCC economies have become increasingly diversified, particularly in the UAE and Bahrain where the non-hydrocarbon sectors account for between 60 per cent and 70 per cent of gross domestic product (GDP)," the report pointed out.
"Country circumstances vary, but the structure of GCC economies and the composition of their exports is changing. The last couple of decades have seen the emergence of manufacturing, finance and insurance, trade, transport and communication, and construction as major contributors to national GDP."
Samba cited what it described as great strides made by the UAE, Saudi Arabia and other GCC members in industrial development through leveraging their natural advantages of cheap energy, plentiful capital and a prime geographic location between Asia and Europe. Its figures showed that production of petrochemicals, fertilisers, cement and aluminium have grown rapidly, and the manufacturing sectors' contribution to real GDP now ranges from four to 16 per cent in the GCC states.
It said growth in this sector had been facilitated by the development of industrial cities and free trade zones, particularly in the UAE and Saudi Arabia, as well as by an increasing emphasis on improving the business and investment climate, both for local and foreign investors, and the use of joint ventures.
Beside industrial sector development, the GCC has seen a sharp acceleration in the development of its services sectors, it said, adding that banking and financial services now play a major role in all GCC economies.
"This development has been facilitated by increasing liberalisation and improved regulatory regimes throughout the region. Trade and transport services have grown steadily as the GCC has expanded its container port facilities (in the UAE, Oman and Bahrain), and its airline networks. Tourism has also grown rapidly, especially in the UAE and increasingly so in Oman."
AVOIDING THE 'RESOURCE CURSE'
Resource revenues present specific challenges, the most prominent being how to avoid what has come to be described as the 'resource curse'. This has been best defined by the IMF as a complex phenomenon in which, through several economic, institutional and political economy transmission mechanisms, resource abundance may translate into economic stagnation, waste and conflict.
Major challenges and issues include avoiding 'Dutch Disease' – a set of negative macro-economic effects caused by a large increase in oil or gas-funded spending. If this spending is primarily directed at domestically produced goods, then domestic prices can be pushed up, and the exchange rate appreciates. This can result in a shift of capital and labour into the production of non-traded goods and an erosion in the competitiveness of the non-hydrocarbon economy.
Dealing with extreme revenue volatility which can lead to waste, boom and bust cycles, and excessive borrowing (either in expectation of revenues or to sustain spending levels when oil revenues fall).
Using resource revenues depletes a non-renewable non-financial asset. Thus, if part of the resource revenues are not saved or allocated to the production or acquisition of other productive capital, their use will reduce the government's net worth for future generations.
Excessive reliance on resource revenues could transform resource-producing countries into rentier states in which governments devote more attention to potentially inefficient redistributive functions (eg subsidies, bloated bureaucracies) and interventionist functions, than to functions related to the regulation, supervision, taxation and management of the economy.
Follow Emirates 24|7 on Google News.