Mideast salary satisfaction takes a hit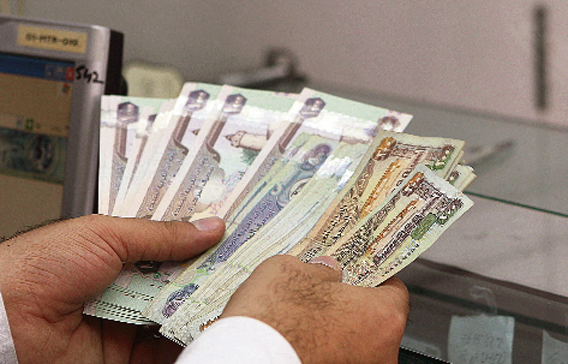 Salary satisfaction among professionals has fallen across the Middle East by two percentage points, according to a recent research conducted by job site Bayt.com.
Matching the regional average, only five per cent of UAE residents were found to be highly satisfied with their remuneration. The picture across the rest of the Gulf and wider Middle East was similar – with a peak of seven per cent of professionals highly satisfied with their salaries in Qatar, while the figure dropped to a low of only two per cent in Syria.
The average monthly salary differed considerably from country to country across the Middle East and North Africa, the survey said. Qatar eclipsed the UAE in terms of the biggest salaries, with more than a third of Qatari professionals, 39 per cent, earning between $3,001 (Dh11,013) and $8,000 each month. The figure was 37 per cent for the UAE.
Unsurprisingly, the Gulf has the highest number of professionals earning top tier salaries, in excess of $8,000 each month: 12 per cent in Qatar, 10 per cent in the UAE, seven per cent in Bahrain, six per cent in Kuwait and three per cent in Saudi Arabia and Oman. As revealed in earlier findings, the lowest paid residents in the region were found to be in the North African countries of Algeria, Egypt and Morocco – although the total number of professionals receiving the lowest salary level has dropped in each country.
The latest survey said 50 per cent of Algerians earned under $500 per month compared with 54 per cent last year. In Egypt, 41 per cent of professionals received up to $500 per month, while 40 per cent of professionals in Morocco earned similar amounts every month. Only two per cent of professionals in Morocco and one per cent in Egypt earned more than $8,000 per month. The data for the salary survey was collated in part by looking at whether average salary hikes were in-line with the average rise in the cost of living. As found in previous Bayt.com research, professionals resoundingly felt the average salary increase did not reflect the rise in the cost of living in any of the surveyed countries.
Overall, professionals across the Middle East said the cost of living had increased by 24 per cent, yet the average salary increased by only seven per cent – more than two-thirds less. In the UAE, respondents said living costs had increased by 22 per cent while the average salary increase was only six per cent. This year, the biggest disparity in the increase in living costs compared to salary raise was felt in Syria – where respondents felt cost of living had increased by 28 per cent, while salaries had increased by only nine per cent.
Following close behind were Saudi Arabia and Jordan, which found 18 percentage point disparity between the rise in salary level and the rise in the cost of living.
While there were still sizeable gaps between the salary and living cost increases, the countries where this gap was smallest were Tunisia and Qatar, with both recording a 12 per cent difference. Morocco and Bahrain reported a 14 per cent gap each.
Respondents were asked to compare their salary raise for the period of December 2008-2009, and December 2007-2008.
Across all of the surveyed countries, the salary increase for the 2007-2008 period was higher than a year later, which perhaps demonstrated the effect of the recession on salary hikes. The average salary raise for 2007-2008 was nine per cent compared to 7.3 per cent the following year.
Missing out on pay rise
The survey looked at the respondents' level of satisfaction with the pay rise they received.
For the most part of the year, the region's respondents did not receive a pay rise, with a sizeable, 44 per cent, professionals missing out totally. About 55 per cent of UAE respondents and an overwhelming 59 per cent in Kuwait – the highest among the surveyed nations – did not receive a pay rise.
In the UAE, four per cent professionals said they were very happy with their salary increase, seven per cent were very unhappy, 13 per cent considered themselves unhappy, and only six per cent said their pay rise was fair given the economic circumstances.
The survey also looked at what percentage of their salary people managed to save each month. The results showed that a high proportion, 38 per cent, do not manage to save any of their monthly salary at all.
Jordan (54 per cent), Morocco (51 per cent) and Syria (50 per cent) were the countries where respondents were least likely to save, saying they had no money left to save each month. The best savers were respondents in Qatar – 74 per cent of those surveyed managed to save money each month. The figure stood at 71 per cent for Oman.
The region's respondents, despite the widespread unhappiness with pay rises, still believed they were better-off than others in terms of their quality of life in their country of residence.
In the UAE, 42 per cent professionals said they were better-off than others, while 40 per cent said they were about average. At the other end of the spectrum, only 14 per cent said they were worse off than others. About 21 per cent Jordanians said they were worse off than others.
Joanna Longworth, CMO, YouGov, said: "Given the challenging economic circumstances of the past year, it comes as no surprise that so many of the region's professionals did not receive a pay rise.
"However, many professionals feel they are doing better than others in terms of their quality of life. This demonstrates, while they may be unhappy with their pay rise or the current economic conditions, they still are in a relatively good position." The study revealed that across the Middle East, 74 per cent residents felt they had personally been affected by the global economic crisis. In the UAE, this figure was slightly above the average at 75 per cent, with the rest saying they were not affected by the crisis.
Residents in Jordan (81 per cent) were the hardest hit amongst the surveyed countries. About 57 per cent respondents in Oman and 58 per cent in Lebanon said they had been affected by the crisis.
When questioned about their feelings about the current economic climate and the labour market, almost a quarter of respondents (22 per cent) said they felt optimistic about a robust economic growth and the availabilities of jobs this year in their respective countries.
Effects of global recession
About 34 per cent respondents from Oman and 28 per cent from Morocco said they were very optimistic about the economy. The Jordanians and Lebanese were found to be least optimistic with only 16 and 14 per cent professionals, respectively, stating they were very optimistic about the economy.
In the UAE, 13 per cent respondents were pessimistic while 22 per cent were very optimistic. Previous surveys have revealed GCC companies may hire this year after having laid-off a number of employees last year.
According to a corporate survey conducted by BAC Middle East some time back, attitude towards the business environment was positive overall. Majority (59 per cent) of respondents described themselves as "fairly optimistic" about the current year, with 31 per cent and five per cent describing themselves "optimistic" and "very optimistic" respectively. This is a significant change from last year's survey in which pessimism was more commonly reported.
This positive sentiment was expressed across almost all industries and there was no single sector that stood out in terms of hiring. The main exceptions were some of the real estate developers and some firms in the construction and construction materials sectors, which were relatively more negative in their outlook, the survey revealed.
In terms of the outlook for employment, 54 per cent of respondents stated that they expected their organisation to undertake some hiring this year, up from 37 per cent in 2009, while 35 per cent indicated they will "possibly" engage in recruitment in 2010.
Only 11 per cent of respondents ruled out any hiring in the next 12 months – a significant reduction from 27 per cent last year, said the BAC survey.
According to HR agencies, 2010 will definitely be better than last year both in terms of hiring and compensation.
Wassim Karkabi, Partner, Regional Practice Leader EMEA, Industrial Practice at Stanton Chase, told Emirates Business recently: "For 2010, we see a number of companies starting to take more decisions. These decisions include pay hikes. Those that are left standing in organisations are considered performers and expect to be remunerated for hard work, loyalty and results during 2009."
On the bonus front, experts said pay hikes was something likely to return after most companies skipped rewarding their employees due to the economic downturn in 2009. This time it is expected to be more performance-based and selective.
Keep up with the latest business news from the region with the Emirates Business 24|7 daily newsletter. To subscribe to the newsletter, please click here.
Follow Emirates 24|7 on Google News.