Abu Dhabi foreign trade increases 9% to Dh112bn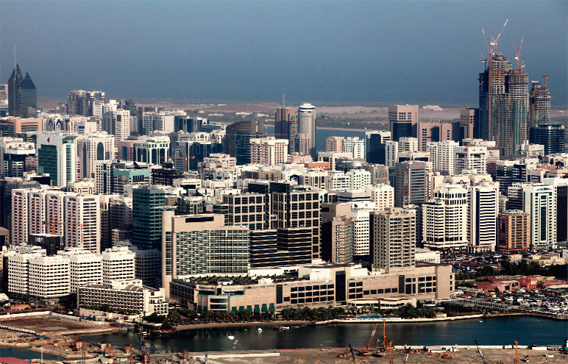 Abu Dhabi's foreign trade rose to Dh112.071 billion in 2009, an increase of nine per cent as compared to 2008, according to the annual statistics of foreign trade operations announced by Saeed Ahmed Abdullah Al Muhairi, Director-General of Abu Dhabi Customs.
Al Muhairi, said Abu Dhabi's volume of foreign trade grew despite global economic challenges.
"One of the key figures of 2009 customs' statistics is the growth in non-oil exports that climbed to Dh9.505bn, an increase of 52 per cent compared to Dh6.253bn in 2008. Imports also grew to Dh93.872bn compared to Dh90.284bn in 2008, an increase of four per cent."
According to the Abu Dhabi Customs' statistics, the volume of re-export trade in 2009 jumped by 39.3 per cent over 2008 to reach Dh8.694bn. The report also revealed the growing role of seaports in Abu Dhabi imports – 62 per cent of imports come in through seaports, 27 per cent through land and 12 per cent through airports.
Al Muhairi said: "These statistics reflect the trade growth witnessed in Abu Dhabi, a leading trading centre in the region, a result of the wise instructions of President His Highness Sheikh Khalifa bin Zayed Al Nahyan, Ruler of Abu Dhabi, and General Sheikh Mohammad bin Zayed Al Nahyan, Crown Prince of Abu Dhabi and Deputy Supreme Commander of the UAE Armed Forces.
"The trade policy pursued by the emirate, under the guidance of Sheikh Mohammed bin Khalifa Al Nahyan, Chairman of the Abu Dhabi Department of Finance, has clearly been successful."
Qatar occupied the first place in terms of exports volume, while Saudi Arabia came second. The United States was ranked in first place in imports volume, while Germany and Saudi Arabia were second and third respectively. One of the most striking features this time was the growth in
the value of imports from South Korea, soaring to 403 per cent in 2009 as compared to 2008.
"Abu Dhabi's trade policy is based on economic openness and trade liberalisation with special effort over the past few years towards attracting foreign investment for development and prosperity. The UAE, and Abu Dhabi in particular, has enhanced economic and trade relations with a large number of countries around the world. This has increased levels of foreign trade, especially in non-oil and commodities sector," Al Muhairi said.
Factfile
- Imports grow to Dh93.872bn, an increase of four per cent
- Non-oil exports reach Dh9.505bn; an increase of 52 per cent
- Re-exports cross Dh8.694bn; an increase of 39.3 per cent
- Top countries in term of re-export volume:
1. Qatar
2. Saudi Arabia
- Top countries in term of imports:
1. US
2. Germany
3. Saudi Arabia
Keep up with the latest business news from the region with the Emirates Business 24|7 daily newsletter. To subscribe to the newsletter, please click here.
Follow Emirates 24|7 on Google News.