Branching out in a time of crisis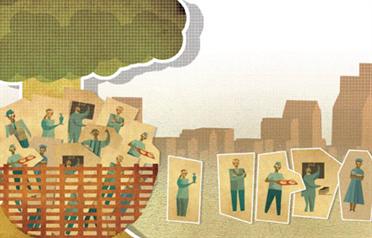 Developments are being postponed and jobs are being lost as the growth of the UAE slows due to the local effects of the global financial crisis. But while talk today is often dominated by speculation and rumours of widespread redundancies, the truth is many companies are continuing to expand.

Official figures show there was an average of 1,000 new residency visas issued in Dubai every day during January.

Indeed, Dubai Naturalisation and Residency Department issued 88,423 visas last month, against 54,684 cancellations.

So, where are the jobs? Research conducted by Emirates Business showed that retail, property and facility management, healthcare, education, financial administration and fast-food chains continue to recruit. The government sector has begun aggressive recruiting, said James Watfa, of Dubai-based recruitment consultancy Executive Solutions.

"I have a number of teams that are currently recruiting nationals for government and semi-government entities," he said.

"In terms of property and construction, Abu Dhabi, Qatar and Saudi Arabia are booming, but defence and aerospace are the two biggest recruiters at the moment."

Watfa said there was also currently a huge demand for human resource professionals as companies restructure, streamline and re-evaluate current staff.

Executive Solutions is currently placing 30 to 40 people a month, while aiming to fill 200 vacancies.

Independent recruitment consultant Arti Lukha said: "Even in such financially uncertain times, there is still growth to be found, especially in more robust sectors.

"But, with recent redundancies, there are more people chasing fewer jobs, which will drive down the salaries, especially at the higher end. Even in sectors worst hit by the downturn, there are vacancies, in construction and real estate, particularly," she said. In real estate, sales staff have borne the brunt of the global economic crisis, but a small number of projects are still taking on staff.

Premier Real Estate, the company that owns both Great Britain and Moscow islands on Nakheel's The World, said it was recruiting.

"Yes, we are hiring at the moment actually. We need 10 experienced sales consultants to add to the team," said Rue Kothari, Marketing Director, Premier Real Estate Bureau.

"Premier currently employ about 70 staff, but we are always on the lookout for skilled, talented people with the ambition and drive to succeed in challenging times."

For property management firms, 2009 will see revenue grow 20 to 30 per cent as more projects are completed.

"New projects need advanced facilities and property management," said Andrew Chambers, Managing Director, Asteco.
"We expect to double our staff from 130 to 260 in the next 18 months. Across the market, over the next two years, there will be double the business that exists today. Some of the older, better managed buildings will also move to external management."

At Cluttons, Lesley Preston, Head of Property Management, said: "We would like to see an increase of 20 per cent in our business. As the new projects come online, we will be recruiting.
"We can't expect the existing staff to service new projects and foresee a 10 per cent growth in staff."
Salwan Property Management, an arm of Dubai Properties, is predicting a near 50 per cent rise in its business from 18,000 units to 26,000 units by the end of 2009.
The company currently employs 120 people and will add up to 20 per cent more staff this year.
A number of new schools will open this year, creating employment for administration and teaching staff. Abu Dhabi's Canadian International School, which will recruit up to nine teachers for the 2009-2010 academic year, has already advertised for staff.
Micheline Mazubert, Principal of Canadian International School, said: "We have been inundated with CVs and really weren't expecting so many applications.
"Sadly, a sizeable number of them don't possess the necessary qualifications. There are accountants applying for teacher's jobs. It's bizarre." Elsewhere, DP World's recent joint venture with Port of Algiers will create 260 jobs this year, signalling strong demand in the logistics sector.
Equally, retail will receive a boost this year, with the launch of more large supermarkets and retail outlets at new malls. The Dubai Mall and Dubai Marina Mall continue to fill with new stores – meaning more staff are needed – and the Lulu group will launch four hypermarkets in UAE this year, and five more in the GCC.

"Our first hypermarket opens within two weeks, and we will open another three every consecutive month," Lulu Group CEO Yussuffali MA said. "Since each hypermarket requires an average staff of 300 to 400 people, we are looking at creating 1,500 jobs in the UAE this year," he said.

In the fast food sector, McDonald's, Dunkin' Donuts and Baskin Robbins have all reported expansion plans in the UAE this year. While Dunkin' Donuts plans to launch a dozen outlets in the Emirates, Baskin Robbins will reportedly open 15 extra stores this year.

Meanwhile, the healthcare sector will continue to grow, due to a chronic undersupply of hospitals and doctors.

Dubai-based private equity firm Abraaj Capital, which operates three health facilities in Saudi Arabia, Turkey and Egypt, said there was potential for growth given the universal need for healthcare, irrespective of the economic cycle.

Though employment figures are on the decline compared to last year, Major General Mohammad Al Marri, Director of DNRD said 293,745 residency permits were issued during the last quarter of 2008, while only 118,993 residency visas were cancelled during the same period.

"Throughout the past few years, the number of individuals coming to Dubai for work purposes or to accompany their families or others was growing at an incredible rate," he said. "A high number of residency or work permits were also being cancelled. This movement is strongly related to the supply and demand in Dubai's highly energetic economic market," he said.


Online Resources

- Careerjunctionme.com

- Bayt.com

- Gulftalent.com

- JobsinDubai.com

- Monstergulf.com

- Charterhouse.ae

- ClaredonParker.com

- Naukrigulf.com

- Nadia-me.com

- Headhunt-me.com
Follow Emirates 24|7 on Google News.