Dubai, Norway call to enhance ties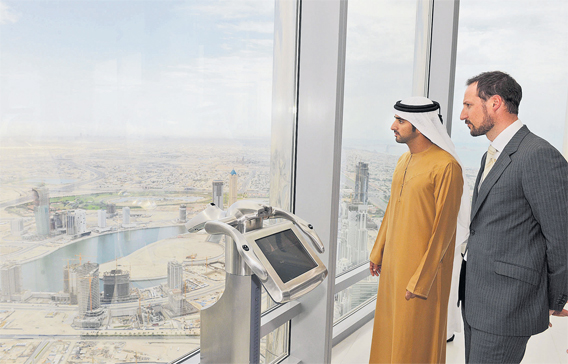 Sheikh Hamdan bin Mohammed bin Rashid Al Maktoum, Crown Prince of Dubai, received visiting Prince Haakon Magnus of Norway at Al Qasr Hotel in Dubai yesterday.
The two of them discussed the economic relations between the UAE and Norway and ways to enhance mutual trade exchange, which is still low and does not match the level of friendship between the two governments and peoples at all levels.
Prince Haakon Magnus expressed the confidence of his government about the UAE economy and brisk market despite the global economic downturn, citing the stability enjoyed by the Norwegian companies operating within the country.
He added that his visit to the UAE was exploratory and aimed at building bridges for setting up potential promising economic and trade partnership in the best interest of the two countries.
Sheikh Hamdan welcomed and briefed Prince Haakon about steps adopted by the Dubai Government based on transparency regarding the government financial sector, public economic, financial and investment institutions, as well as semi-governmental institutions.
Present at the meeting were Sheikh Ahmed bin Saeed Al Maktoum, Chairman of Dubai Civil Aviation Department and Chief Executive of Emirates Group; Reem Ibrahim Al Hashimi, UAE State Minister; Mohammed Ibrahim, Director of Dubai Ruler's Office; and Sheikh Saeed bin Maktoum bin Jumaa Al Maktoum.
Sheikh Hamdan accompanied Prince Haakon on his tour of Burj Khalifa, the world's tallest tower.
Follow Emirates 24|7 on Google News.